October 11, 2007 - 5:14pm
How can I make this more loaf airy?
The left slice is my mostly whole wheat bread. The right slice is store-bought 100% whole wheat. While the homemade is far superior in taste, it doesn't have near the lightness of the Mrs. Baird's. My husband doesn't like heavy bread for everyday use.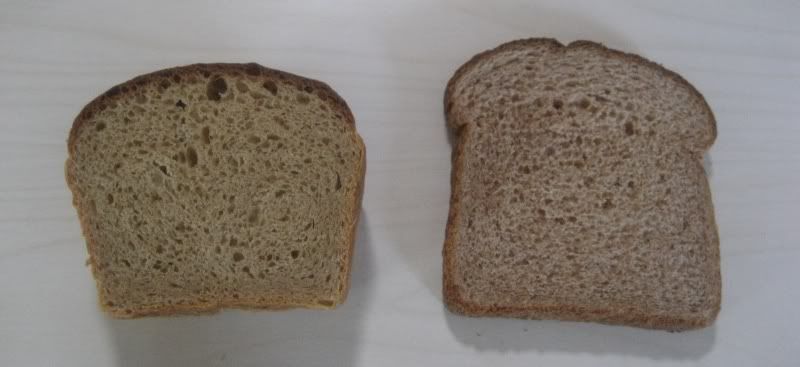 This is my whole wheat variation of Charles Van Over's Classic Pullman Loaf - page 127 of The Best Bread Ever. It yields 1 12" pullman loaf or 2 8x4 pan loaves. My only changes were to sub in the whole wheat flour, increase the water from 375 grams to 475, and the added Vit. C.
250 grams bread flour
500 grams white WW flour
10 grams dry milk
15 grams salt
1.5 tsp instant yeast
1/8 tsp. Vit. C
2 Tbsp honey
60 grams unsalted butter (melted and cooled)
475 grams water.
The dough was mixed in the food processor with the metal blade. It was processed for 30 seconds, rested about 15 minutes, and processed another 20 seconds. The dough temp was about 76F when finished. (This is Van Oher's standard method, I don't want to change it.) The dough fermented overnight in the fridge, where it increased a good bit. I don't know if it doubled, but the book says it doesn't have to for this method. I let it warm on the counter for a few hours, then shaped, let rise and baked. The dough was still cool when shaped.
As you may notice, I forgot to slash. I know that will help. Next time I'll be adding potato flakes. I've seen whole grain recipes that call for things like diastatic malt and lecithin. Will either of these help? Any other ideas?