December 31, 2015 - 7:39am
Dayang dayang - Coconut and Toasted Cake Crumbs
In my last post, my writing in English was complimented by some TFLers. Since this is my last post in the last day of the year (in a few minutes it will be already 2016 here), I will make this special by writing in my first language (We are a former Spanish colony and although we don't speak Spanish, we retained some of their words. If you speak Spanish, you may find similar words with different spelling but the same meaning), it has also many pictures because I also want to show a way of life here. Most words and phrases do not have a direct English translation, there is always something lost in translation so our language is one of the least accurately translated by google translate but don't worry, I will provide translations. In my country, most are bilingual and we often change languages not only mid sentence sometimes even alternately by word or phrase, we also often conjugate English verbs with our own conjugations that even include "verbing" of nouns. As a result (in my opinion) one never really becomes proficient in any of the languages; in English, often lacking appropriate vocabulary or not being able to utter their speech smoothly and in our language,using wrong verb conjugations and noun forms. This is my way of maintaining my fluency in both languages and to let other people hear our beautiful language.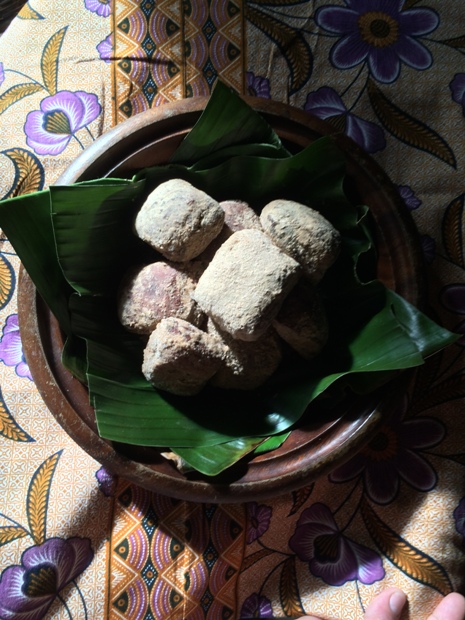 Ang tinapay na ito ay hango mula sa isang kakanin mula sa timog na bahagi ng aming bansa. Ang karamihan ng mga naninirahan dito ay mga Muslim na hindi nasakop ng mga dayuhan kaya nanatili ang kanilang relihiyon at natatanging kultura at mga pagkain. Gawa mula sa niyog,asukal at giniling na bigas; ang kakaning ito ay kadalasang inihahain lamang tuwing my kasalan at sa mga dugong bughaw. Ito ay tinawag kong Dayang dayang kasunod ng pangalan ng pinakatanyag na prinsesa mula sa lugar.

This bread was inspired by a delicacy from the southern part of our country. Most of the population there is predominantly Muslim who resisted colonization that's why they preserved their religion and unique culture and cuisine. Made from coconut, sugar and ground rice, this delicacy is often only served in weddings or to Royal bloods. I am calling this Dayang dayang in honor of the famous princess from the island.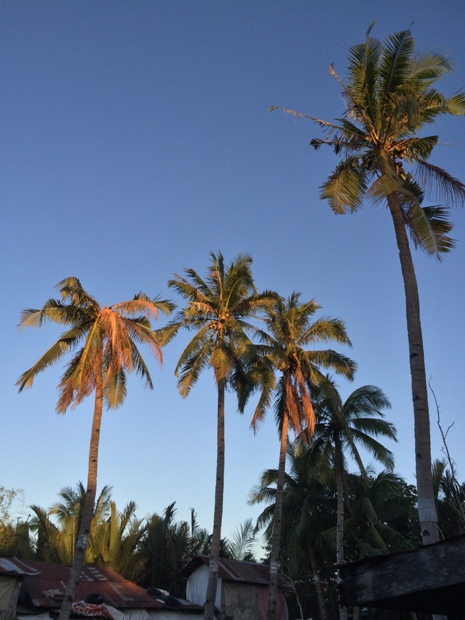 Marami kaming niyog sa aming bakuran at kailan lang ay pinapitas ng aking ama ang mga bunga nito. Marami kaming nakuhang bunga, parehong may buko at niyog. Para sa tinapay na ito, niyog ang aming ginamit. Kinudkod ito ng aking ama at mula rito ay ginawa niya ang isa sa pinakasikat niyang panghimagas. Maaring pamilyar kayo sa di-kuryenteng pangkudkod ng niyog ngunit para sa gamit na ito, ang pakamay na pagkukudkod lamang ang natatanging paraan para sa tamang lasa at linamnam. Ang mga niyog naman na hindi na maganda o masyadong nang matigas ay hindi masasayang dahil ito ay magandang pakain para sa mga manok.

We have many coconut trees in our yard and just recently my dad had their fruits picked. We got many coconuts, young and mature alike. For this bread, we used the mature coconut. My dad grated it and from it, he made one of his famous sweets. Maybe you are familiar with the electric coconut grater but for this application hand grating is the only option to achieve the right taste. Those coconuts that are bad or too hard won't go to waste because they are excellent chicken feed.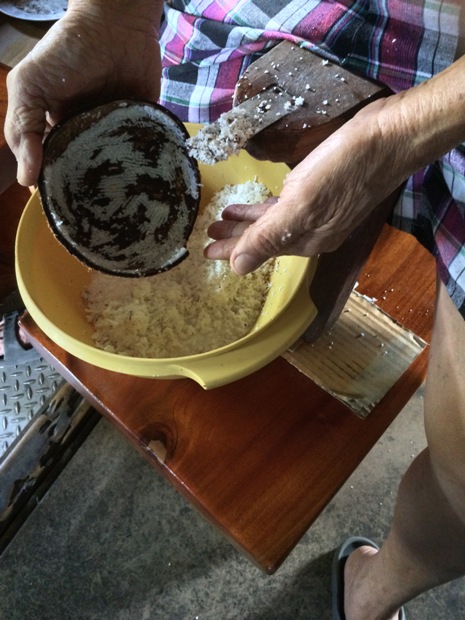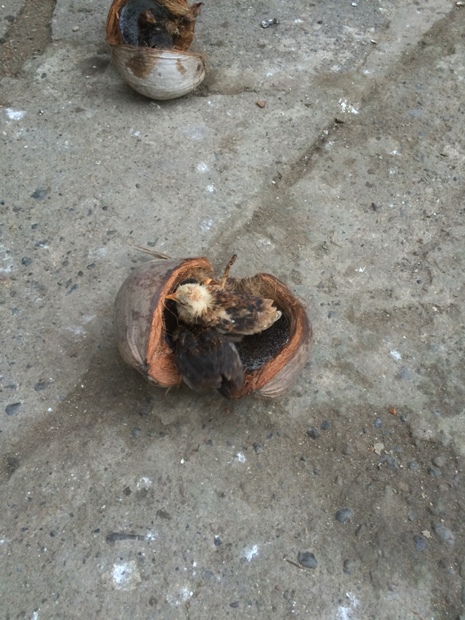 Ito ang aming kudkuran na bago. May paa na ito at mataas na ngunit dahil matangkad ang daddy ko, ipinapatong pa rin niya ito sa mas mataas na upuan para hindi siya mahirapan 'pag nagkukudkod.

This is our new coconut grater. It has legs already and made taller than our previous one but because my dad is tall, he still puts it on a higher chair so it won't be difficult for him while grating.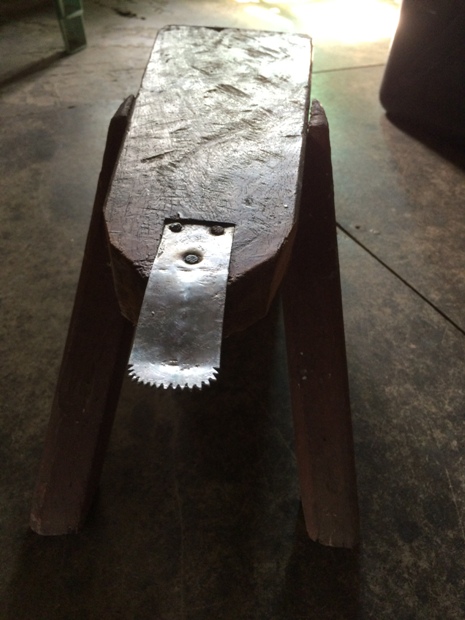 Ito naman ang aming lumang kukudkuran. Mula nang magkaisip ako, ito na ang ginagamit ng aking ama kapag nagkukudkod siya ng niyog at sigurado akong mas matanda pa ito sa akin. Pinalitan na lang ito ng bago mga ilang taon pa lang ang nakararaan. Di gaya ng bago naming kukudkuran, mababa ito kaya mas mahirap gamitin at sa hagdan ito  inilalagay para magamit ito ng maayos.

This is our old coconut grater. Ever since I became aware of this world, this is already what my dad is using when he is grating coconuts and I'm sure it is older than me. It was just replaced a few years ago. Unlike our new grater, it is low that's why it is more difficult to use; it is used at the stairs to facilitate proper usage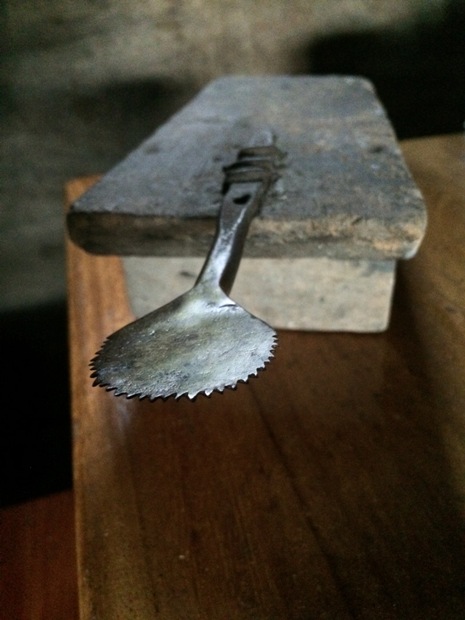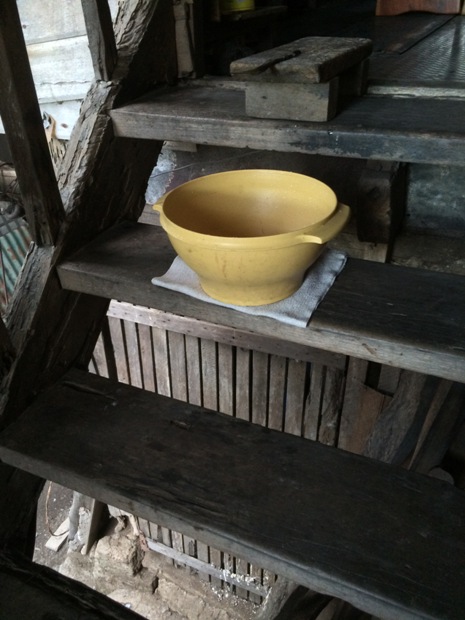 Upang kumpletuhin ang tinapay na ito gaya rin ng nasabing kakanin, kailangan natin itong budburan ng  pulbos para sa kakaibang lasa at texture. Ang ginamit ko rito ay isang tustadong keyk na tinusta ko pa sa kawali para lalong lumutong at tsaka ko dinikdik sa almires.hanggang maging pino. Naaalala ko ang almires na batong ito na noong hindi pa uso rito ang arinang bigas, ay iginiwa ako ni daddy rito. Mano mano niyang dinikdik ang bigas para sa akin dahil kailangan ko ito para sa isang proyekto sa paaralan. Tulad ng kudkuran ang almires na ito ay mas matanda rin sa akin.
 
To complete this bread like the said delicacy we need some sort of a powder for a unique taste and texture. To make it, I used a toasted sponge cake from the store that I toasted further in a skillet to make it crisper then I pounded it in a mortar and pestle until fine. I remember this stone mortar and pestle; back when rice flour was still unheard of in our area, dad made some using it. He manually pounded some rice into flour for me because I need it for a school project. Like the coconut grater, this mortar and pestle is older than me.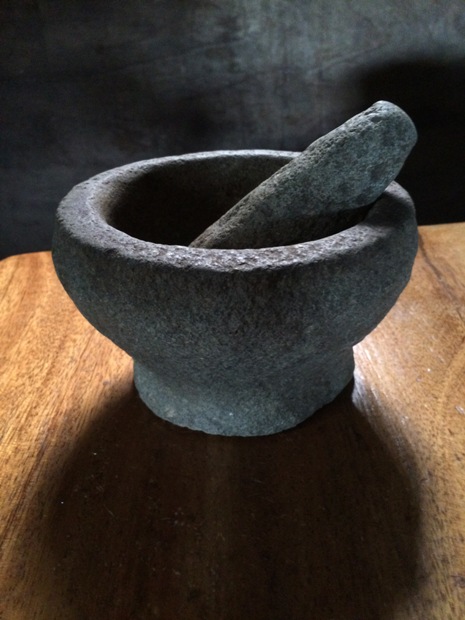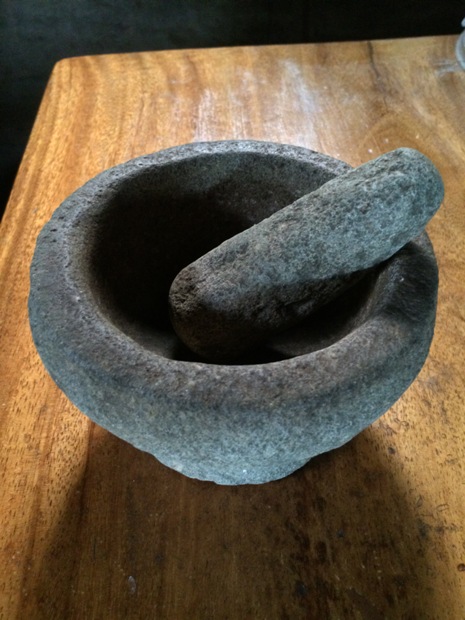 Ang tinapay na ito ay tunay na kolaborasyon namin ng aking ama. Siya ang gumawa ng niyog na pangunahing pagmumulan ng lasa at ako naman ang gumawa ng mismong tinapay. Matapos mamasa, ang niyog ay ihahalo na sa pamamagitan ng maingat na pagtutupi. Matapos itong paalsahin nang magdamag sa ref, ito ay tinilad-tilad ko sa mga parisukat na piraso, pinaalsa ko itong muli ng apatnapung minuto. Iprinito ko ito sa kumukulong mantika hanggang pumula. Matapos itong hanguin ay patutuluin ang mantika ng ilang sandali at dali-daling pagugulungin sa pinulbos na tustadong keyk.


This bread is really a collaborative effort between me and my dad. He is the one who made the grated coconut sweet which will be the primary flavor source of the bread and I am the one who actually made the bread. After it was kneaded, the coconut was blended through a series of folds then it went into the fridge for overnight bulk fermentation. Next day, I cut it into square pieces and fried it in hot oil until golden then they were allowed to drain for a few moments then immediately rolled in the cake crumbs.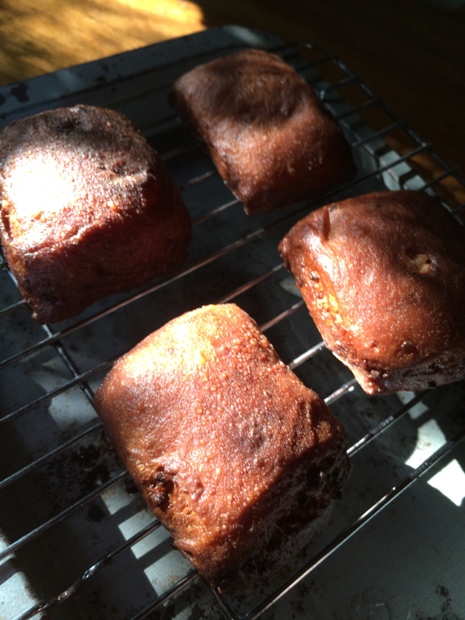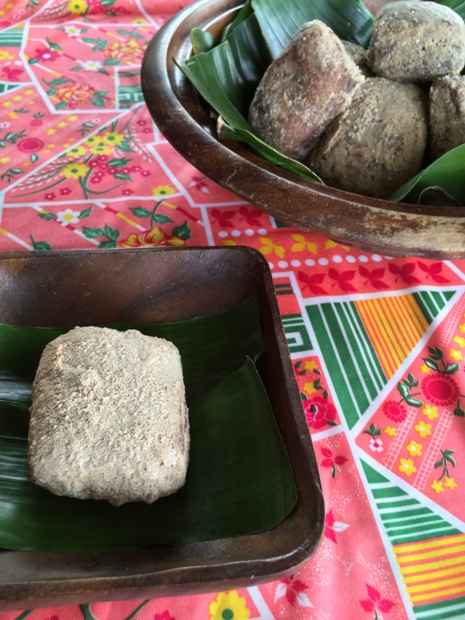 Ang tinapay ay malutong sa labas at sa loob ito'y malambot at hindi puro hangin at may sapat na kunat para may kasiya-siyang manguya ang kakain at ang tinustang mugmog ng keyk ay may kaaya-ayang gaspang. Ang lasa ng niyog ay nangingibabaw at bagay na bagay sa tustadong lasa ng pinulbos na keyk.

The bread is crispy on the outside and soft and substantial inside with a nice springy texture that's enjoyable to chew and the toasted cake crumbs provide a nice gritty interesting texture. The coconut flavor really comes through and goes well with the toasty flavor of the cake crumbs.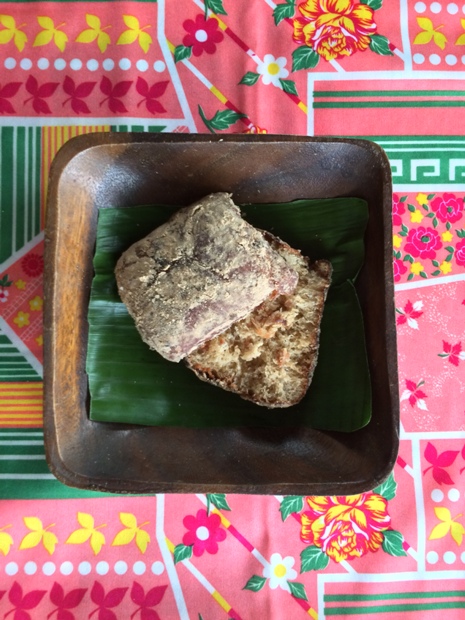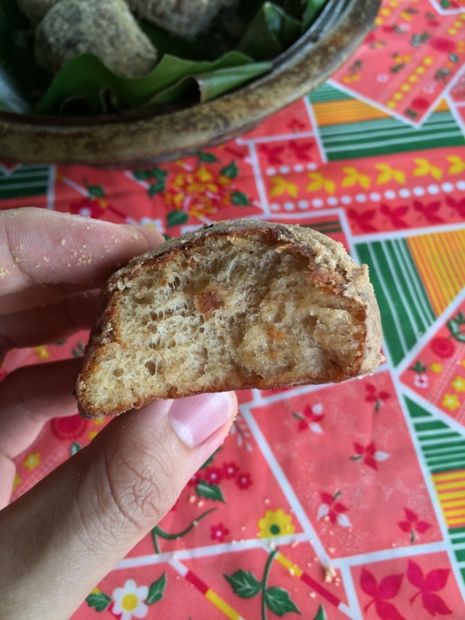 Nang malapit ko nang maubos ang isang piraso, nagulat ako sa malaking butas na tumambad sa akin. Katulad ito ng mga butas sa lean hearth breads. Ano kaya ang naging dahilan nito? Tunay itong kakaiba para sa isang tinapay na may masang minasang mabuti.

As I was about to finish one, I was surprised as a large hole appeared after I took a bite. It's like the holes in the crumb of a lean hearth loaf. What maybe the reason for this? It is really strange for a bread with an intensively kneaded dough.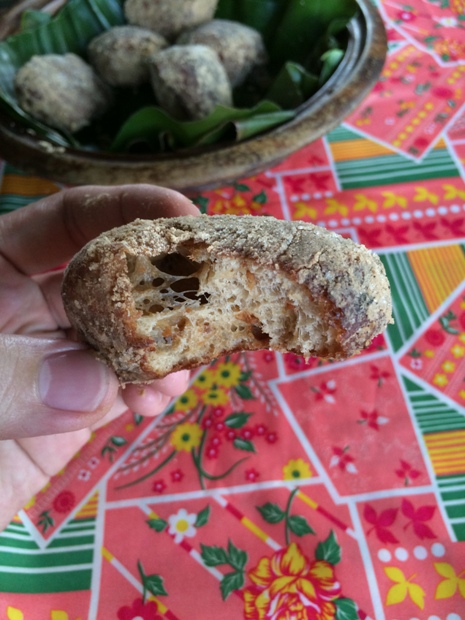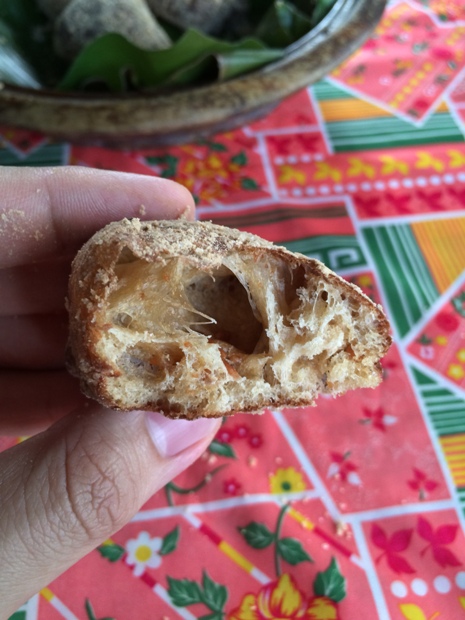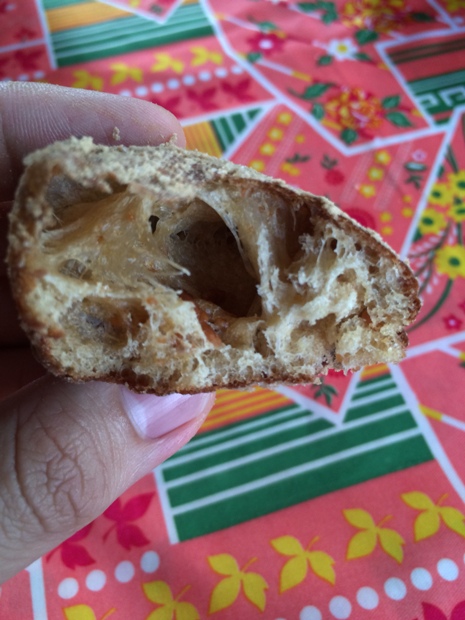 Short Lesson:

Tinapay = Bread
Trigo = Wheat
Harina/Arina = Flour
Tubig = Water
Asin = Salt
Lebadura = Yeast

Wow! My brain just had a tough workout but it's really worth it! Let me just share my story of languages. I am already a fluent speaker of two languages and though not as fluent as my mother, I could also speak her language as my third language that I can hold a conversation for hours. In high school I considered studying Japanese but was scared by their different word order of S-O-V so I decided against it, now I'm older I noticed that my first language has a very unusual word order. English has S-V-O, ours had V-S-O; realizing that I became fluent in English which has a very different grammar, I now have no fear in studying another language; with time, dedication and passion, I can become fluent in it. Just last month, I studied French to take a break from Mandarin because characters just overwhelmed me at that time and I am enjoying my French study. To kill time, I study languages so instead of clash of clans or other game apps, you will find pleco and duolingo in my phone. Having studied several languages, it just fascinates me about the different aspects of a language and which is the most difficult for learners, for example: we have consistent pronunciation but foreigners find case marking, linkers, verb inflections, and word order very difficult; I could already read Cyrillic but can't grasp Russian grammar; I could remember most of French verb endings in writing but pronunciation is the most difficult part; and speaking is the easiest part of Mandarin but do not talk about reading and writing! With this I appreciate differences even more and I am more fascinated in the world.

Now, I'm starting to feel my "Mandarin fire" burning again and I will go back studying it in the New Year but I will not leave my French study either! As I was studying French for a month I learnt better through French chansons and I recently discovered great francophone artists like Mireille Matthieu, Françoise Hardy, Joe Dassin and Christophe; I can't stop listening to their beautiful songs. I hope that I'll be fluent in French and Mandarin by my early or mid thirties just like how ten years of English study made me fluent in it.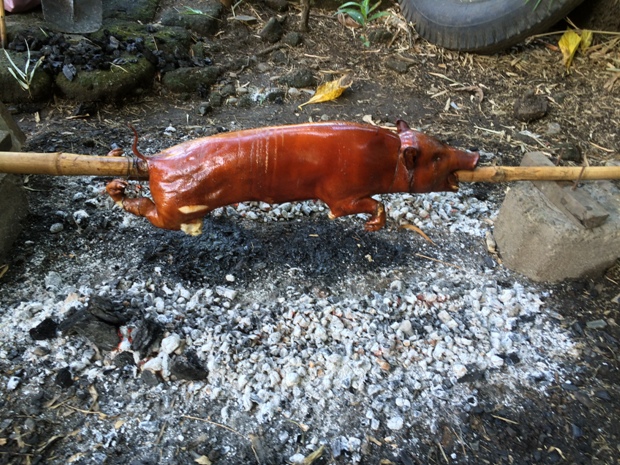 Remember the roasted piglet last week? We stretched for a whole week and made some dishes with it so aside from the wrap we also made some stew and soup.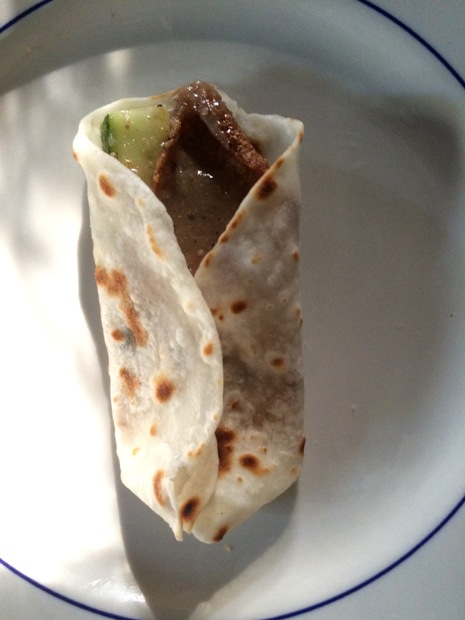 Lechon Paksiw is the classic way to give life to leftover lechon when the skin is not crispy anymore. Stewing it make it gelatinous and tender that it melts in the mouth. We used the tail and trotter for that sticky sauce quality.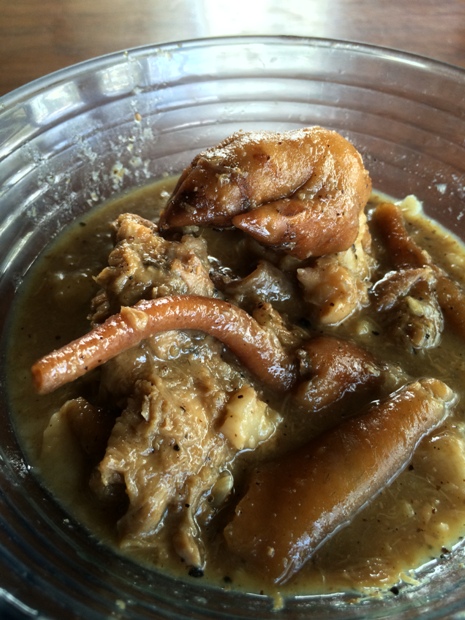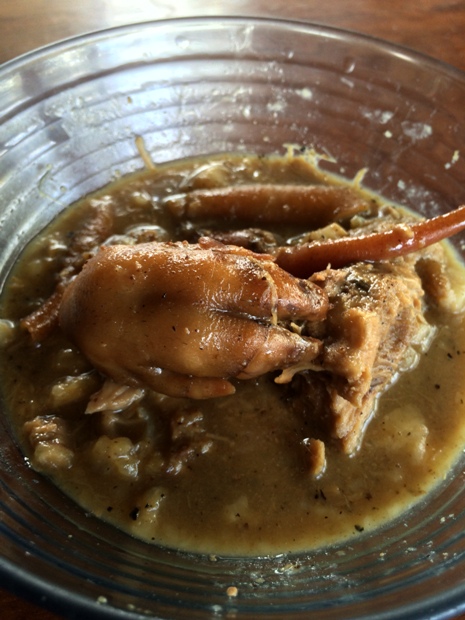 Sinigang na Lechon is a new dish for leftover lechon. It is a clear soup with vegetables flavored with tamarind. We used the ribs and trotter for a rich flavored and full bodied soup.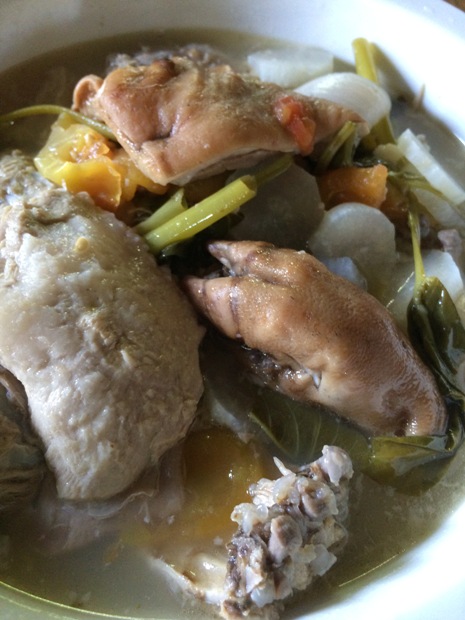 Someone also gave us large prawns. Simply boiled and eaten with vinegar, they were so delicious!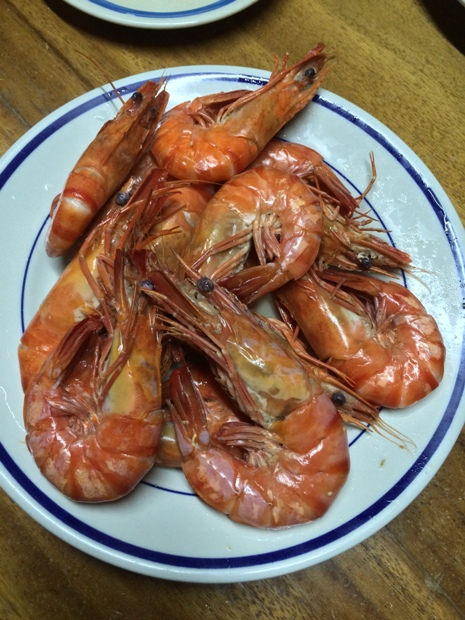 We really had a great year and we thank God for it! I hope it will be the same or even better for next year!

Thank you very much and Happy New Year!



From Pochi, Bimbo, and Fedra: Happy New Year!