October 20, 2015 - 9:44am
I first saw this bread about a year ago in this video by chowhound  where Alex Van Buren had it at Rhong-Tiam, a Thai restaurant in New york. I made a lot of research and found out that it is a very popular street food in Thailand. It has very interesting ingredients and technique and looks very delicious, I knew I have to make it but I did not have the guts to try until last Saturday. I do not know why it took me a year to finally make this but I'm really glad and proud of myself for achieving this, not really bad for a first try.

To make banana roti, an unleavened dough is stretched paper thin by flipping and slapping it against the work top then grilled on hot griddle; the center is then covered with a mixture of eggs and bananas and the sides are folded into a neat parcel before flipping it to cook both sides; when browned and crisp, it is cut into bite-sized pieces then drizzled with sweetened condensed milk and sprinkled with salt and sugar. Today there are different additions such as nutella, peanut butter, chocolate syrup, jam sprinkles; anything that goes well with banana is great with it but I think the classic is the best!
Here is a video of street vendor preparing it in Thailand.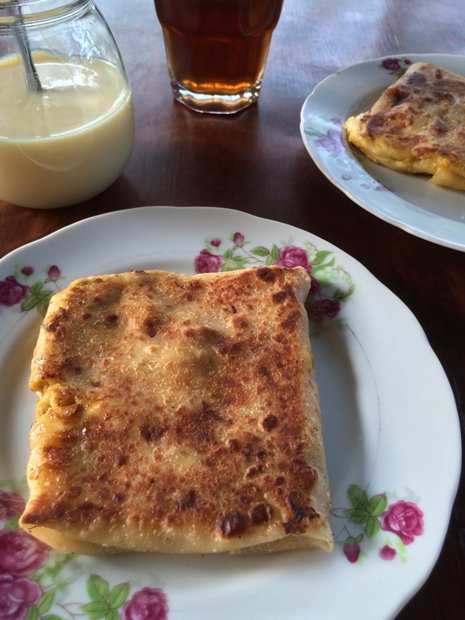 The problem in replicating this bread at home as with most street food is the lack of resources on how it is exactly made. After watching countless videos, I only saw the cooking process as the dough making was never shown. I've tried to read on the web; some recipes I've read say it contains condensed milk, others say it has an egg but some even say that both or neither is needed. It's quite confusing! The choice of flour is also difficult because a strong but VERY extensible dough is needed. Though the recipes are confusing I noticed a common step which I think is the key to this type of bread; soaking the dough balls in oil. I thought of using oil instead of flour for the dough not to stick to the surface because I saw the dough is always oily when the vendor takes it out from his bucket  but not in this way. Armed  with that trick I went to make my own dough.

I used strong flour and kneaded less than usual for the balance of extensibility and strength. I added a little condensed milk but discarded the egg because I think the dough should be a little enriched but not too rich since it will be used for a dessert roti and I feel that it's really not necessary. No measurements too, just added water bit by bit until a nice smooth stiff but soft dough formed. After a short rest, it was divided into four balls and soaked in oil for two hours. A four hour soak is recommended and sometimes overnight but I don't have the time.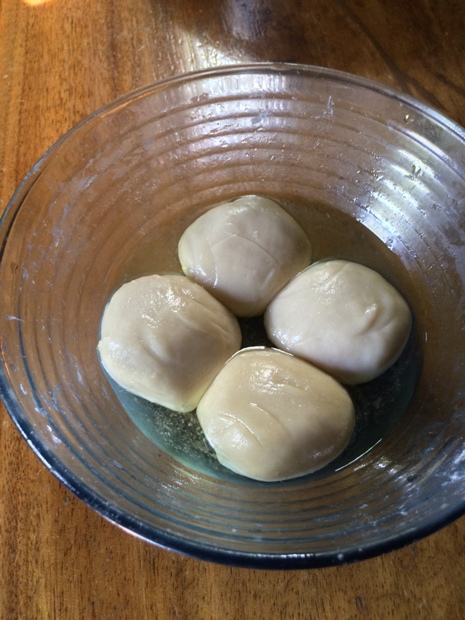 I proceeded to stretch the dough imitating the technique of  master roti makers in Thailand. The dough stretched really well with no resistance and with all the oil in the bowl my hands are non-greasy and smooth as soon as I finished stretching the dough like no oil touched it. Magic! I tried to stretch it as thin as I can but holes still formed in the dough, my technique needs refinement and practice; no matter what patchwork I do the dough just resists because of the oil. To add to that, I'm only using a large plate to stretch the dough and the masters are using a stainless steel surface because I don't know if it's okay to use oil on a wooden surface which is the only one I have. Here's one of those attempts.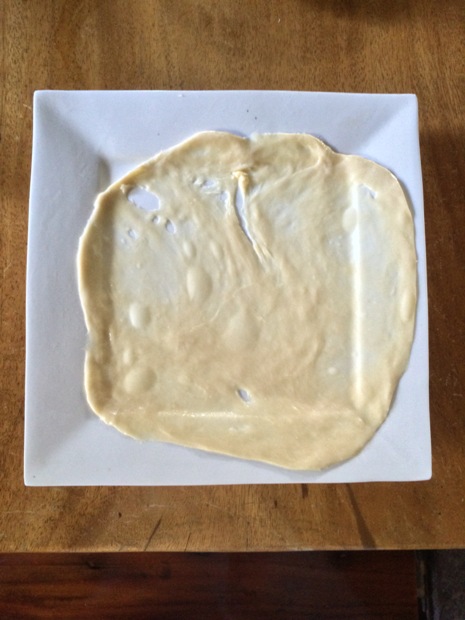 I put it on a heated pan which is a challenge because it is difficult to maneuver the dough through its high sides. The thin sheet of dough is cooked instantly so you have to be lightning fast from this point on. I then put a banana and egg mixture and fold the sides. You'll immediately smell the banana the moment it hits the pan. When It was flipped I put some butter (vendors usually use margarine but I used butter since I don't stock margarine anymore) so it finishes frying in butter for extra delicious flavor. The whole house was filled with the lovely aroma of banana when I'm done cooking this.

Like anything, you'll really get better the more number of attempts you make:

1) This is my first one. The heat is too high so it was a little burnt. The filling also leaked out from a small hole making it look like a scrambled egg. I'm also "not yet into" the folding technique.




2) My second attempt. I overcompensated and left the dough too thick to avoid holes. It was more difficult to fold so it ended up looking funny, still delicious though.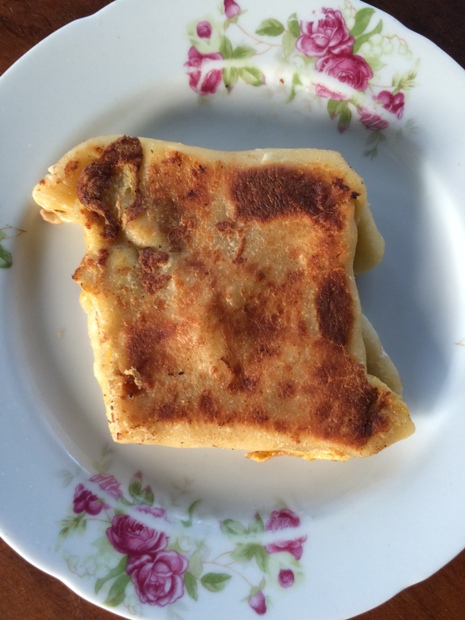 3) My third roti. Getting better but the filling was not distributed well.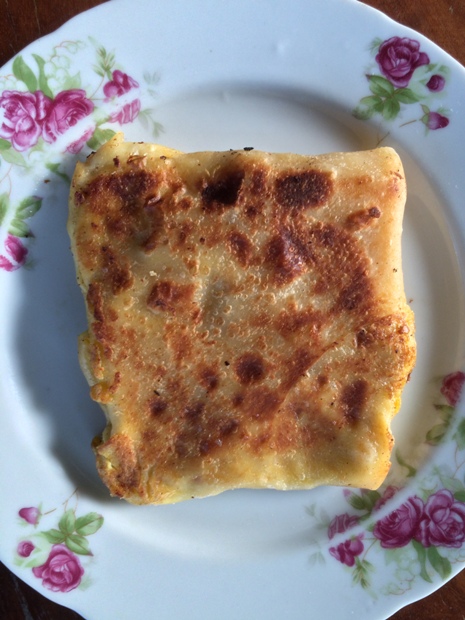 4) The last one. This the prettiest that I've managed. Cooked on gentler heat for a longer time, it was perfect. It was almost similar in looks to the real banana roti! I'm really happy!




The bread was crispy and soft with the slightest chew. The banana and egg became a smooth silky custard, very fragrant and delicious! Mom ate hers plain, dad with only condensed milk and I did it classic style, with additional sprinkling of salt and sugar. The sugar provided crunch and the salt cuts through the rich flavors but complements each well elevating this humble dessert to whole new levels. Very very good! I think they are really close to the ones you can get in Thailand




Until now, I still can't believe that I made it in my very own home. I just used to watch this in my laptop but now I have already made, eaten and shared it with my family and we all loved it! There's really nothing like this feeling of satisfaction, fulfillment and pride. I hope you've enjoyed this one as much as I do.


Thank you very much!