Two Green Onion Breads ~ I turned our kitchen into a street food stall!
I was alone in the house this Sunday with nothing to do, my thoughts automatically turned to making bread. But what bread? There's not much stuff in the pantry and I want to enjoy the bread on the same day when my parents arive. I also want a bread like "that bread from that nice lady at the end of that narrow alley" you know what I mean. Days before I've been pondering about the wonderful world of street food; how quick, easy and convenient it is delivered to you and how delicious and varied they are; opening my own food cart someday or just going on a street food trip. Personally, I think a date night eating street food with just the two of you holding hands and savoring the whole experience is sometimes most of the time much much more romantic than a dinner by candle light with a glass of Merlot to go with your medium rare filet mignon. So I decided I will make a bread that will fit the street food culture like what i see from the world; quick, rustic, almost no need for utensils to eat, delicious. No muss, no fuss!

I saw a bunch of soggy green onions (which is one of my favorites in almost any food) in the fridge almost rotten so instead of throwing them out they found their way in these breads. After a lot of trimming and cleaning I gathered an amount enough for eight rolls, most of what was left over were the one closer to the white parts so the breads don't have that lovely greens in them. I was feeling lazy or daring that day too so in true street food fashion, I didn't measure a thing when I made these, I also made two breads of contrasting textures to offer variety to my "customers" family.

The first one is a flaky roll like the one I've posted here before but I used a lower protein flour here for ease of "lamination" and a less bready texture. Each roll was rolled flat and brushed with oil and sprinkled with toasted sesame seeds and chopped green onions, rolled like a spring roll and coiled into a snail and flattened a bit. After twenty minutes of rest, they hit the pan and are done when golden brown on both sides.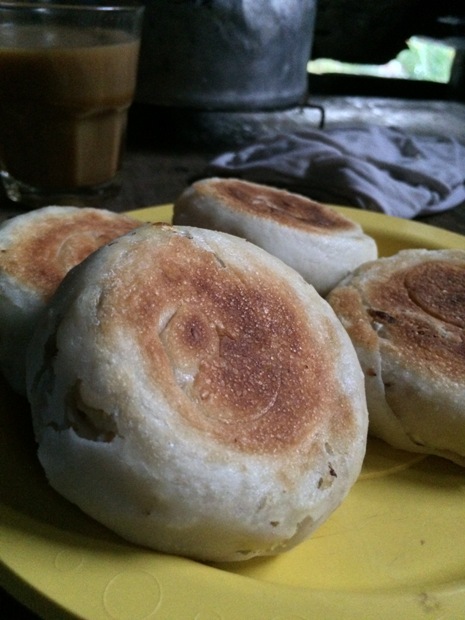 Shards fill the plate when I cut it. You can see the layers of dough studded with green onions and sesame.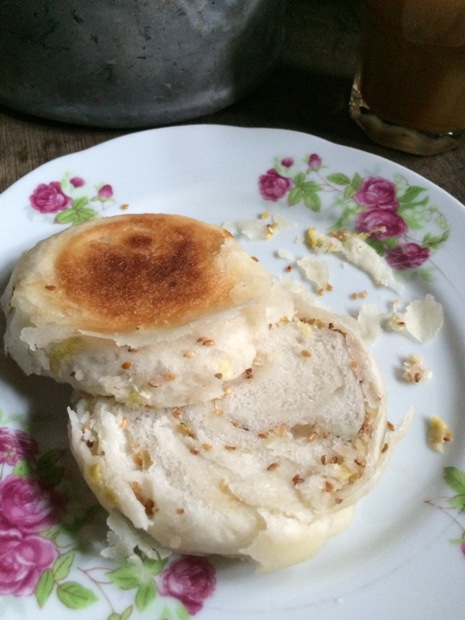 I served this with fried chicken akin to the classic fried chicken and biscuits. When I'm searching the fridge earlier I saw theseforgotten pieces of chicken thighs that I deboned and marinated about a week ago so I could also name this post "Feast of Forgotten Foods" :P Super super flavorful from the extra long marination, no need for a sauce.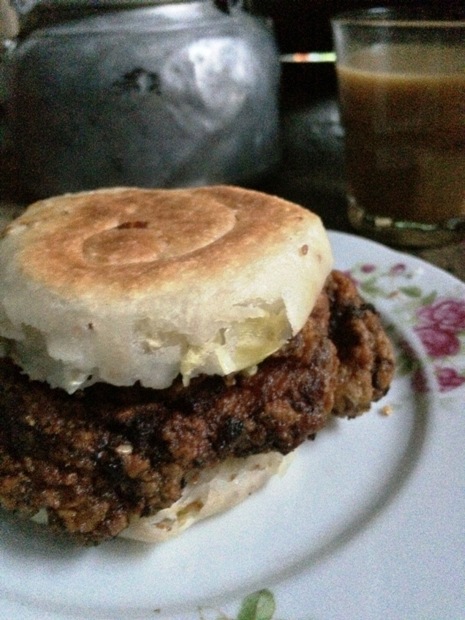 The second one is a soft and chewy lean roll. I used a strong flour and incorporated the green onions in the dough. I made a wetter dough to encourage a more open crumb to fit my intended purpose. I formed blobs of dough into rough circles and again after a twenty minute rest, cooked in a heated pan until golden brown on both sides.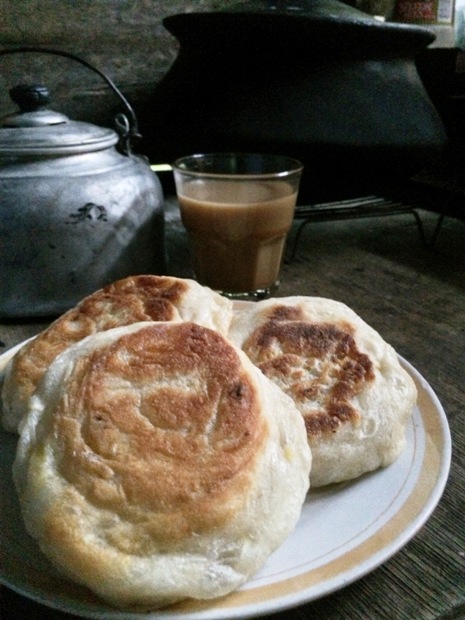 The crumb has distributed holes of larger size than most and studded with green onions.




I served them with braised minced pork in oriental spices. The hearty rolls are perfect for mopping the saucy minced pork and the green onion flavor complements it well.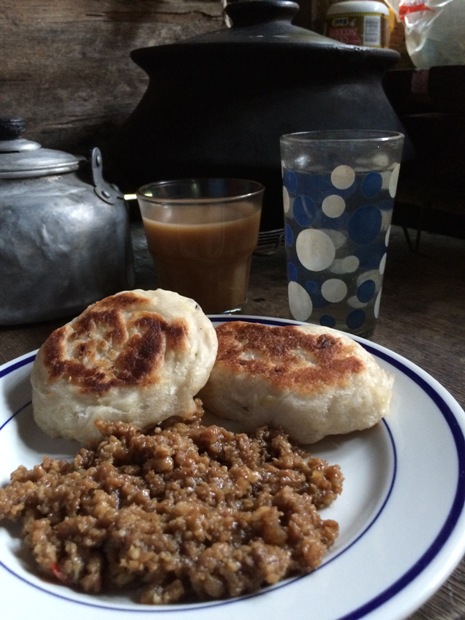 I served both breads/meals on our old table with old utensils for maximum effect! It's truly a wonderful experience, I was like the vendor and mom and dad are my patrons (well, they really are)! In the end we all truly had an awesome meal!


Thank you very much!