September 24, 2015 - 6:30am
Hedging my bets (Updated 25/09)
I've loved the feel of the Hamelman Pain au Levain dough during every phase of the prep.  French Folds, Letter Folds, shaping, couching, scoring.  And, of course, seeing what comes out of the oven as bread.
And so it was time for another indecisive bake.  Batards or baguettes.  Hmm, why not both.  Again, I've not seen this bread done as baguettes anywhere on this site before, so maybe I can start a movement.
A bit of a mix up began the whole soiree.  I was building the Hamelman levain at the same time as building up my on "proprietary" levain, and as bad luck would have it, both in the same type of vessel sitting alongside each other.  When it came time to add the goop into the autolysed flour & water, well, I mixed the two up.  But I was darned confident that my own levain was robust enough for this mix.  No harm done. 
For those who love this formula, and really now, who doesn't, it is an exceptional dough to try your hand at rolling and scoring baguettes.  "Man does not live by batard alone..."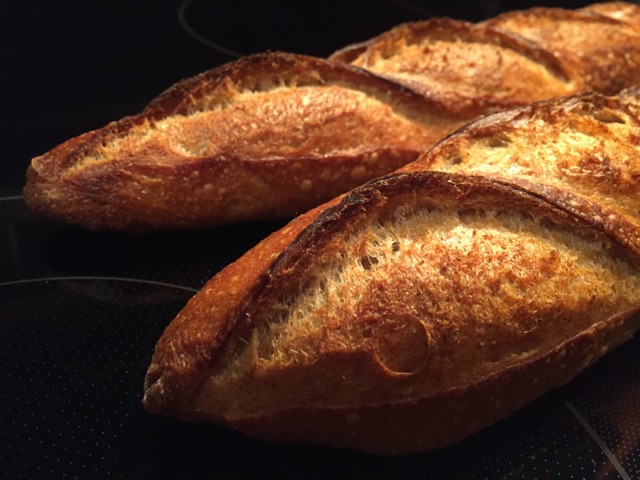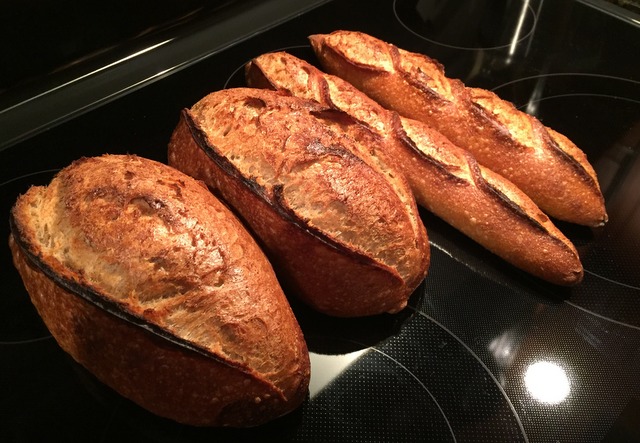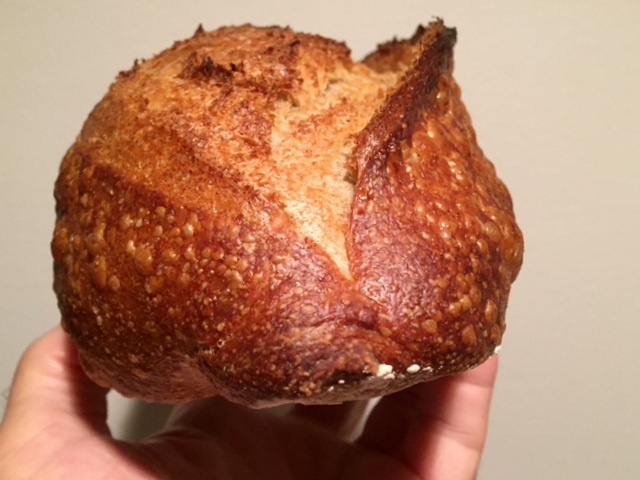 Adding a crumb shot from one of the batards.  The other is in the deep freeze.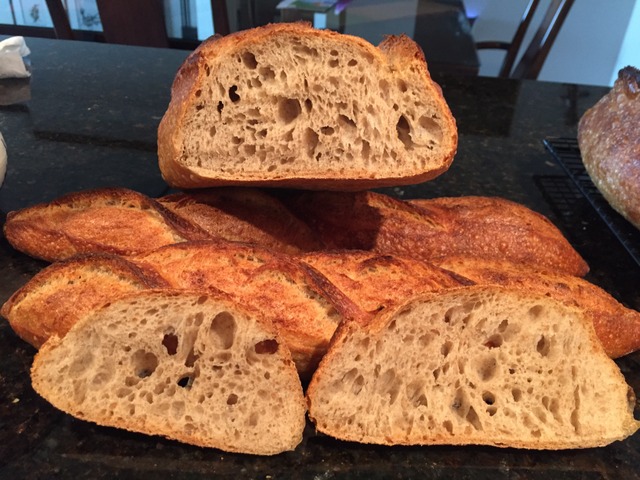 I was also so pleased with the above bake that I had trouble controlling my impulse to "get back Jack do it again" (re: Steely Dan) the next day.  And so I did, now with the Hamelman levain having been incorporated into my own, yielding a mix of both.  
The combo batard/baguette bake came in 2 batards @500g ea. and 2 baguettes @250g ea.  This time I scaled it down to 4 baguettes @300g ea.  As you can see, the results are easily replicable.  This dough almost wants to shape itself.  
Please do give the Jeffrey Hamelman Pain au Levain formula a try either as a batard or baguette without using a Dutch Oven or even a proofing basket.  If you don't already bake that way, it'll give you a whole new outlook on what you can do baking and add another dimension to your baking skillset.
My version of the formula is posted below.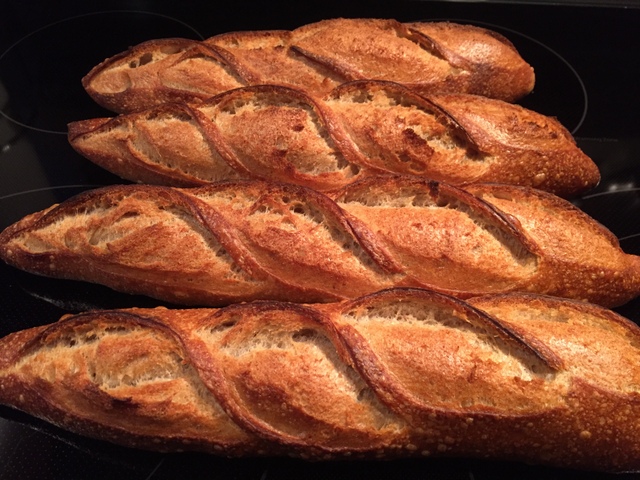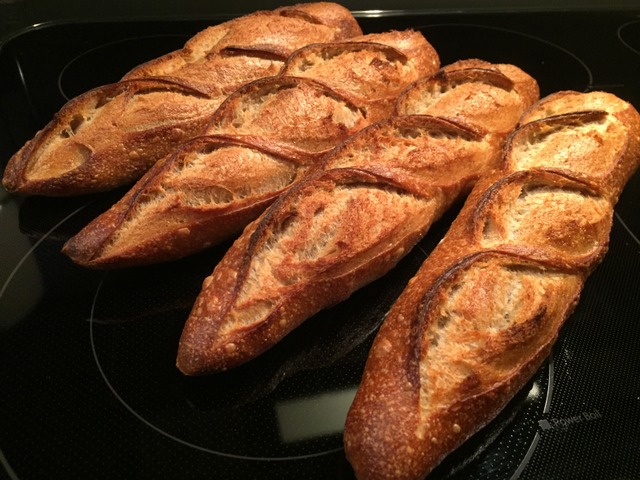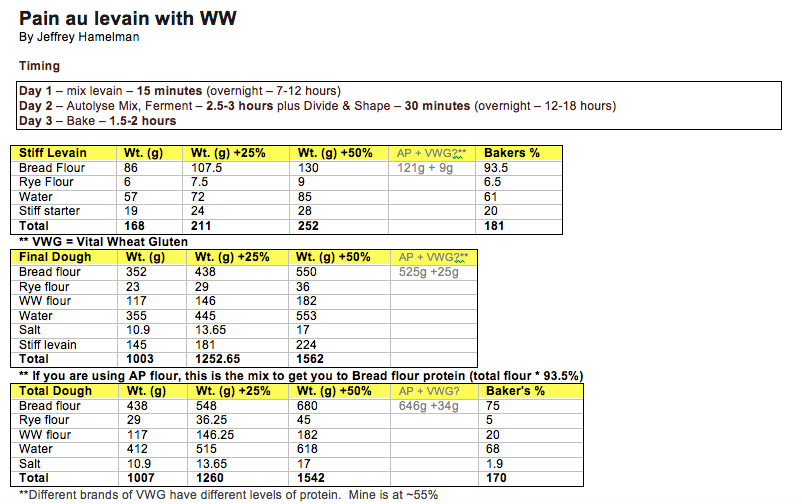 Method
 Day 1
Mix stiff levain (7-12 hours).  Refrigerate.  This levain is very slow moving.
Day 2
In large bowl add flours and water, mix to shaggy mass.   Dough will be wet and sticky until levain is added.
Cover and autolyse for at least 30 minutes (or more – to suit your personal schedule).
Add salt and stiff levain, pinch and fold to incorporate.  Levain will be rubbery & thick, break into pieces to add. 
Correct the hydration up depending on absorption of WW & Rye. Consistency of dough should be medium - neither dry nor overly moist.
300 French Folds.  Dough will be billowy and smooth, but not wet.
Transfer dough to a lightly oiled bowl, and cover.
Bulk ferment for ~ 2 ½ hours with 2 stretch and folds at 40 & 80 minutes followed by 40 minute rest. *My kitchen is a pretty steady 80dF, so a cooler kitchen will need an "appropriate" amount more time to bulk ferment.
Retard for 1 hour (or more – to suit your personal schedule).  Sometimes depending on my personal schedule I'll retard for as long as 3 hours before the next step.  In general, it just plain doesn't matter all that much!
Divide, pre-shape and shape.  Onto very lightly floured couche, seam side down.  My couche sits on a smaller jellyroll pan and I cover in an enclosed bag.  I use two plastic bags, one from each end of the pan.
Refrigerate for 8-12 hours.
Day 3
45 minutes before baking, pre-heat the oven to 480ºF with a baking stone.  Place Sylvia's Steaming Towel(s) into the oven 15 minutes pre-bake.
Score and transfer the loves to the baking stone. Steam the oven pouring ~2 cups of water into a pan of pre-heated lava rocks (or whatever), and turn the temperature down to 460ºF.
After 12-15 minutes, remove the steaming towel(s).  Continue baking for another 12 minutes for baguettes, or as much as 20 minutes or more for batards, or until the loaves are nicely browned (and the internal temperature is at least 205ºF – I never do an temp, as after a very short while you just know!).
Transfer the loaves to a cooling rack. Cool completely before slicing.
alan