December 14, 2014 - 8:01pm
Yet another Hobart N50 restoration project.
So I'm always cruising "<that online auction site>" and spotted what looked to be a basket case of a N50 someone tried to spiff up with a rattle can of silver spray paint...  

It was advertised as: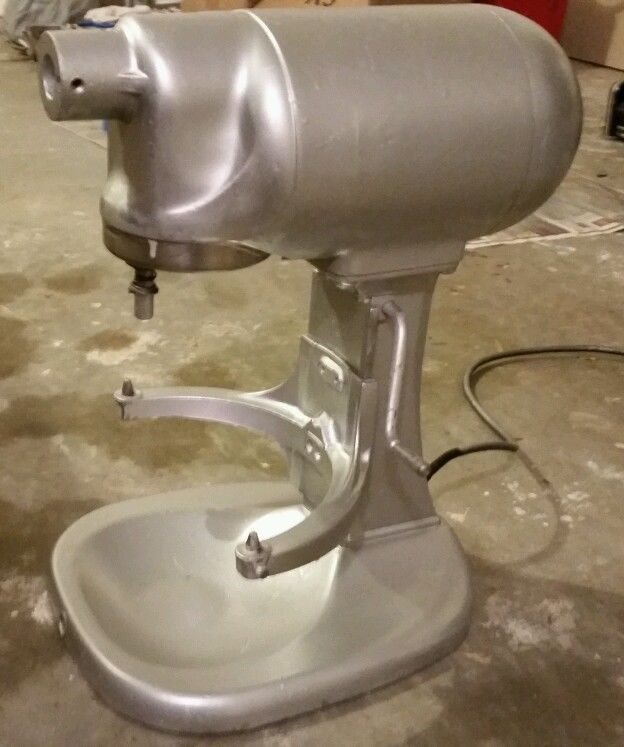 "This unit is in great working order. Fully tested. 
Unit does not include any attachments or bowl 
but both can be purchased fairly reasonably right 
here on ebay (bowl new on ebay for $35). We 
did paint this unit during refurbishing so it no 
longer has the Hobart brand stickers on the side"

Now, how they could have "fully tested" the unit without any bowls or attachments, is beyond me.
I was a bit concerned about the "refurbishing" they eluded to so I inquired of the seller what they did to refurbish the machine and was told:

All that was done to this unit was paint and plug replacement.
The paint used was a Rust-oleum that per the manufacturers website is VOC and MIR Compliant.

At least they were not monkeying around inside the motor or gear-box, so I put in a ridiculously low bid on it, and apparently the poor paint-job and "refurbishment" scared off all the other buyers.   
But what-the-hey, a running Hobart N50G for just under $300 delivered, is totally worth a few dozen hours of my time to obsessively lovingly restore it to it's former glory...  Heck, even my wife can't get too upset over that purchase. especially if I let her choose the new colors scheme when we get it powder-coated.  And we already have four bowls, at least 4 KitchenAid dough hooks, two Hobart beaters and two Hobart wire whips that fit it... If only I could find a pastry knife (sigh).

It arrived in due course and as promised it did run smoothly despite its rough exterior. removed the back motor cover and was relieved to see it had never been removed as was the case with the the power/gear selector plate and the factory original 50+ year old grease was in tact.

Now, the fun begins...