August 19, 2014 - 11:59am
One thing that happens when you bake for other people is they tell you what they want, and if you don't have it, sometimes they just walk away.   So it has gone for the past few months at farmer's markets, where a small but determined group must have their whole wheat bread, and won't even look at other offerings if it is not there.    I have been keeping a close eye on TFL for whole wheat baking.   True I have baked 100% whole wheat breads -- particularly Reinhardt's and also Pain de Mie following Janetcook's lead.   Neither of these satisfied me as a bread for sale - I was looking for an approach more in tune with my regular processes.  
Recently Last year Abel posted a bread (thanks to Bröterich for the link) made with rye sour and all whole wheat in the final dough.   (For some reason I can't find it - the post seems to have vanished.)   This inspired me, but my attempts to copy it resulted in a very bricklike substance.  So I played around a bit trying to find my own way.   Finally I stumbled on something that looked beautiful which used both my white and rye starters. The rush of the market being what it is, I sold a few loaves without having ever tasted it.   Last Saturday I brought even more to the market, and the loaves flew off the table, all the while with me wondering what in the heck I had just sold.   Fortunately though, I had a few repeat buyers, so I knew it couldn't be too bad.   This week with a bit of a slowdown since I'm not baking for the market this Saturday, I was finally able to taste my whole wheat bread.   I am really not much of a whole wheat fan - a little too healthy for my tastes, but this was really nice - particularly with the very dark crust whose sweetness contrasts nicely with the hearty crumb.   In fact I love this bread and it fits nicely into my routine, as it doesn't require any new preferments - just the ones I have on hand.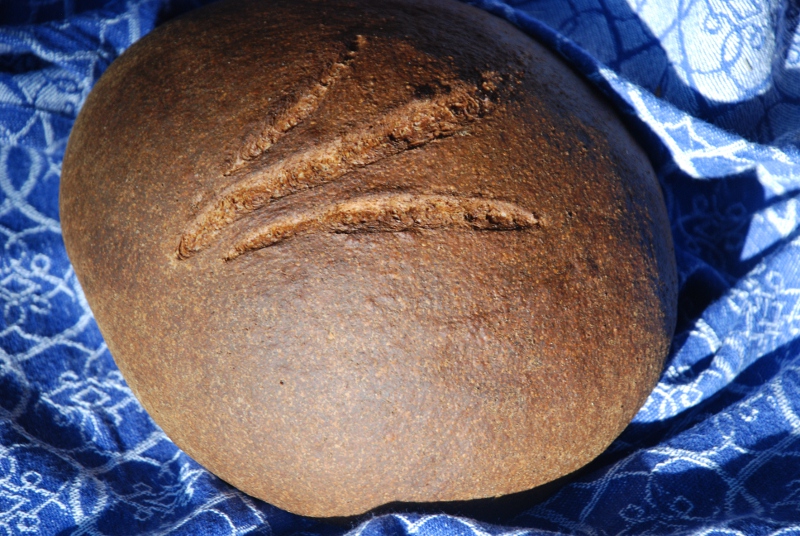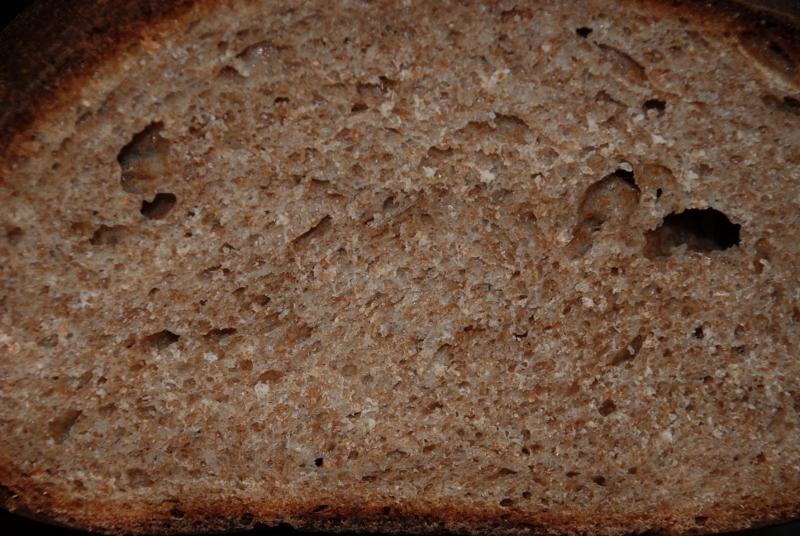 Some would call this 100% whole wheat, but of course it has some white flour and some rye flour from the starters, so I'll just call it whole wheat - seems ok.
Formula and Method:
Whole Wheat Boule
 
 
 
 
 
 
 
 
Autolyze flour and water plus honey and oil
 
1:00
10:30 AM
Mix all
 
 
0:10
11:30 AM
Bulk Ferment
 
 
3:00
11:40 AM
Shape in boule
 
 
0:30
2:40 PM
Proof
 
 
2:30
3:10 PM
Preheat 500, Load, Steam 1 min, off 6 min
0:35
5:40 PM
Bake 25 minutes 425
 
 
6:15 PM
 
 
 
 
 
 
 
 
 
 
 
 
 
 
 
 
 
 
 
 
 
Final
Starters
Total
Bakers %
 
 
 
 
 
KAAP
0
63
63
12%
Whole Wheat
445
 
445
84%
Whole Rye
0
24
24
5%
Water
242
61
303
57%
Oil
74
 
74
14%
Honey
30
 
30
6%
Salt
10.4
 
10
2.0%
Starter
104
 
104
 
Rye Sour
44
 
44
 
 
 
 
 
 
Total
950
 
 
 
Total Flour
532
 
 
 
 
 
 
 
 
Starter is all white, 67% hydration
 
 
Rye sour is all whole rye, 80% hydration - using Great 
River Whole Rye