Fig Fennel Bread, with Fig Yeast Water
This experiment turned out so well I thought I'd share the formula. The levain uses only yeasts from fermented fig water. There is just a hint of fennel and caraway, with a gentle sweetness from honey. Typical of fruit yeast, there is a noticeable lack of acidity.  Nice moist crumb. Keeps well. Delicious!  
I used fruit yeast rather than sourdough or commercial yeast because with a bread this "pure", I didn't want any sourness or extraneous flavors to take away from the subtle flavors.
And there's something about using figs to leaven a fig bread.
(One may substitute raisin yeast water, I suppose, but the fig flavor infuses the dough.)
Formula
For one 1000g loaf.  Times are for summer baking in a hot house in Tucson AZ about 86F, so adjust accordingly.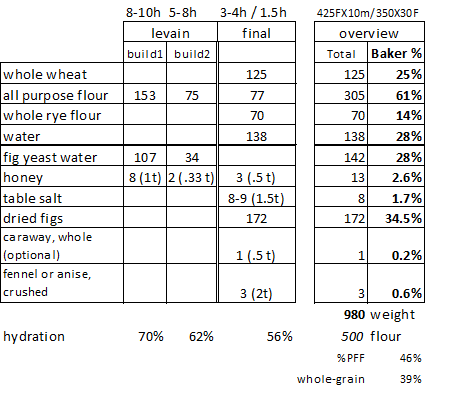 To make the fig yeast water: Coarsely chop a dried, asiatic fig (the variety with tan skin with white powder on skin) and soak for about five days on counter in about 160g (?) of water. (You want to end up with 142g or so of fermented water after evaporation for the levain.) Once a day shake the bowl to aerate. The yeast water is ready when it has some bubbles, tastes a little vinegary, and maybe has a little white mold. Strain and throw away fig remains. 
Levain: Build over two elaborations at the indicated times and amounts, using white flour and the fig yeast water as the liquid. Do not add any other sourdough or yeast. After the fermentations It will look like a regular poolish. If you have a little left over use in main dough as part of the water.
Dough: Mix levain, fennel (or anise) seeds, and final ingredients except salt and figs. Add salt after 20m autolyse, and knead by a couple minutes of french folds. Add enough extra water (beyond the 56% hydration) to fully hydrate dough, as high as you like but not so much dough doesn't hold it's shape free-form. Stretch and folds at 1h, 1:30 and 2 hrs. Add 172g coarsely chopped dried figs (not counting the fig used for the yeast water) with stems removed (mission or asiatic variety) at the first fold on the first hour. This dough will be firm and solid but sticky because of rye, and shiny and slippery because of fermented water. 
Bulk ferment 3-4h. Proof 1.5-2.5h free form (if hydration less than 70%, other wise in banneton). 
Bake: 425F for 10m with steam, then another 30-50m at 350-375 until crust is dark brown. Or like your usual levain. The crust will be darker than usual, but do be careful not to actually burn.  (Bake at about 25F less than usual due to the figs and honey.)
If one despises whole grain, white bread flour could substitute for the 25% whole wheat to make a lighter loaf; but do leave the whole rye portion.
Of course you could easily add 15% nuts like hazelnuts, walnuts or pecans if you wanted another texture/flavor.
Please do let me know how it turns out!  Jonathan