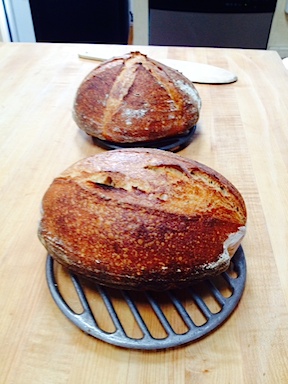 We've started making Greek yogurt at home, which leaves us with lots of eft-over whey. We've made ricotta, and I've started experimenting with using whey for some portion of the water.   
Here's the formula I used:
Levain
100 g 100% starter
100 g KAF AP
70 g Water
30g Whey (yogurt-making byproduct)
16 hours
Dough
All of the starter
700g KAF AP
300 g Sprouted whole wheat
722 g Water
20g Kosher salt
Mix all but salt - autolyse 20 min
Add the salt and knead 10 mins
Bulk proof in fridge 8 hours
Next morning, out of fridge, stretch and fold every 30 mins for 2.5 hours (this dough was slow to develop)
Shape and proof 1.5 hours
Bake in cast iron 40 minutes at 485F. Covered for 20, then uncovered.
Taste is amazing. Not at all sour, but full-flavor. Browned up more with whey - because of the sugars?