How long to bulk ferment?
Lately in the midst of making a lot of decent bread, I've had a string of mysterious failures.   Here are the symptoms:   at best poor opening of scores which leaves the resulting bread more compact than it should be and with gummier crumb.   At worst cakey crumb and collapses along the crust which leave a skin of paperlike crust with a cavern beneath.   The second gets thrown out; the first is fine to eat but nothing great.    Over the months I've wracked my brain trying to figure out what was going on.   What made it especially difficult is that I'd tweak this or that and get fine bread, but then a few times later, back to square one.   As these breads would tend to get tacky during the proof I tended to think that they were getting over-proofed very quickly.   So I'd try a shorter proof and that would seem fine, or lower the hydration, or, or, or
What made this particularly irritating is that these failures were concentrated among my simplest breads – flour water salt starter.    How could this be?  
In the last few days, my thinking changed.   Was I under rather than over fermenting?    The other night I had some excess starter, and I decided to try an experiment.   Right before bed,  I mixed up some dough and turned the heat in the house way down.   Since we have been experiencing the coolest spring ever, I thought that I could try a longer rather than shorter bulk ferment.    Because this made me nervous I also upped the salt and lowered the hydration a bit.   When I went to sleep the temperature in the house was 70F (20C).   Ten hours later it was 64F.   The dough was fine – nice and light and expanded, and not at all tacky.   I did a short proof and then baked and sure enough – the bread came out very nicely.  
Long overnight counter ferments may be fine during a cold spring – but summer is coming.   I couldn't rely on that for very long.   So last night I decided to rework and do a cold ferment but not to underdo it.  
This is what I did:  upped salt to 2.3%  (my standard has been 1.8%)   Lowered hydration to 65%.   Mixed all medium developed.   Left on counter for 20 minutes, then did a vigorous stretch and fold.  Then bulk retarded for 13 hours.   Then removed, left on counter for 1 hour, then shaped.   Then proofed for 2.5 hours on counter, and last ½ hour in refrigerator.   Then baked.   The dough was well behaved the whole time without a trace of tackiness.    When I took the loaves out of the couche, I would have sworn it was over-proofed, as it was very expanded and flopped around a bit.   
And yet, it wasn't.   The loaves expanded a lot in the oven, with the scores opening very nicely.   The resulting bread did not suffer from gummy compressed crumb.  To the contrary.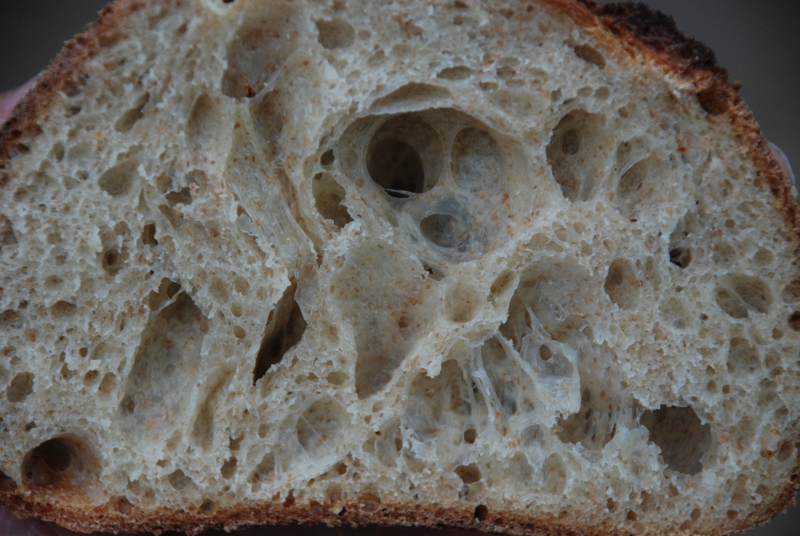 What I take away from this is that the thing I've been trying to figure out since I started baking - when is the bulk ferment done - is still eluding me.   There isn't a simple poke test.   You can't use time.    You can't even use time and temperature, as it is so starter dependent.  And if you go too short, you will get the strangest set of symptoms ever which will point in all directions.   I think I've been going too short for certain types of breads, and the solution is to ferment for longer (perhaps much longer.)   Do I need to keep the salt so high and hydration low?   Not really sure yet.
Formula:
| | | |
| --- | --- | --- |
| Bread Flour | 265 | 79% |
| Whole Wheat | 88 | 21% |
| Water | 230 | 65% |
| Salt | 9.7 | 2.3% |
| 67% Starter | 108 | 15% |
|   | 700 |   |
Methodology as above.