A compilation of lessons learned: starter maintenance, and manipulation.
Five years ago (April 25) I discovered The Fresh Loaf, and started this journey. Prior to then I'd frequently baked yeasted breads, and a modest spectrum of other baked goods. I'd bought a bread-maker—A Zo—and soon after quit, for the most part, buying supermarket bread. I continued to purchase loaves from local bakers, Deli Rye most frequently; and, while still working, loaded up with airport sourdough every time I passed through San Francisco.
I was content—well, almost content.
Over a couple of decades I'd tried half-a-dozen times to make sourdough bread at home. Every time mediocre, early successes were followed by dismal failures, and a neglected, smelly culture—sometimes rainbow colored with molds—long lurking in the depths of the refrigerator.
Mentored by TFL experts—you know who you are—to whom I will be forever grateful, during the first two years, I read a lot, experimented a lot, and had more successes than failures. And all the failures were edible.
In July of 2011 I could no longer deny a major failure was eminent.
My sourdough starter was slowly going belly-up. I tried to save it, but gave up after a time, and turned to TFL'er, Debra Wink, for help. With day-by-day guidance she led me back to having a robust, viable starter. She also suggested an alternate maintenance plan (for a refrigerated seed starter). I followed her advice, and now, nearly three years later, I am still enjoying the same culture's robustness and dependability.
The experience got me thinking in broader chunks about my bread making. I'd started with a vague goal: I wanted to make "better bread". I defined "better" with three parameters: good flavor, appropriate crumb, and pleasing eye-appeal. They are listed in priority order. Somewhere along the way a meta-parameter had unconsciously crept in: Consistency.
My conscious goal became make "better" bread consistently.
I can happily say I've reached a point in time when I can, with reasonable safety, say I've met my goal.  
Insanity is often defined as "doing the same thing over, and over again, and expecting a different outcome.  I assume the opposite is also true: "doing the same things consistently, and expecting the same outcome is sane."
My TFL blog is, in the recent past three years, peppered with arguments for developing a personal, disciplined process(es) for baking breads. Discipline, in my opinion, begins with consistency: in ingredients, in procedures, in time and temperature, and also attitude.
This morning, while building a small amount of levain, not for baking but to merely replace my refrigerated seed starter—no baking this week, the freezer is full—I thought it worth a blog entry to focus on starter maintenance, and levain building (manipulation).
With the back-story complete, here's what I do with my seed starter—consistently.
• 24 hours before dough making: Build 1; 40g seed starter @ 100% hydration, 20g each Flour (KA Bread Flour) and filtered well water. (2:1:1) Ferment at room temperature (72°F – 76°F)
• 16 hours before dough making: Build 2: All of Build 1, 40g flour and 40g H2O. Ferment at room temperature.
• 8 hours before dough making: Build 3: All of Build 2, 80g flour and 80g H20. Ferment at 82°F.
I make three sourdoughs routinely: a 10%:45%:45% (Rye: AP: Bread flours mix) @ 67% hydration, a Mostly White (only 5% Rye) at 67% to 72% hydration, and a 50% Whole Wheat:Bread flours version @ 68% hydration. All use 250g of ripe 100% hydrated levain. Which leaves 70g of ripe levain from the three Build process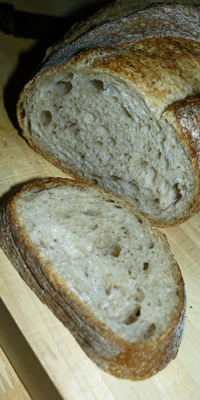 10/45/45 Sourdough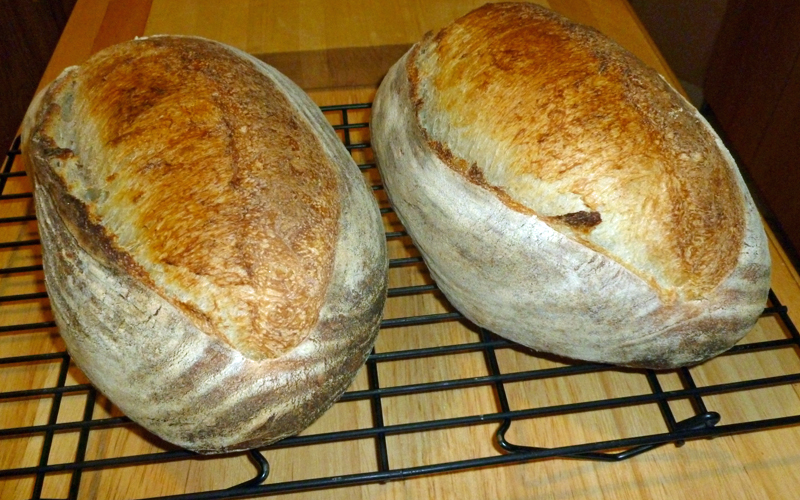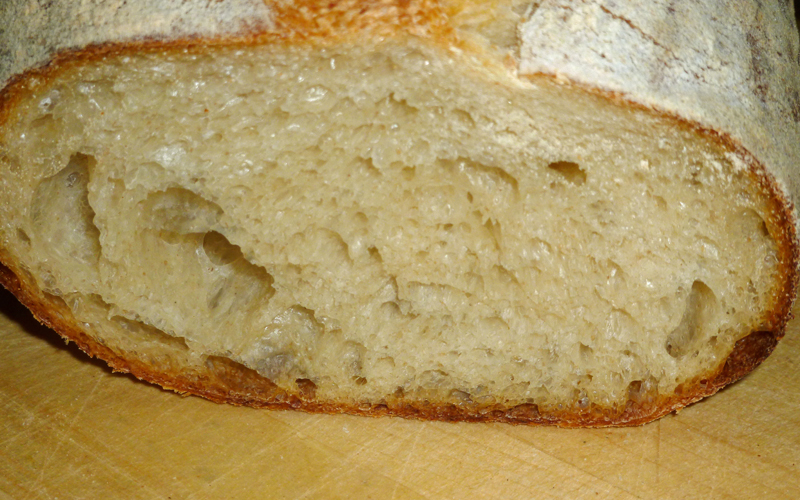 Mostly White Sourdough
50%Whole Wheat Sourdough
I feed 50g of the remaining levain 1:1:1 with Bread flour and water, and completely replace the previous week's seed starter. (Divided equally into two jars. I've always been a belt-and-suspenders, risk-avoiding guy.)  I refrigerate this mix immediately. Total replacement was Debra Wink's suggestion. Previously, I'd been feeding a measured amount of the residual seed starter. This may have contributed to (caused?) the earlier failure.
This discipline, along with 15 hours of retardation at 54°F, yields consistent performance regardless of the flour mix, or hydration. I divide and warm the chilled, retarded dough for one hour at 82°F, shape the final loaves, and return them to the proofing box (82°F). Proofing invariably takes 2 hours and 15 to 20 minutes. I bake at 450°F, with steam for 15 minutes, and without steam until internal temperature reaches 208°F to 212°F—typically 8 to 10 more minutes for 1 lb. loaves and 12 to 15 more minutes for 1.5 lb loaves regardless of dough type or hydration percentage.
Variations on the theme:
• I've built a Rye Sour beginning with the same seed starter, but now replaced every week to ten days; otherwise same process: surplus Rye Sour for baking is fed at 1:1:1 with Whole Rye and stored in the refrigerator.
However, I build Rye levain at 60% hydration for the first 16 hours (Two progressive builds @ Room Temp.) and 100% Hydration at 82°F for Build 3.
• My wife is not a sour, sourdough fan. Consequently, I focus sourdough builds on yeast, not bacteria development. (82°F is the sweet spot for yeast development).
• When I want more tang, I let builds 1 and 2 go 12 to 16 hours fermentation. If I want even more I push build 3's temperature to 90°F.
I thought this blog might stimulate other TFL'ers to share their personalized processes leading to their successes.  The emphasis is on how we achieve succeed.
Happy Baking,
David G