From German Bread Roll to Curry Roll
About a month ago I began my quest of making Brötchen (German bread rolls). There was a demand in town for such rolls and I had to fulfill it. I mean, I had to. I'm opening a German-ish bakery albeit in Cambodia. And a German bakery without Brötchen is like a poem without words.
Thanks to Karin's (Hanseata) blog post and detailed descriptions from German expats, I knew what I was aiming for. I adapted Karin's recipe and baked the first few test batches of Brötchen.
Too hard, too heavy, too dense, too yeasty, too light, too... too many problems.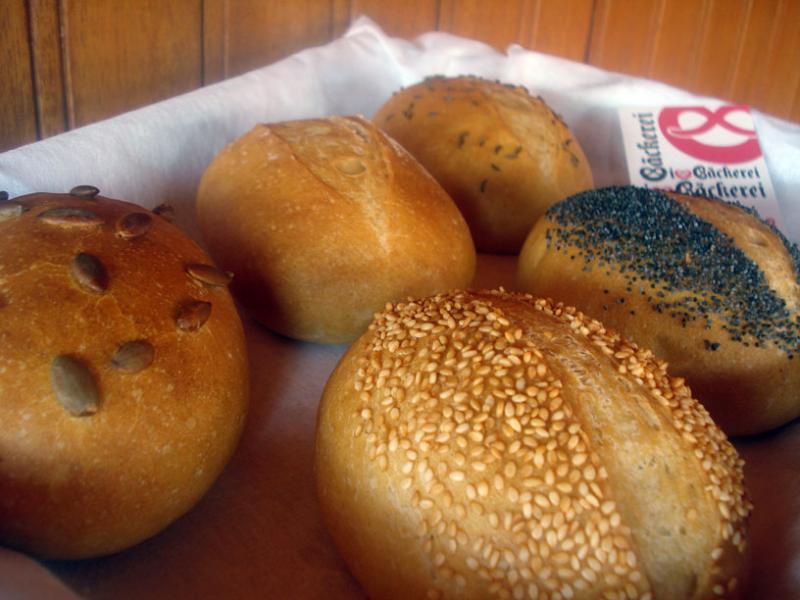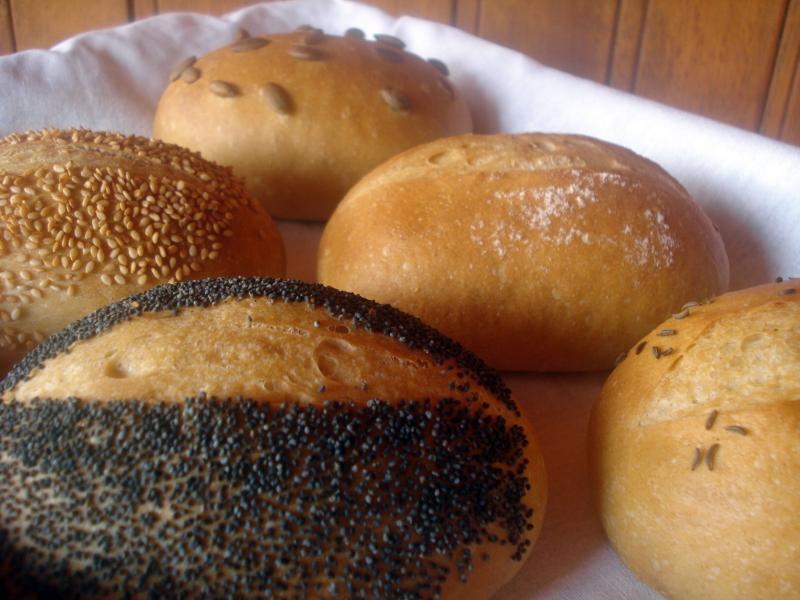 Three weeks later my freezer, my business partner's freezer, and my parents' freezer were full of experimental bread rolls. But behold, I was finally satisfied with my results: 
Thin, delicate, crispy crust; soft yet substantial crumb; and a pleasant yeasty, nutty aroma. 
One of my Swiss-German friends sampled my Brötchen, with a boiled Depriziner (spiced sausage). To my surprise he said, "It was the best meal I had in months," with much enthusiasm for the Brötchen. Of course, thinking it was an anomaly, I had others taste-test my bread rolls---friends and acquaintances. One after another, they all gave positive reviews, some of them rather lofty.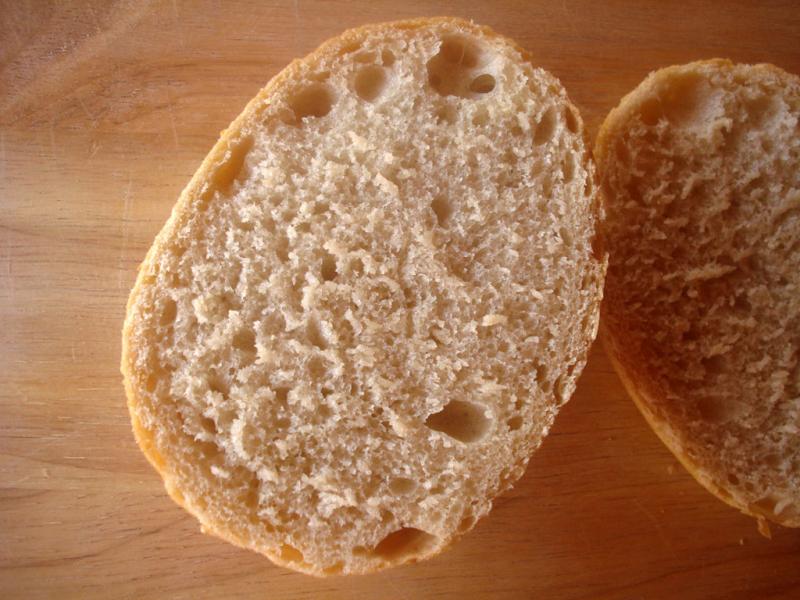 Some tips and suggestions:
The crust contributes a lot of flavour to Brötchen. Thus, to improve its flavour profile, I shaped the rolls into "ovals" instead of "balls". This way, the ratio of crust to crumb is increased.
Also, for my rolls, I reduced the oil / fat amount and did not fully develop the dough's gluten. Personally, I like my rolls with larger holes and a shreddy texture for one sole reason: it holds heavy sauces and condiments better.
Another tip: If you want seeds to stick to your bread, without an egg wash, I recommend brushing your dough with a mixture of flour (or anything starchy) and water, then adding the seeds atop. The majority of the seeds will stick, even when the bread is frozen, re-heated, and / or dropped onto the floor from chest-height!


From April 13th to April 16th is the Cambodian New Years. During this time, major festivals occur across the nation. One of these events is a three-day concert in the Angkor Wat complex (i.e., the largest religious monument in the world).
My business partner Michael requested that I produce something special for this event. My idea: Curry Rolls.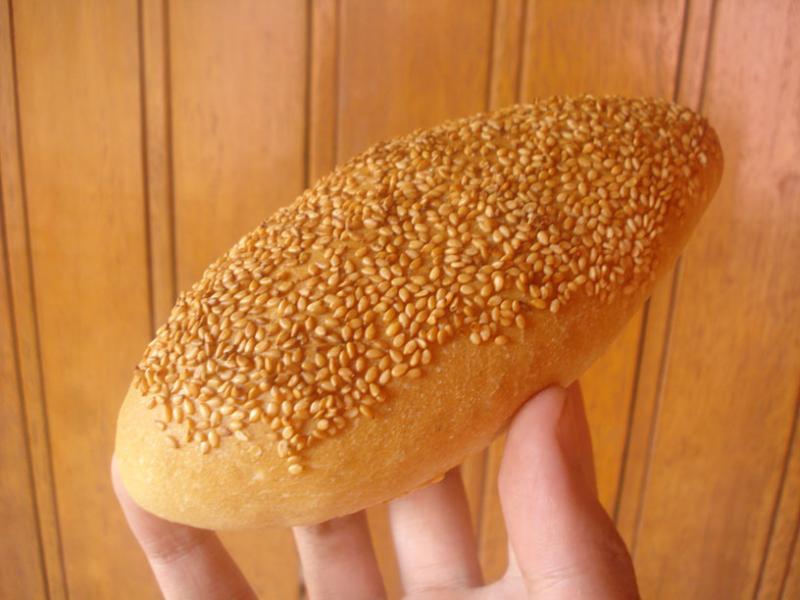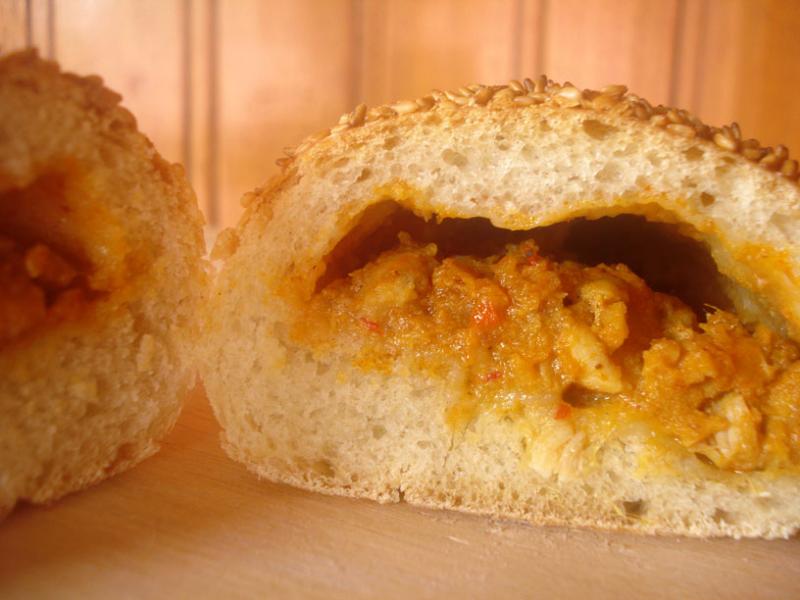 This idea was inspired by the Japanese "Yaki Kare Pan" (Baked Curry Bread). It's not uncommon for Cambodians to eat curry with bread as separate entities, so I thought it would be nifty to combine the two.
The bread roll wasn't a big deal. I used the same recipe for my Brötchen. The curry, on the other hand, was out of my expertise. Collaborating with Michael (a seasoned, professional chef) and his wife's family, we adapted a traditional Cambodian curry and transformed it into a bread filling.
Today marks the end of the Cambodian New Years. Truth be told, the Curry Rolls didn't sell as well as we wanted. Why? Perhaps a variety of reasons: poor location, too many competitors, lack of details...
But I have good news. Two bars in town have expressed keen interest in our Curry Rolls. We're confident that we'll attract other clients and will eventually produce the Curry Rolls by the hundreds, including other fillings, on a daily basis.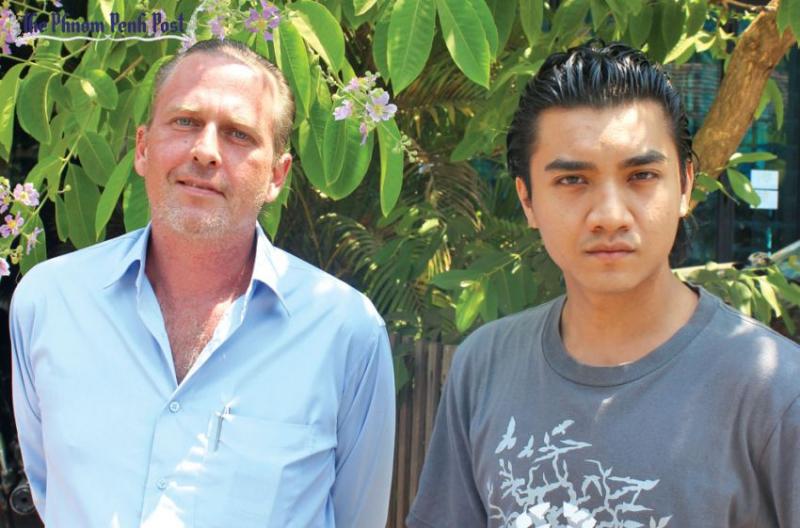 One final comment. Last Friday our upcoming bakery was featured in a local news article, which you can view here: 
http://www.phnompenhpost.com/siem-reap-insider/new-sourdough-bakery-promises-home-delivery

This publication has garnered much attention from hoteliers, restaurateurs, and bar owners in Siem Reap. That's right, my dream of running a sourdough bakery is coming into fruition, and I have to say, it's surreal. How did I get to this point, I know. Without encouragement and assistance from my family and friends, including this community (a tremendous source of my inspiration), I wouldn't be where I am today.
With my utmost gratitude, I thank you all!
Zita
Head Baker
Siem Reap Bäckerei