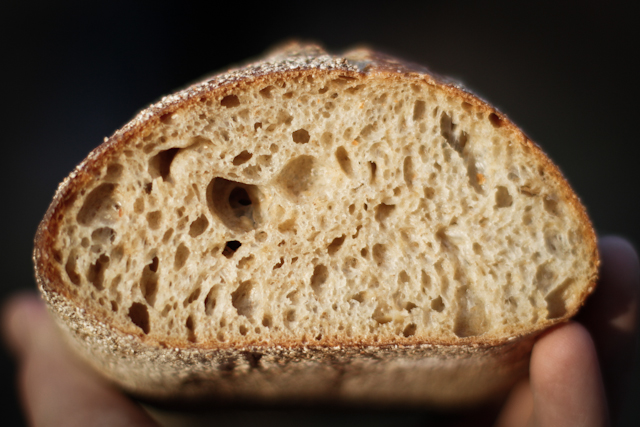 For the past few weeks I've been in my native homeland of New Hampshire visiting my folks. And  being in the north east in the early spring means maple sugar. Some of our family friends have a sugar shack and I went and visited and got some of the sap, One batch I made from full on raw maple sap, then the other batch was made with sap that had been run through their reverse osmosis machine. 
The full loaf in the title image is the one with plain sap 
620g BF 78%
40g WW 5%
40g Rye 5%
196g Levain (12%flour 12%water)
599g Sap 75%
16g Salt 2%
The Crumb shot is from Mel's reverse osmosis sap bread and also has some soaked rolled oats.
566g BF 80%
141g WW 20%
141g Levain 20%
566g Sap 80%
71g (dry weight) rolled oats 10% (really wring em out after soaking em if ya know whats good for ya)
15g Salt ~2% 
We did a one hour autolyse followed by some pretty minimal slapping and folding, the batch with oats took a little more working to get it to come together but it eventually did. Then as all the ingredients were cold we started the bulk ferment at room temp for an hour then retarded it for around 12 hours. Then we let it warm up at room temp for around an hour shaped and proofed until ready, some loaves were proofed in the oven with warm water, those took around three and a half hours and some were proofed on the counter, those took a bit longer.
If you have access to some maple sap I strongly suggest you try incorporating it into yer baking, because why the heck not!