Scalded 40% Red Fife Bread
As stated by Jan Hedh in his book Swedish Breads and Pastries 'The advantages of scalding include better kneading abilities, a strong aroma and flavor…making the bread more durable.'
I was curious to learn more about scaled bread as it's something we ate regularly during my time in Sweden. As opposed to the one I just baked, the scalded breads of memory were more a wading type loaf that was incredibly dense. This recipe however is adapted from a professional Swedish baker (Not Jan Hedh, though I used his book throughout as a reference point) in turn it's much lighter and made for a modern palate.
My lasting experience with this particular dough was the incredible aroma it gave while developing, ranging from cider in the early stages to a peculiar baked custard in the later. For that reason I recommend you all to try this and share how your particular bread developed. I'm imagining the possibilities that reduced yeast and longer resting times with at least the proofing done at a low temperature would have on flavor development.
I have not used red fife flour often in my baking career apart from petit epi's in a particular bread basket, and because of this experience will absolutely be introducing it as a regular in my pantry. The bread flour listed above is regional wheat grown about 40 km away and is only available in a few local health food stores as well as the farm itself. This will slightly effect water retention so be conscious of this in other attempts as the hydration percentages are relatively high to begin with.
 Another note to the will be baker, do not fear long kneading. Granted the machine is gently working the dough at a low speed your bread will not suffer the ill effects of slow/fast cycle, particularly over oxidation. The high hydration requires longer kneading and will be a very thick crepe batter otherwise.
Please enjoy this recipe and be sure to share your experience. Happy baking. 
Recipe Follows: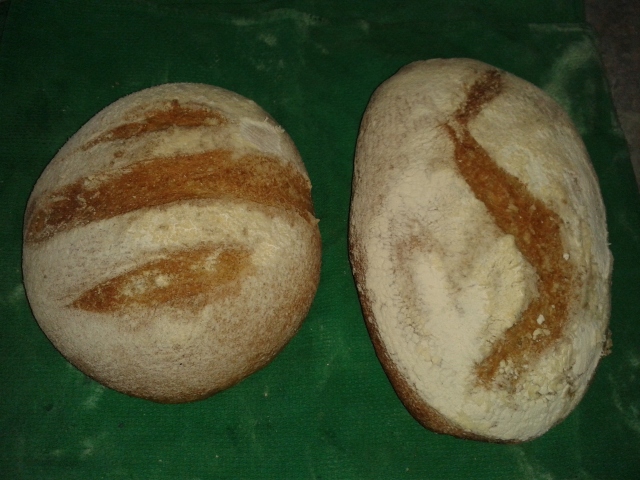 Procedure:
Scalding
125g                Water
63g                  Red Fife Flour
12g  Salt
Boil water and pour over flour/salt. Stir into a paste and cover at room temperature and rest at room temp 12-24 hrs.
Final Dough
200g Scalding
270g White bread flour
180g Red Fife Flour
350g Water, 70 to 78
20g Fresh Yeast
Combine in kitchen aid mixer on speed 2 for around 15 minutes. Do gluten test. Let rise for 2 to 4 hours stretching and folding at 3 to 4 times. 20 minute intervals worked fine for me. Once the dough reaches about 2.5 times its size, punch it down and let rest for several minutes. Gently form your loaves to whatever you want, with a batard being most traditional option. Allow loaves to proof until a finger dent test shows an indent that gradually recedes. Preheat oven and baking tray for at least 45 minutes to 500F. Once proofed score loaves. I simply scored my bouleo n the axis with two small parallel slits to fill out the remainder. The Swedes appreciate symmetry, so here's to you. Transfer scored loaves to the baking sheet and adequately steam oven either using a prepared pan or a spray bottle. Bake at full temperature for 5 minutes , reducing the heat down to 420 for the remaining baking time. After 15 minutes of baking open door to release steam for a few seconds. At the 25 minute mark, repeat the previous step. Bake loaf until thoroughly baked. I highly recommend a darker bake than mine, as the crust left a little to be desired, especially in a wheaty bread such as this. Jan takes his very dark, shy of burning. Before cutting in, rest loaves for a minimum of an hour.   The interior crumb of my bread was honeycomb and surprisingly delicate and spongy with a slight bitterness, complimenting sweet overtones.