February 23, 2014 - 12:19pm
Olive Bread - Could Have Been a Disaster
Yesterday I made FWSY Overnight Country Blonde (with chopped olives), and started too late in the day. I put the dough to rise - in a large bowl covered with plastic - in a back bedroom that is around 65 degrees during the day. At 8PM, I suddenly realized that it would be midnight when I should divide the dough, shape the loaves, and then have to let them rise another 4 hours. Not happening!
I shoved the bowl into the fridge and let it sit until 7 AM this morning. Pulled it out, let it sit for 1 1/2 hours, shaped the loaf (I cut the recipe in half for a single loaf), let it rise 2 hours more, and baked it in a dutch oven at 475 degrees, 30 minutes covered, 15 minutes uncovered. Checked the internal temperature, it was 210 degrees, so I pulled it out.
Lookee at dem ears! :-) Crumb still fairly tight - some day I'll have open crumb - but the taste is to die for!!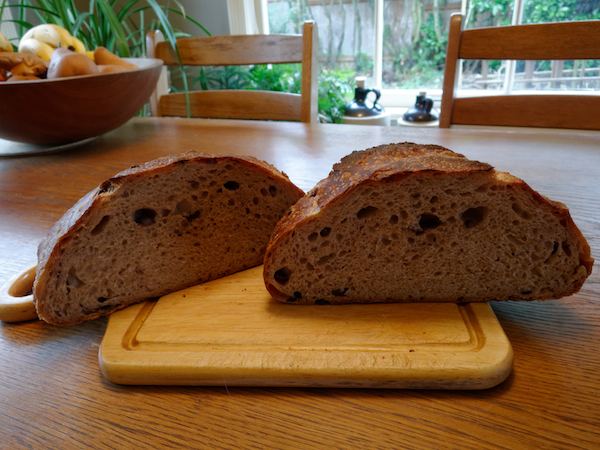 Bless my husband for encouraging my baking and eating everything that comes out of the oven - even the "less than perfect" loaves. We have given up buying bread at the supermarket and are now supporting our farmer and miller friends by using their products.
Couldn't be fresher, couldn't be more local!