February 19, 2014 - 2:45pm
First Artesian shopping trip & Yeast video
A few days ago I realized I didn't have some vital ingredients for really starting to make great bread. I promised myself I'd go on a solo shopping trip, and tracked down a great tiny organic food mart in town (in which I had a delightful conversation with the girl behind the counter who's own SD was struggling). This is what I added to my baking arsenal today:
Organic spelt flour, Organic raisins (for YW & baking), Organic wheat flour, some wheat gluten, some dry yeast (I didn't have any but I'm trying not to use it), corn meal and a baking stone.
Also, I noticed that my starter had passed a landmark last night, and smelled very pungent and ripe. It was a 100% rye starter at 85% hydration, so I decided now was the time to transition to a nice mix of AP/Wheat and Rye. I dumped about 70% of it, and replenished it with Non-bleached AP and yeast water. The new smell and appearance was much closer to the actual bread I've been interested in making. I drew a line on the jar where the mixture was, and went to bed. This morning, it had raised about 50% so I drew a line there and left for the day. When I returned, it was another 50% above the second line, and for the first time my SD starter officially doubled in size. I felt like throwing it a party! :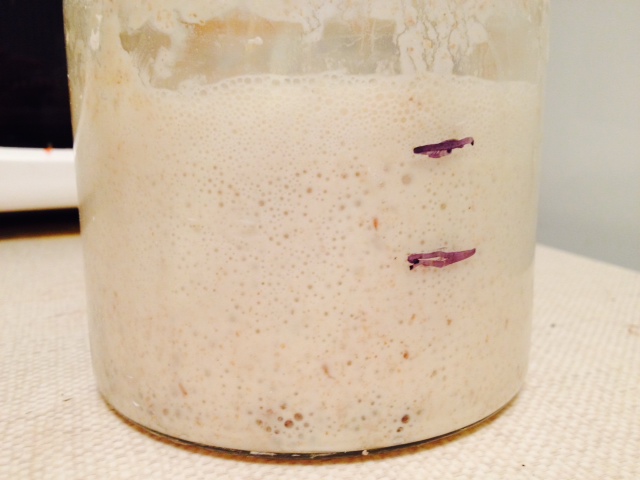 Now, my SD starter is roaring, smells of perfect sourdough, and my yeast water is a bubbling monster! I finally feel as though I'll be turning out my first sourdough within the next 48 hours, and I'm so excited I can hardly stand it! 
Here's a short 40 second video of my SD starter and YW:
I'm pushing forward, and crossing some major markers in my new bread making interests, and couldn't be happier! I've only been researching this for about 1.5 weeks… I think I started a starter (which had since died) the first day I read about this technique. :) So glad to share my journey and be part of the community!