January 31, 2014 - 11:10pm
Vermont Sourdough with Added Wole Wheat
Well, it's been a while (about two years I think) since I last posted to my blog.  Lots of irrelevant reasons for that, but last night's bake from the first edition of Jeffrey Hamelman's book BREAD inspired me to return.  Time will tell if I can keep it up.
I baked this one "by the book" with only a longer final proof than prescribed because I undershot the desired dough temp by 5-6 degrees, and in my cool house the dough just never caught up.  The end result was, nonetheless, delicious.  We love this bread, and prefer it to the base Vermont Sourdough because of the extra flavor that the added whole wheat flour produces.  I used Guisto's Unbleached Artisan flour alongside my home-milled whole hard white wheat flour.  In this case the wheat was only milled a couple of days before the bake.
The crust shot is at the top, and here is the crumb.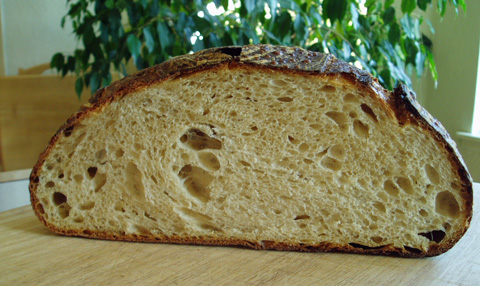 The crumb is not as open as I like, but that is due to my less than excellent dough handling skills.  Thanks in part to the excellent qualities of the Guisto's flour this dough was a joy to handle, albeit poorly on my part, and the flavor was excellent.  The crust came out crackling crisp, and the crumb cool and creamy, wheaty sweet with a perfect (which for us means pretty mild) sour tang.  It wrapped the meatloaf sandwiches perfectly at lunch today.
Thanks for stopping by
OldWoodenSpoon