January 24, 2014 - 10:30am
Buttermilk Twist White Bread (Re-mix Method)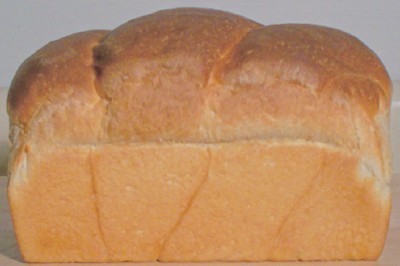 This loaf was made using a modified re-mixed straight dough process, which was adapted from the "ful-flavor process", which dates back to 1959. The formula for this bread is fairly standard:
100% Bread Flour (contained no ascorbic acid)
3.3%  Buttermilk Powder
3.3 % Shortening
0.19 % Lecithin Granules
0.8 % Instant Dry Yeast
67%   Water (variable)
3.3 % Sugar
2%     Salt
The flour weight for this batch was 15 oz (425 grams). The loaf was baked in a standard 8.5" x 4.5" loaf pan. The final weight was 26.75 oz (758 g).
The procedure for remixing a straight dough is a follows:
1) All of the ingredients, except salt and sugar, are mixed together at slow speed.
2) The dough is fermented in the covered mixing bowl for about 2½ hours.
3) Following fermentation, the salt and sugar are added and the dough is remixed to optimum condition.
4) After a short rest, the dough is moulded and panned in a normal fashion. Proofing and baking are carried out as with a straight dough.
          Probably the biggest advantage to remixing dough is the elimination of punching, folding, or stretching the dough to develop the gluten. When properly re-mixed, the dough emerges from the mixer bowl in a fully developed state (not unlike dough produced in a bread machine).