January 23, 2014 - 12:28am
Andy's Borodinsky, Take#2
This is my second take on Andy's (ananda) Borodinsky Rye. My Last attempt yielded a fine bread, but lacked volume to fill the pan, and was somewhat over-hydrated. This time, I've lined my Pullman pan with parchment paper, reduced the hydration of the rye dough, slid the pan cover on, and baked with steam throughout the 4.5 hours baking time at 100C (The oven was preheated to 250C).
I was surprised at the cake like softness that the crust had after adding a steady steam source during the long baking hours. The bread cooked through quite well, and the picture shown is 12 hours into cooling time. The crust color, however, suffered as my previous take of this bread was steam less and resulted in a dark caramelized crust that I love. Also, as can be seen from the loaf's top surface, 1.7 Kg. dough wasn't quite enough to fill my 13" X 4" pan, so there should be at least 1.75 – 1.8 Kg. of dough in there. The remainder of the recipe dough was baked into mini silicon cup cake moulds.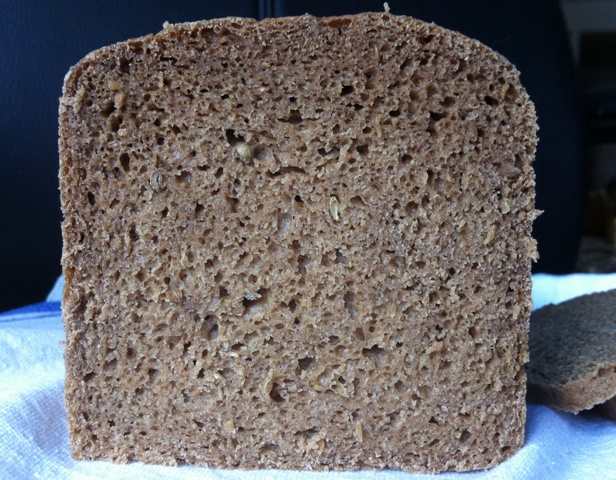 I've sliced the bread this morning, as I couldn't wait for additional 12 hours.  The bread was quite SOFT! moist, and very aromatic. I've chosen to exclude the coriander garnish to see how the flavor would be, and it was still very pleasant. 
Now, i think i need to either eliminate steam during the whole 4 hours, or do so after only 2 . What do you think?
Khalid