January 12, 2014 - 3:21am
 Some years ago, I remember seeing tables lined up in a shopping Mall here in Dubai, where locally homemade Artisan crafts are displayed for sale. For months now, I have been planning on taking my home baking a step further, and the idea of selling bread to public was brewing slowly in my mind. So, I looked up for information on the Crafts Market, and found that "ARTE" or Arts and Crafts Market run a once in a month exhibition, were only locally handmade art work and craft items are featured by local Artisans.  A few months ago, I had e-mailed the Management of ARTE to ask whether food or specifically Homemade Artisan breads can be displayed during the event. The reply was swift; they welcomed the idea!
Last week, I decided to take the step. I felt that it was the right time for me to move forward and take this hobby to a new level. I decided to register myself at ARTE, and reserve a table for the next event. To my surprise, the reply came a few days later, inviting me to the upcoming market after 3 DAYS! Although I had registered for February market, I just couldn't turn the opportunity down. I removed the starters from my fridge, and gave them a quick refresh.
For bread, I could not bake more than two varieties due to time constrains; a basic white sourdough, and whole wheat sourdough will be a good contrast in my baskets, I thought. The white sourdough was exactly David's SJSD, and the whole wheat oats was a new recipe I had been working on earlier. The whole wheat- oats bread's recipe is as follows: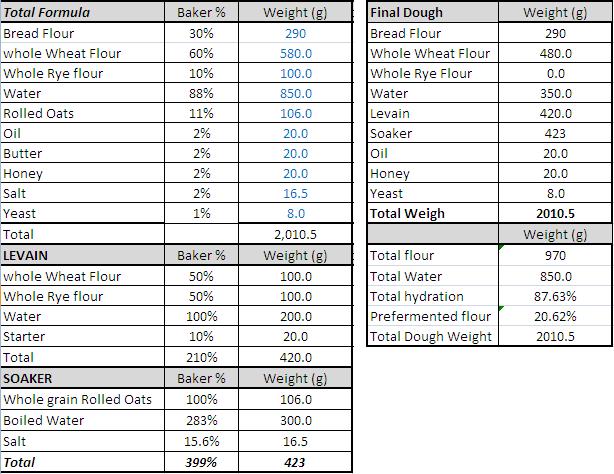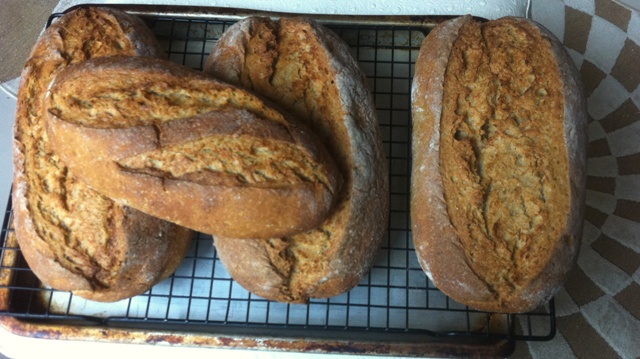 Needless to say, It was a hectic 2 days, with two different recipes and a total of 6 Kg worth of dough.  After the breads were baked, I shopped for baskets and other necessities to make a proper presentation, and started planning on pricing and labeling. I didn't have an idea about the general price range of food displayed in the market, so I decided to price bread based on my experience with store bought artisan breads. For instance a 520gm "White country bread" was priced @ 9 Dhs ($ 2.5).
On the Market day, I drove to the mall, parked my car, and unloaded the breads and equipments. The mall was already bustling with participants. I haven't noticed much food being displayed; it was mostly handmade ornaments, jewelries, paintings, and healthy soaps/body fragrances.  I picked up my table no. through random draw, and headed for it straight away. As I walked around, I noticed that food tables were quite few, and none had bread. I located my table, and began preparing it for presentation. I cut slices of two misshapen loaves, and brought out butter and some disposable knives.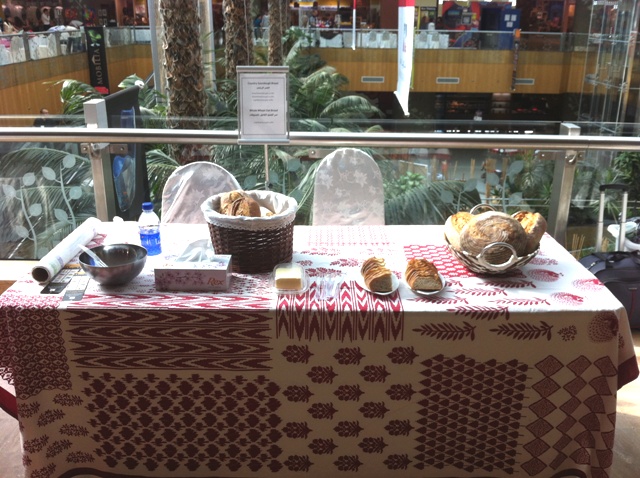 As time drew near to 12:00 p.m, there was a considerable increase in the number of mall visitors. They were from different nationalities, and many were from Europe (east and west) and some from the US. Gradually, i began to notice an increased interest in the bread, with a first client in about ½ an hour. She bought one loaf of each, after tasting the bread with butter. Before I knew it, I was sold out in 2 hours, and left with no breads after I had 8 of them; it was really exciting! The remainder of the time was spent on networking with visitors, and inviting them to taste the remaining slices. There was a considerable interest in Artisan bread among the market visitors, as sourdough aroma was wafting about my table. Despite the regret of not having baked enough bread, I was happy to witness the appeal that handmade sourdough breads had among people here. Some visitors noticed I had no bread left, and even demanded that I bake for them!
The Market day ended, and I packed my belongings and left home. It was surely a day to remember.
-Khalid