80% Whole Rye Pullman loaf
This is the second time I've baked a high percentage rye bread. The first was Hamelman's Volkornbrot; I wasn't elated with the result. ( http://www.thefreshloaf.com/node/14991/christmas-baking-blisters ).  That was four years ago.
Lately--happy with my progress with sourdoughs, baguettes, challah and deli rye, and motivated by a number of other TFL'er's seemingly annual flurry of activity with Borodinsky rye Ioaves I thought I give it a go.
I read at least two dozen postings from favorite mentors (ananda, varda, Elagins, and hansjoakim to name a few); I searched other food blogs. I paused feeling intimidated. First of all, I didn't have all the right ingredients--malted rye, and blackstrap molasses specifically. I know where I could get malted rye, but it's a hundred-eighty miles round trip to the nearest homebrew shop that stocks it. I hadn't the slightest idea (other than buying online) where I might find blackstrap molasses.
Secondly, although I frequently use coriander in BBQ rubs, and pastrami crusts, I've never used it to flavor bread. I wasn't certain we'd like it. However, we love adding the flavor of Caraway seeds to Deli Rye.
I wanted to bake when the mood struck, not a week or more from now.
I recalled reading Borodinsky is always 80/20: Rye/Wheat flours in one of the many references I perused.
This bread is based (tightly) on Hamelman's 80% Rye with a Rye-Flour Soaker, in Bread.
I made some changes, but not many. I scaled the formula to produce 2kg of dough; enough for a 13" Pullman pan. I also substituted 115g (4.0 oz) of cracked rye berries for the 6.4 oz. of Whole-Rye flour in the soaker. (I had the rye berries on hand, and wanted to use them.) And lastly, I added 2 tsp. of Caraway seeds, 2 Tbls. of barley malt, and two Tbls. of ordinary Mollasses.
All other ingredients and ratios were as published. I built the Rye Sour in the prescribed manner, bulk fermented and proofed the dough at the recommended temperatures, and baked at the oven temperatures directed. Trusting the strength of my Rye Sour's yeast I did not use any optional commercial yeast. The finished paste filled only slightly more than half of the pan's height, but proofing expansion and oven spring pushed the loaf above the top of the pan.
I rested the loaf for 36hrs before tasting it. (I just couldn't wait any longer!).
The flavors are intense. The rye is immediately present on the palette, the Caraway shows itself moments later: not in-your-face, but not timid either. There is a lingering after taste I think is a melding of the barley malt syrup and the molasses; it has a bit of sharpness.
When I first cut into the loaf the center of the crumb felt slightly sticky. I feared the crumb would be gummy. Much to my delight the crumb's mouthfeel is moist but not  gummy. It is chewy, but doesn't have the springiness I find in wheat doughs, i.e., baguettes and sourdough, nor in the higher wheat percentage deli rye. An ocassional rye berry fragment offers a momentary crunch.
The crust is hard, and thicker than I would prefer. You can see the top of the loaf is partially charred (There is no burnt taste). I think this is due to the relatively high initial baking temperature, 480°F and the excess sugars from the malt syrup and the mollasses.
I've cut the loaf into four equal pieces, and froze three of them. I'm thinking this bread will stand up to my favorites for open-faced sandwiches: sardines and onion with Dijon mustard, home cured and smoked salmon, and pastrami with spicy mustard. I'm open to any other suggestions.
I'm ordering some rye malt, and blackstrap mollasses online. My next attempt will be an "authentic" Borodinsky but not soon. I've made a deal with my wife; I won't bake this style more than three times each year--she's not embracing its intense flavor.
David G
Added Monday, January 6
Monday's lunch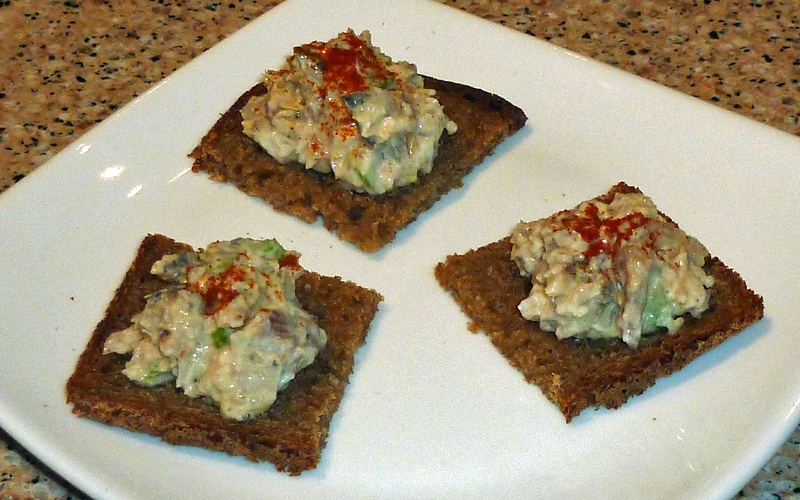 Sardines (water packed), onion, celery, salt, pepper (50/50 mix Tellicherry and Szechuan), mayo, and Dijon mustard on bite size, thin sliced toasted Rye with a pinch of paprika for color. De-light-full!