October 9, 2013 - 11:35am
Overnight country blonde ciabatta
I used 1/3 of the Forkish recipe and made a couple of change ups. First, I left the WW flour out of the levain, but kept everything the same. Second, the first 2 KF loaves I proofed in plastic mixing bowls lined with linen. When proofed, the linen was wet and stuck to the loaf. Ken proofs in wicker bannetons and I am going to have to get off of my wallet and order one.
The other change I made was mixing in a larger bowl 12" diameter rather than my usual 9 inch bowl.  I did 4 S&F's in bowl with 20 minutes rest and found it much easier to do the S&F in bowl in the larger container.  It did seem strange having this small lump of dough in the big bowl, but I did seem to get better dough development and KF uses a 12 quart container for his mix.
As has been suggested on this site, I handled the dough as little as possible.  I did 1 gentle letter fold and proofed on bakers parchment on a linen couche.  After an hour, I rolled the loaf over onto another piece of parchment as per PR in ABED and found the dough stuck to the parchment! The nothing sticks to parchment myth just got busted!
Baked it in my Lodge DO covered for 10 minutes and uncovered for another 10 @ 500F convection.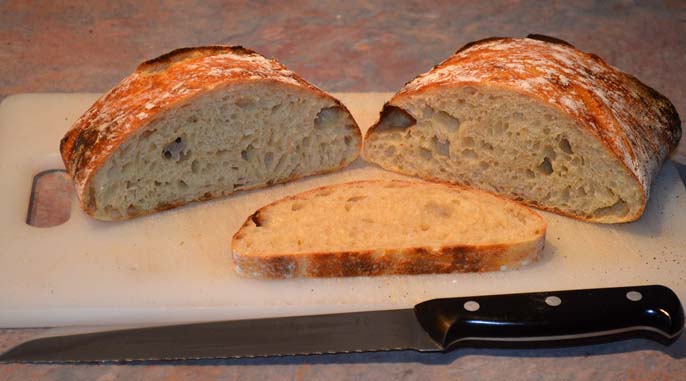 Happy baking! Brian