Cecilianhoff Palace challenge loaf, take 2
Take 2 of Karin's challenge loaf almost ended in disaster, but turned out well.  I made more or less half of her Friesisches Schwartbrot recipe:
http://www.thefreshloaf.com/node/18037/friesisches-schwarzbrot-friesian-rye
I halved the flour amounts but reduced the seeds to 20 grams each of flaxseed, sesame and pumpkin seed. I had a skibum moment of in attentiveness when toasting the toadies and nearly burnt them black.  I caught it in time, but the seeds toasted quite dark brown. The resulting loaf tasted almost toasted fresh cut -- quite a pleasing flavour.
Also added to the mix was 11/2 tsp kosher sale, 2 Tbs malt syrup and 1 Tbs honey. Did I mention a very nice tasting loaf?
I think I will make this 'mistake' part of the process for this bread! I am loving this bread with stinky cheese and stone fruit -- thanks dab!  I also goes very nicely with smoked chicken breast and the smoked bacon, (store bought) placed on top the breasts while smoking.  Awesome flavour and texture!  So thanks again Karin for your idea of this challenge! It has introduced me to a new style of bread AND sandwich. My only trouble is I find a couple of glasses of red wine really help wash all of this down -- at lunch . . . Okay, today's lunch was after 2 pm and it was certainly after 5 somewhere . . .
This bread also pairs well with home smoked steelhead trout: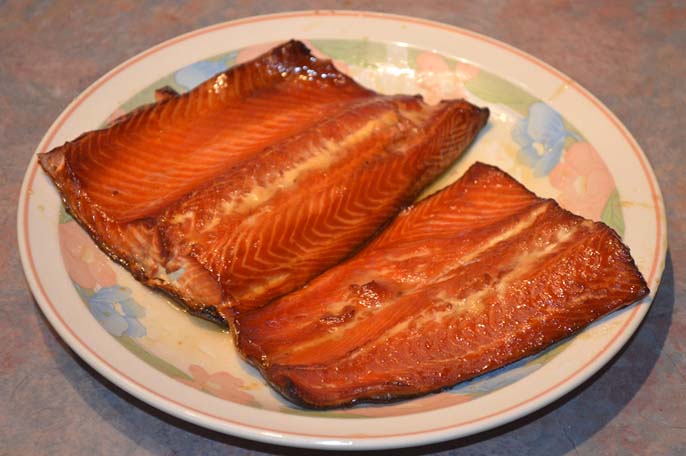 A special shout out to dabrownman for the inspiration of getting a smoker. I could not be happier with the results! Anyhow I have about 1,260 grams of pork belly in your maple cure for 2 days now and a brisket on order . . .
This whole business of baking bread and smoking food is WAY TOO MUCH FUN! It is a mighty tasty path as well!
Happy baking and GREAT eating!
Smokin' Skibum . . .