September 10, 2013 - 5:51pm
40% whole gran boule with toadies . . .
Yesterday was a big day for this old skibum.  I made a trip to the big city and picked up my new Kitchenaide SS fridge to go with the KA SS stove bought in the spring AND stopped the Bass Pro store and bought a Lodge combo cooker for $50, which is WAY easier to load than my 4" deep enameled CA DO, which was taking a bit of a beating doing bread and is my favourite cooking tool, both stove top and oven.  The Lodge CC rocks!
I took yet another page from dabrownman's book in this bake going with 25% whole wheat and 15% organic rye. For 2/3 of the WW I used 1/3 red wheat berries and 1/3 white berries ground in a small coffee grinder I use mostly for grinding spices.  All of the flour and water was autolysed overnight @ 85% hydration.
This was about a 3 day build due to schedule.  Day one feed the starter, let it rise and fall , then into the fridge overnight.  Mix in the am with 4 S&F's with 10 minutes rest and 3 S&F's with 30.  Bulk on the counter for 1:30 the into the fridge for 24 hours.  Pre-shaped, rest 10 min and shaped.  I proofed in a mixing bowl lined with linen dusted with rice flour for an hour, scored and baked in the new Lodge for 20 minutes @ 500F covered, then 10 uncovered @ 450 convection, turning at the half. Crumb shot: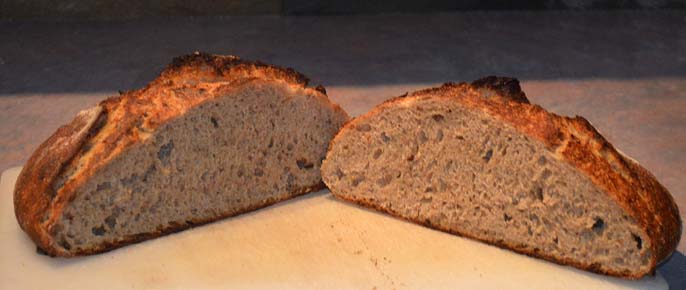 This made a nice bread with a good open crumb, but I still like the flavour profile of my 15% WW, 10% rye and will back down to those numbers next bake and once again use ground wheat berries and toadies.  i also added 1Tbs oil, 1 Tbs honey and 1 Tbs malt syrup and 11/2 tps salt.
The new love in my life: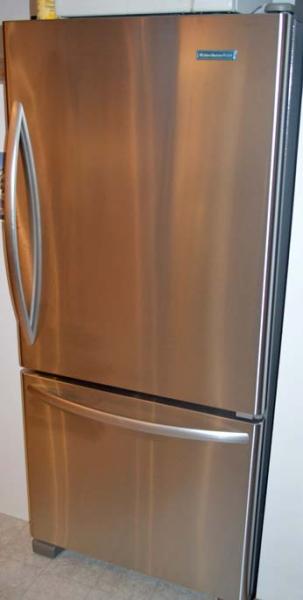 Now I just need to change out the flooring and my kitchen reno is complete.  It sure is nice to have quality kitchen appliances!
Happy baking!  Brian