Well this here is the bread I grew up on back in Westchester, NY. For me NY Rye is a light Rye with a tight moist super flavorful crumb crumb. The crust is soft and chewy and much of the flavor of the loaf comes in the chew. I used to be able to just pull the crust off in a ring around the slice and each separate from the interior as a kid.  And yes I sometimes squeezed the insides and ate as a dough ball.  But the best is simply sliced and served with butter.  So I came up with a good rendition of this maybe 5  years ago but can't find the recipe and figured I can get this down relatively fast.  In the end I'd say this is the lean variation.  The dough needs a touch of oil to have the real proper consistency of what I'm used too.  But this is quite good at first bite.  I'll let you know how I feel after a few more.  Anyhoo here is the formula 
NY Rye (lean) take #1
Rye Sour: (this is a change for sure as the previous had a white starter and all rye was in finish mix)
50 g White Starter (100%)
200 g Rye (I used a local stoneground whole rye)
180 g H20

Dough:
108 g Rye  (more of the local rye)
692 g Artisan  (malted, 11.5% protein)
546 g h20
22 g Salt
31 g Caraway
-----------------------------
autolyse 30 minutes with levain.  
Mixed by hand using a new cut and pull method.  I'm sure slap and folds will work too. Just experimenting with different styles of hand mixing.  I did this til dough got stiff, relax 10 minutes, repeat until I have a moderately developed smooth and elastic dough.  
Followed by 3 s+fs @ 30 minutes
Total Bulk Ferment (from the start of autolyse when the levain is added) 3 1/2 hours.  
Divide in 2 and preshape.  rest 30 minutes
Shape into lined bowls lightly dusted with rye.  seams up.  Proof in warm room (78 degF) for 2:15 
I am sure you could shape and retard and bake cold in the morning and maybe even get a nicer crust. 
Baked at 500 with steam for 15 minutes, vented for a further 20+  rotating as needed.
Josh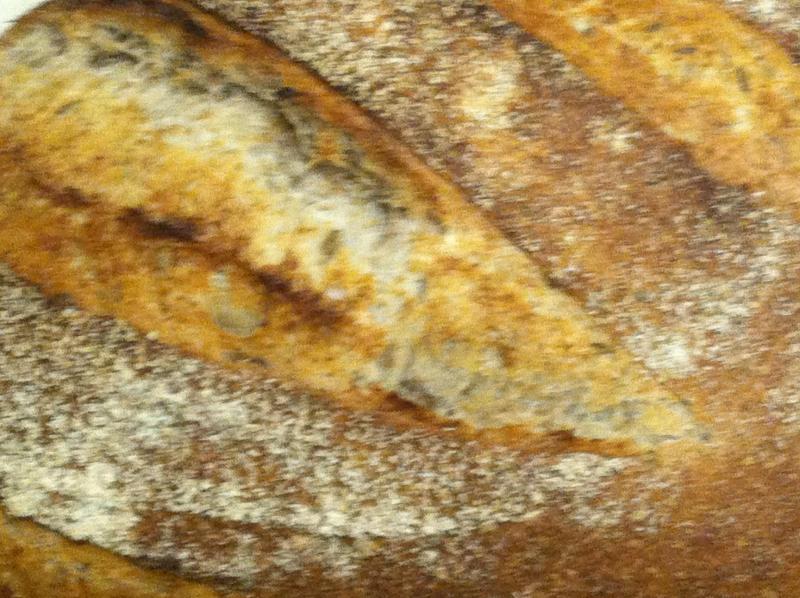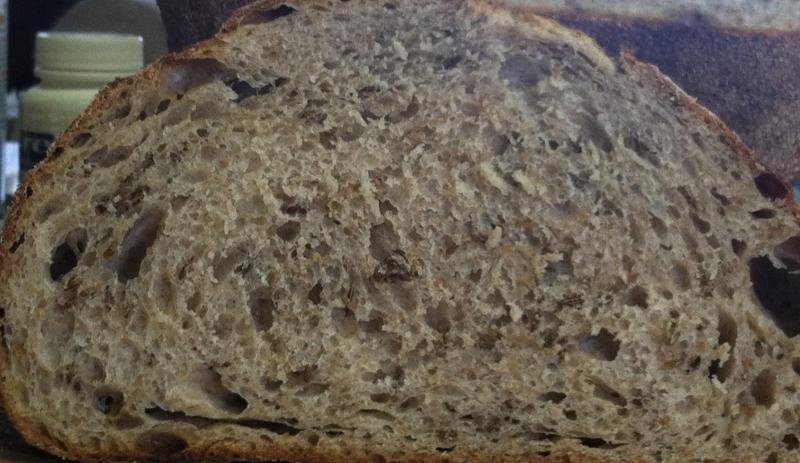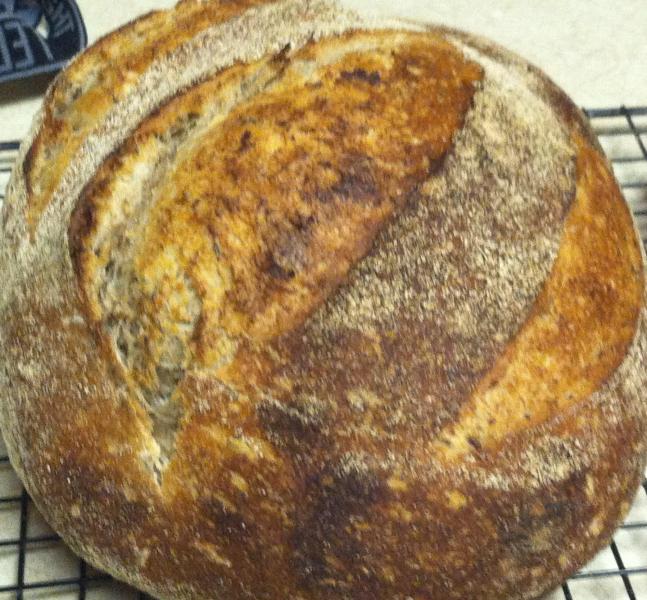 Happy Baking All
Josh