August 11, 2013 - 12:47pm
50% Whole Grain Baguettes
So at first I intended to use some local rye to make a Ryeguette.  A few years back in San Fran I believe at the main La Boulangerie I had a light rye baguette with pistachios that I just loved.  I've been meaning to create a rye baguette since and its been a long time coming.  Well I ran out of Central Millings Baker's Craft which I was going to blend 70/30 with the local rye.  I had to go buy more flour (I usually buy from my work at good prices/bakers perk)  I noticed King Arthur's whole white hard wheat and had to go with that.  I changed the whole plan and went with 50% central milling bakers craft, 30% local whole ground rye, and 20% KAF Whole Hard White Wheat.  I hydrated each flour individually as has been the way I find my hydration these days.  So White was hydrated at 69% Wheat at 75% (wasn't sure how this flour acted sure could be 80%), and the Rye at 80%.  Overall i landed at 73.3% hydration.  12 hour bulk ferment in the fridge.  Take out for 30 minutes, stretch and fold, rest 1 hour.  Divided at 350 g and got 6 lovely baguettes.  
My stone measures 20x15 and I really prefer a longer baguette but then I'm loading them sideways which is such a bad thing for maintaining shape.  they like to curl a bit.  I'll have to get over it and make smaller shorter baguettes and load the long way.  None the less only a cosmetic issue.  The bread has a wonderful smell.  A crunchy crust which I'm betting will become chewy.  I also bet these will actually be quite edible for more than just 4 hours and maybe a full day.  
The formula 
For 6 baguettes @ 350g each. 
Levain 
100 g ripe white starter (I like to use it right after a build so essentially this is a second build)  @ 100%
105g  Malted Bread Flour
45 g   Whole stone ground rye
150 g h20
---------------------------------------
4 hours
Dough:
450g Malted Bread Flour
283.5g KAF Whole Hard White Wheat Flour
316.5 g Whole Stone Ground Rye
734 g    H20
26 g     Himilayan Sea Salt (the pink stuff)
5 g       Instant Yeast (can be left out if desired and the final proof time may be a bit longer)
--------------------------------------------
1)  "autolyse" flour water and levain for 30 minutes
2)  Add yeast and combine
3)  Add salt and continue mixing on low medium for 7 minutes. 
4)  turn up to medium and devlop dough completely 
5)  Place in greased container and retard overnight (12 hours)
6)  Pull from retarder let rest 30 minutes and then do a good stretch and fold.  Relax 1 hour.
7)  Divde and preshape let rest for 20-30 minutes (this dough was strong so I could have rested longer)
8)  Shape and place on floured couche seams up.  Proof 1 hour in warm room.
9)  Bake at 500 with steam for 10 minutes and vented for 20 more.  
cool and enjoy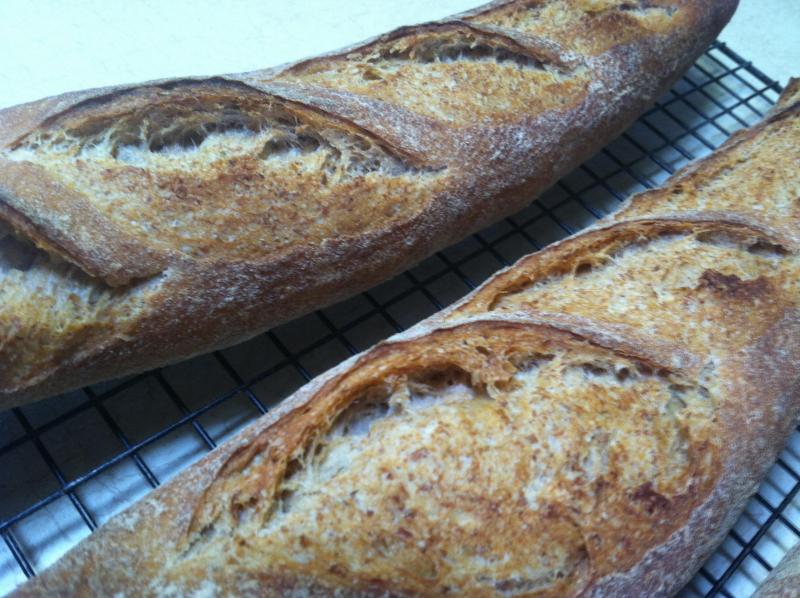 All in all I might adjust hydration upwards to find the sweet spot.  Fantastic taste. 
happy baking all
josh