August 11, 2013 - 12:07pm
Two for the road -- a batard and a boule
I made a couple of adjustments with this bake.  For the batard, I reduced the proofing time to 35 minutes and voila, the lame worked like it was supposed to and for the first time I have the grigne I have been trying for.
I reduced proofing time on the boule to 50 minutes and once again got a clean score with the lame.  The boule contains 10% whole wheat, 15% organic rye which were autolysed in an equal weight of water overnight, oil and honey.  I baked the boule in a hot DO as I wanted to try and get it right today after a poor effort yesterday.
I had an adventure mixing this batch!  somewhere along the line I read of autolysing the flour in equal weight of water and adding the balance of the flour after auto, in the mixing stage.  So I tried this, then forgot to add the additional flour to BOTH batches of dough and was wondering how I was going to get these soupy masses together.  Then I found my notes and DOH, after 40 minutes of futile mixing added the additional flour and everything came together well.  So for both loaves, 4 S&F's with 10 minutes rest as per PR, followed by a 21/2 hour bulk ferment on the counter with S&F's at 30, 60 and 90 minutes, one hour to develop on the counter, then into the fridge for an 18 hour retard. I rested the dough on the counter for an hour ,started the oven early, then pre-shaped, rested for 10, shaped and proofed.
My shaping has improved a great deal after watching Richard Bertinet's video an making bread from his book "Dough."  I found the entire video useful and in particular the detail he goes into on shaping:
http://www.youtube.com/watch?v=sOjSp5_YiF0
I'm not brave enough to try the slap and fold yet i'm afraid!  This video is a must watch if you haven't seen it.
And now the crumb: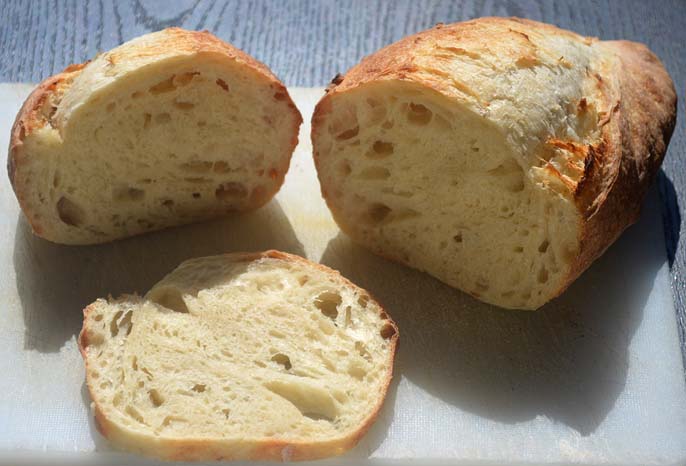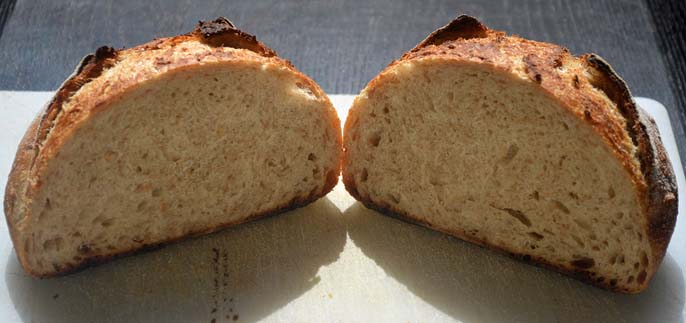 Plenty of bread for my upcoming road trip!
Happy baking TFLers!  Brian