Getting my SD chops down . . .
Since my mutant loaf a couple of days ago I have spent great care in both pre-shaping an shaping and the results are much better.  New to sour dough baking on a regular basis I let the first 2 batches proof for an hour and scoring was most difficult.  I suspected over proofing.  On today's bake I proofed the loaf on the right for 50 minutes and it was reasonably easy to score, though I had trouble with the lame and had to use a serrated knife.  The loaf on the left, which proofed longer was nearly impossible to score by any means, so definitely over proofed.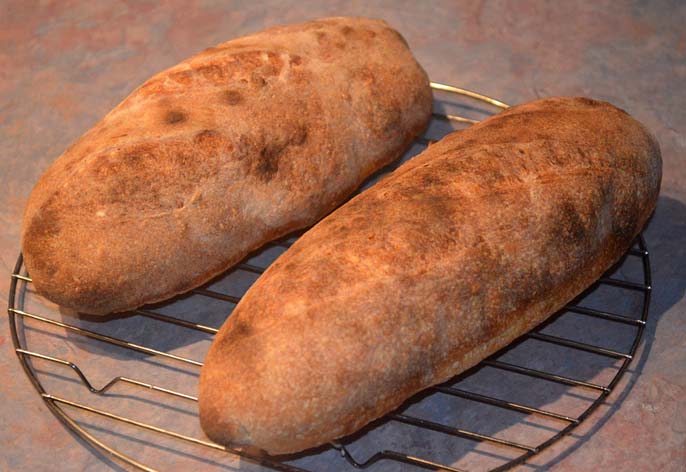 This is a lean hearth loaf at 80% hydration with total flour at 300 grams.  I suspect that even at 50 minutes the dough was over proofed.  Next bake I will proof one mini loaf for 40 minutes and the second for 45.
I am most impressed with the chew and crumb on this bread and LOVE the flavour the SD baking process brings to breads.
I got on the lean bread flavour kick a couple of weeks ago.  I bought some Western Bratwurst from my local Swiss deli then realized I had no long buns and bought one of their baguettes, which looked not bad.  This was my first store bought loaf since finding TheFreshLoaf and BOY was I disappointed. 
Reading some of the complex bakes here used to make me tired, just reading the recipe descriptions!  I have realized now, that very little time is spent building the levain's and dough's and one must let the magic of time do it's work.  I am loving the whole process and REALLY loving the finished results.  GREAT FLAVOUR!!!  I now get it . . .
Best regards, Brian