Farmer's Market Week 10 - Corn Bir Rye w/ Onions
Hey all, I made it to double digits.  And can you believe next week is August.  I'll be trading for pumpkins before long.  
So I had a hard time deciding what to make and kinda through this idea together rather fast.  After the Flax Walnut Rye I knew I wanted more Rye.  I got some local Rye from a friend and intended to use it (forgot it at home) so I used my standard house coarse ground Rye.
 Everytime I hear Corn Rye I get excited only to see its not really about the corn and more of a caraway rye (which is also great) but not what my minds eye/nose see and smell when I hear the name.  So this is my first attempt at My Brains Corn Rye.  First things first, there has to be more than just cornmeal on the crust.  I thought about soaking some whole corn but feared it and didn't want to crack it so I went with coarse corn meal (polenta) that would be part of a soaker.  While seeking this I noticed Organic Barley Flour in bulk and wanted to add it in since I knew I'd be using beer, and I thought it would just make for a nice color.  All in all you may say (or I might say) I've put "too many ingredients in the dish"  But the results are wonderful and I think I'll keep it.  Is the barley necessary???? The Beer???? yeah sure they are. 
Corn Bir Rye
74.5 % hydration + soaker
2 loaves @ 865 g
Soaker
 83.3 g      Polenta (coarse corn meal)
 41  g         Dried Onions
125 g       Dark Beer (I used Deschutes Obsidian Stout from Bend, OR)
    4 g Salt
-----



Levain (75% hydration)
66.6 g   White Starter
150 g    Rye Flour
104 g     h20
---------------


4-6 hours warm
Dough
500 g    Bread Flour
83 g      Barley Flour
66.6 g   Rye (whole coarse ground
487.5g   H20  (save about 10% to loosen up levain before adding to autolyse)
9 g         Low Diastatic Malt
15g        Salt
-----------------


Autolyse for 1 hour.
Add remaining water to levain and mix together.  Add to Autolyse. 
Mix on speed 1 to combine (3-5 minutes)  Add salt and continue until incorporated.  Turn to speed 2 med/low and mix until medium devlopment (starts to come away from bowl slightly.
Add Saoker. combine on speed 1 and continue on speed 2 until
well developed.
Bulk Ferment 3 hours fifteen minutes  with 4 s + f's at 30 minutes
Shape into elongated batard roll in cornmeal and place seam up on lightly flour couche.  
Place in retarder (I baked them 5 hours later as the dough seemed lively)
Preheat oven to 500 
Bake steam for 13 minutes, remove steam lower to 475 and continue baking for 20-25 more.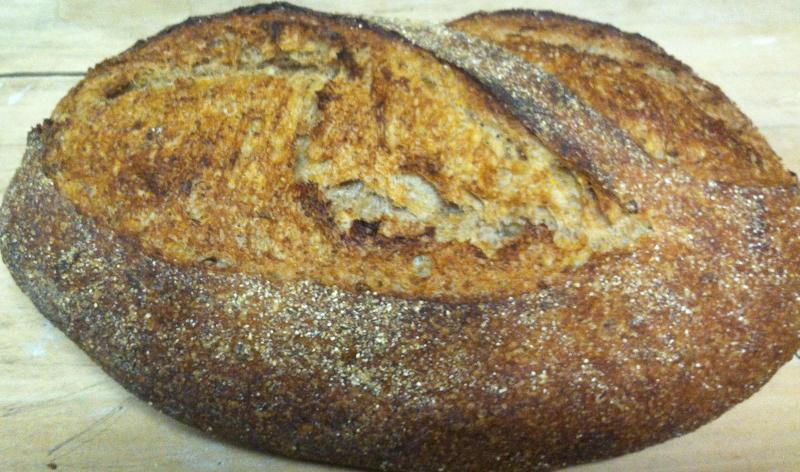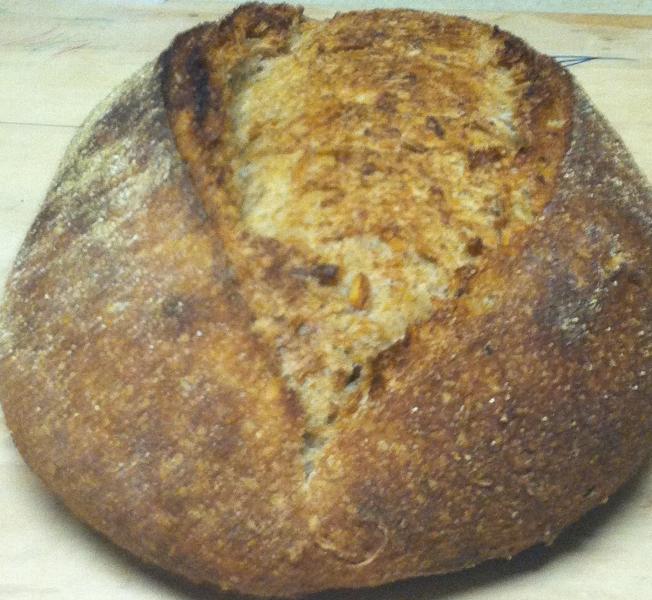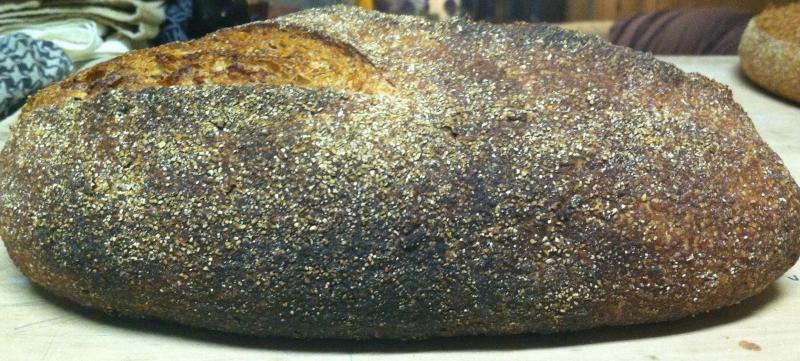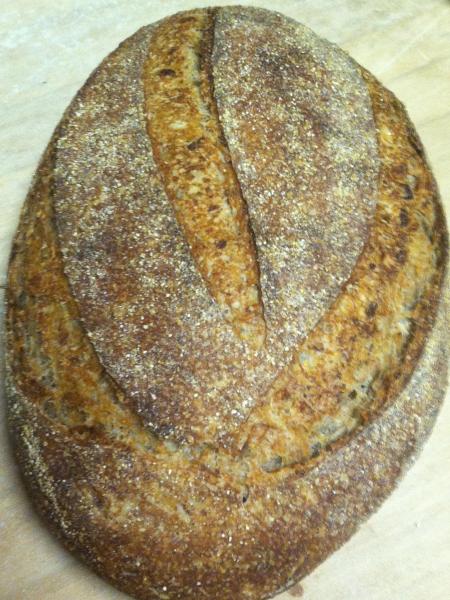 Off to trade.  Bounty pics to come.  
Happy Baking
Josh