Farmers Market Week 8: Flaxseed Walnut Rye
So 9 weeks later and I'm still with it.  In fact I look forward to this more than most things right now.  It's fun, refreshing, and educational.  I've been wanting to do a Rye and so here we go.  As I've mentioned previously I need to have retarded loaves so i can bake the quanitity without overproofing.  And this quanitty may go up starting next week.  Next trouble is I'll need a larger fridge.  I'm gonna have to get coolers and ice to move our food too for the night and make room for more loaves in the fridge.  
As for the Rye.  I feared even a 40% with the overnight retard but I went with it assuming at worst I fail.  I wanted to add some character and good health in there without overwhelming the loaf.  So i added a small quantity 5% broken toasted walnuts along with 3%flaxseed.  If we're gonna do some wholegrain why not add even more flavor and nutrition.  With the hit and miss of those who care for caraway I steered clear of bread spice and went nuts and seeds instead.   I did 2 builds to get all of the Rye in the levain.  I started the first build off a bit of my white starter.  
 Last weeks attempt at using a handheld steam cleaner was lackluster.  It didn't retain any more steam than towels and ice can provide, In fact it may have been losing some of that precious steam trying to fill the oven with it.  I gave up with that early on last week and stuck to what works.  I've added some small, cleaned river rocks to my cast iron to maybe help generate a bit more steam from that side.  If I can figure out how to seal the vents on my oven I think I may get the steam retention I seek. 
Half way through the bake and things seem promising so far.  Scoring Rye is certainly a different technique and I don't do enough of it these days.  So another goal here with this project is to lose the desire to use a professional oven and really create a love with my home oven setup.  
well i've written too much:
Flaxseed/Walnut Rye (40%)
Build 1 (18 hours)
16 g       Mature White Starter
160 g    H20
160 g    Coarsely Gournd Whole Rye (100%)
----------------------------------------------
Build 2 (hours) (37%)
336 g    First Build
1334 g  H20 
1834 g  Coarsely Gournd Whole Rye (Bit stiff, I'll add moe of the finish dough  water next time) (40%)
-----------------------------------------------
Final Dough:
Rye Sour (all)
2347 g      H20 (77% overall but figured seperately at 85% rye and 72 % white)
3000 g      Strong Flour (60%)
115 g        Salt (2.29%)
275 g        Walnuts toasted (5.5%)
150 g        Flaxseeds, toasted (3%) 
--------------------------------------------------
1)  Autolyse HP and H20 for 30 minutes (hold back 10% of H20 to soften Rye Sour)
2)  Add remaining water to rye sour and break up a bit.  Add to Autolyse and mix on speed 1 (5 minutes scraping bowl)
3)  Add salt and continue on speed 1 for a few minutes.  Turn to speed 2 (medium low on my machine) and continue for 5 minutes scarping bottom of bowl often to release the dough.  
4)  Add nuts and seeds.  mix on speed 1 to incorporate 
5)  Bulk Ferment (3 1/2 hours)  4 gentle S + F's at 30 minute intervals. 
6)  Divide and Shape (These would have been nicer proofed on a couche dusted with corn meal)
7)  Proof 1 hour at room temp and retard ( I was scared and maybe should have extended this a touch)
8)  Bake 480 with steam for 15 and then 460 without for 23-35 more. 
COOL
Notes:  Pull loaves from retarder 1 hour before loading to soften skin and allow better rise.  First set went straight from retarder and the spring showed.  The following I all pulled 1 hour before going in.  Essentially as I loaded I pulled the following from the fridge to get rid of the chill.  
Happy Baking
Josh
Photos Coming Soon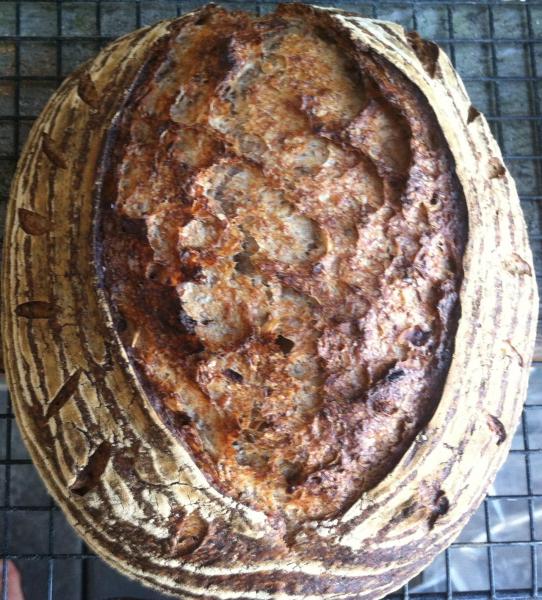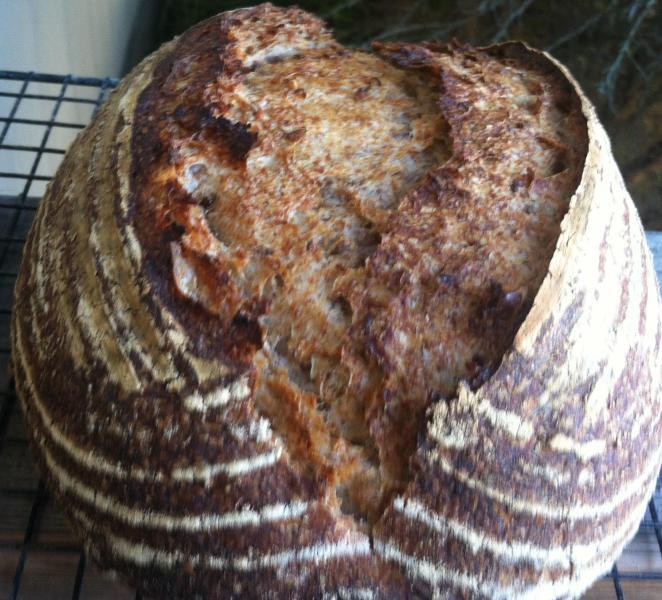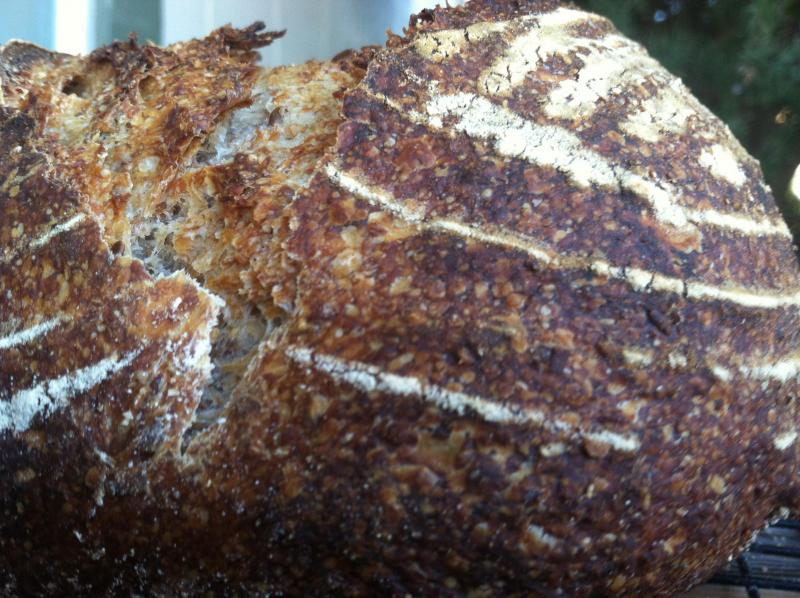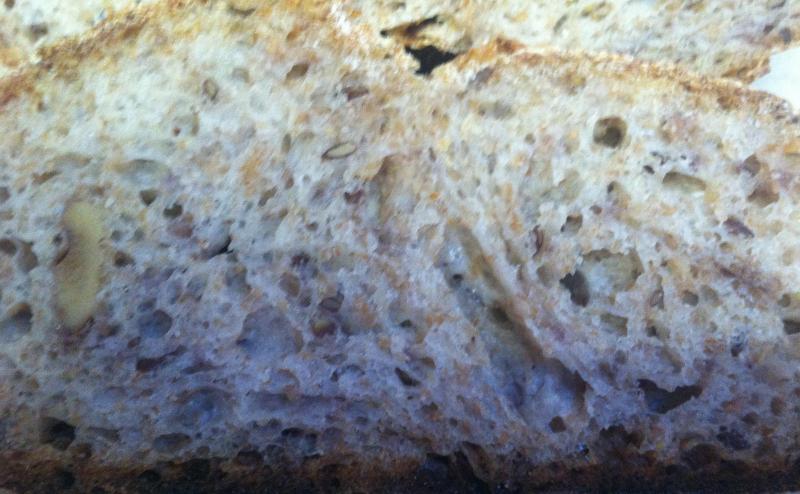 Some weren't quite so pretty from the scoring side but its quite tasty with a great crunchy crust.  I'll keep pushin the envelope with retarding high % ryes/wheats until I notice problems but this worked more than well.  In fact I coulda proofed these longer at room temp before retarding.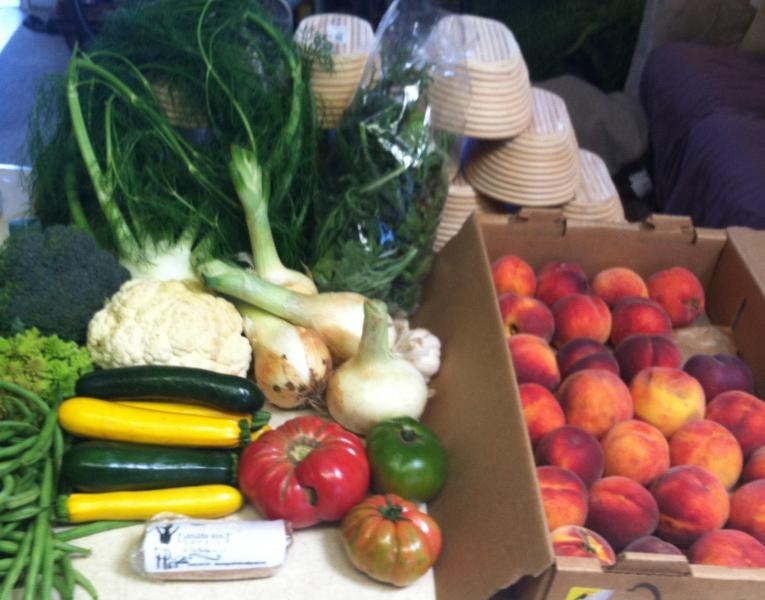 Green Beans, Zuke, cauliflauer, brocooli, heriloom tomatoes (first of season), walla walla onions, garlic, local cevre, fennel, a box of peaches (so good), and some braising greens
Happy Baking All
josh