Reinhart's Pain à l'Ancienne
I always meant to try Reinhart's Pain à l'Ancienne, and today was the big day.  This was an easy formula and process.

I used a hydration of 70%, whereas Reinhart recommends a value somewhere in the range 70-88%. I diverged slightly from his instructions in a couple of places. 
I use a pressure cooker to pump steam into a gas oven through a copper pipe which I installed in my oven, which is different from Reinhart's pan with a cup of hot water added when the dough is loaded. I did two batches in succession, I ended up steaming both bakes for the first 10 minutes, and stopped the steam for the final 8 minutes of 18 minutes total bake time.  He said they'd begin browning by 8-10 minutes, but with the pressure-cooker steam applied, they hadn't yet browned at 10 minutes when I turned the steam off.

It took about 3 hours for the yeast to wake up from its refrigerated slumber at a room temp of 75 °F, the dough temperature was just hitting 62 °F. When the gas:dough ratio reached 0.2 just a short time later, I shaped the logs and placed them to proof.  I only had enough room on the baking tile to bake three at once in the way I planned it, so I did two batches in succession.  The first one was baked when the gas:dough ratio was 0.7: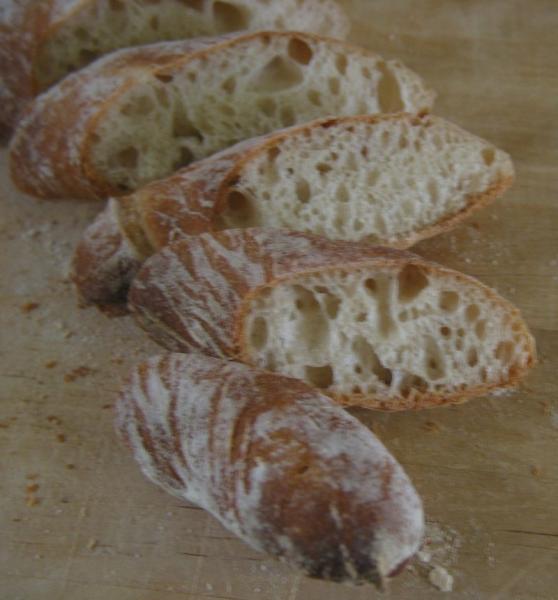 The second batch was by necessity 30 minutes later and the gas:dough ratio was 1.0 (a doubling):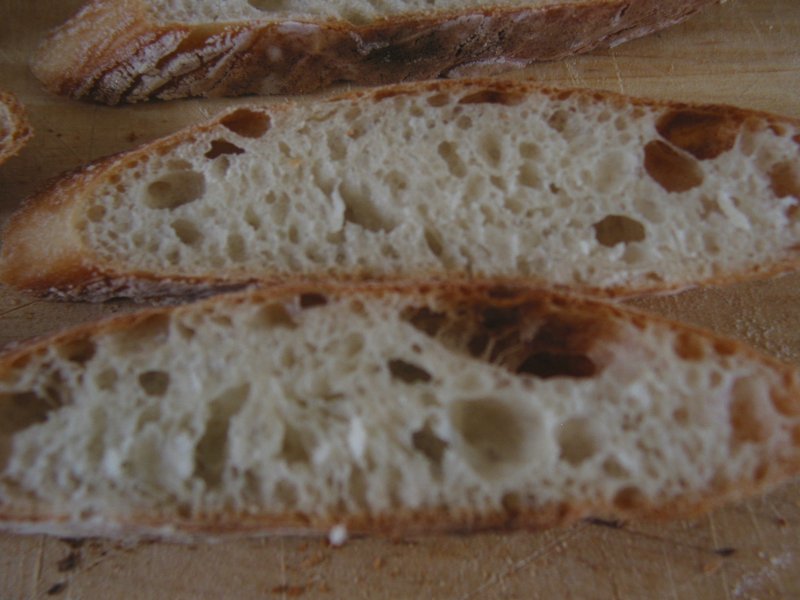 I preferred the shape of the batch baked at a 0.7 gas:dough ratio, but believe it's not yet an optimal value.  The 1.0 dough expansion baked flatter, more like a wetter ciabatta.  Both had a reasonably open crumb.