Almost Whole Wheat Pain de Mie
Recently I posted on a bake of Syd's Asian style pain de mie, and Janet commented that she was going to make it with her white whole wheat home milled flour.   I decided to try something similar.    Instead of white whole wheat, I used my golden flour which is home milled hard red whole wheat with some of the bran and some coarse flour sifted out.    I believe the closest official name to this would be high extraction flour, probably around 90%.
I followed the original formula with the following changes:
-Added a bit more milk in the biga
-Used golden flour in the biga and final dough but not the Tang Zhong
-Added a bit more milk and egg in the final dough
During the intensive mix of the final dough, it acted quite different than the original.   It started out with the consistency of pudding, and stayed that way for quite awhile.   I put it in my Bosch Compact at speed 4 and mixed a long time.   Finally, getting bored, I walked away.   When I came back, the dough had changed and started to lighten and come together elastically.    I let it go for awhile longer, and finallly, when it was still spreading out irregularly but was clearly an elasticized mass, stopped.   Possibly 45 minutes?   I'm not sure, as I wasn't watching the clock.  The dough was still more liquid than solid.   When I took the dough off the hook, it poured slowly down, but sheeted out into an impossibly thin membrane without tearing.  
When it came time to shape, the dough was not as manageable as the white version, but still shaped fairly nicely.    The surface was bubbling up a bit, which I figured would mean a more open crumb - not the desirable thing for this kind of bread per Syd.   
The upshot?   A bread that is just as decadently delicious as its predecessor, with the added whole wheat flavor.   Healthier?   I let you be the judge.
The crumb?   Nothing much to look at.  Just whole wheaty sandwichy.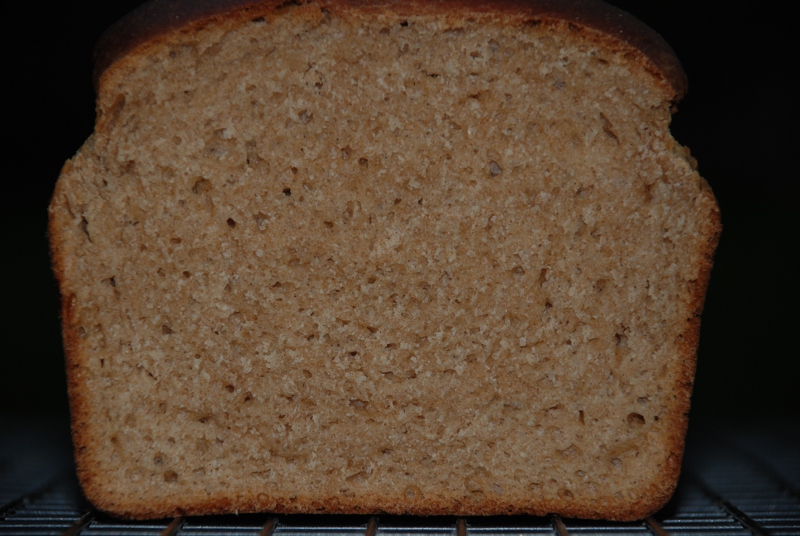 But try this with your basic whole wheat sandwich bread:
Inadvertently perhaps, I made some changes to the method:  I've been baking a lot of challah so I ended up following times and temps for challah.   In Syd's version bulk ferment is only 30 minutes, and bake temperature is 350 instead of 375.
Formula and method:
 

Final

Biga

Tang Zhong

Total

BP

Golden

100

233

 

333

93%

KAAP

 
 

23

23

7%

Sugar

40

7

1

48

13%

Milk

39

150

23

212

60%

Eggs

52

 
 

52

15%

Butter

33

 

10

43

12%

Yeast

2

1

 

2

0.7%

Salt

4

 
 

4

1.1%

Biga

442

 
 
 
 

TZ

 

58

 
 
 
 
 
 
 
 
 

Total flour

357

 
 
 
 

Total dough

717

 
 
 
 
 
 
 
 
 
 
 
 
 
 
 
 

Heat milk salt sugar butter to almost boiling

 
 

Mix in flour

 
 
 
 
 

Refrigerate for 16 hours

 
 
 

Mix ingredients for Biga

 
 
 

Refrigerate for 48 hours

 
 
 

Mix all but butter - when ingredients incorporated add butter

Mix intensively in mixer until dough is very strong

 

Rest 60 minutes

 
 
 
 

Shape in pieces

 
 
 
 

Proof until almost soft - then glaze with milk

 
 
 

Bake at 375 for 40 minutes