I did bake a lot of bread in the past week, but nothing impressive...not sure what my problem was. The weather was a lot cooler so I did have to play around with the proofing times but nothing was really right. I did make sourdough rye with light rye flour yesterday, which was my first experience using any rye other than whole rye. I was pleased with that but I got a little carried away with the seeds in it. I liked it but I think i would have to tone it down for others. Today I made bagels. Me and my friend, who lives in another state, decided to make the same recipe this weekend just for fun. The measurments were in volumes and it was not a sourdough recipe so I was a little out of my element but a little excited to make something that would be done in about 2 hours! I did play around a little and add a firm starter I had in the fridge because I wasn't going to bake anything else and I didn't want to waste it, but it was just a flavor thing not for any leavening power. Because of that I should've increased the salt in the recipe, but I didn't think of that until after. The starter also meant that there was a bit of semolina added.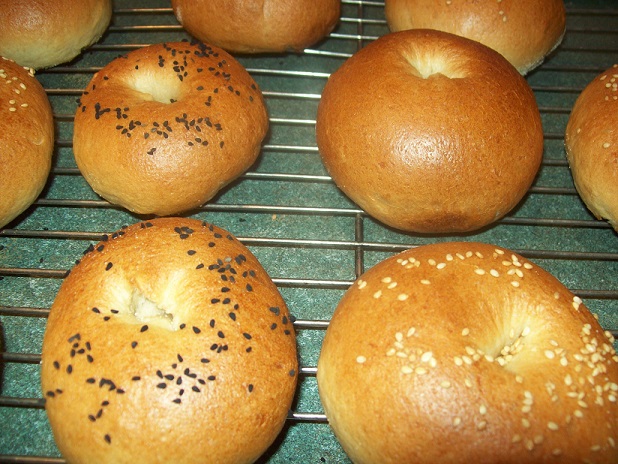 I topped a few with sesame seeds, a few with black onion seeds and a few I left plain. The crust turned out ok, but I should've given them a little more space on the baking sheet. They actually puffed up a lot better than I expected.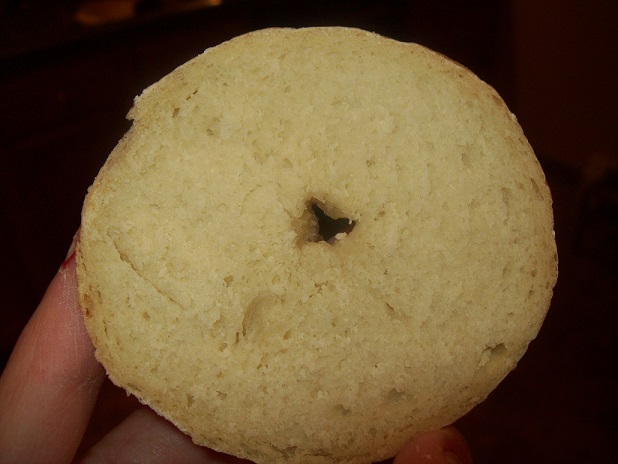 They were ok inside too, and I think they would be better toasted.  I was not wowed by this recipe but I think that was a combination of me changing a couple things not so accurately, and probably just wishing it was sourdough. :) I would like to try bagels again, maybe a recipe with an overnight step or maybe a sourdough version.