After reading blogs of Dabrownman, Ian & Khalid in last few months, I was waiting to get my hands on whole spelt flour. Some time back, I found Bob's Red Mill's whole spelt flour in a supermarket and jumped to buy it. As it is not cheap, I wanted to make sure that every bread made from it was worth the price. So the flour had been lying in my freezer for quite some time now. Finally in the last week, I managed to make 3 breads from the whole spelt flour.
First one I tried was Hamelman's Honey Spelt Bread, with Pate Fermentee. It has 75% whole spelt flour. The changes I made from original formula were using agave nectar instead of honey and making pate fermentee with RYW instead of instant yeast. I don't really bother about results while making Hamelman's breads as there is hardly any chance of bad outcome. This one also remained true to form. A perfect bread to intoduce my household to whole spelt. Light, airy & tasty, the bread gave all the flavour of wholegrain flour, without the denseness. Here are the crust & crumb. The crumb shot is grainy, but it still shows the character of the bread.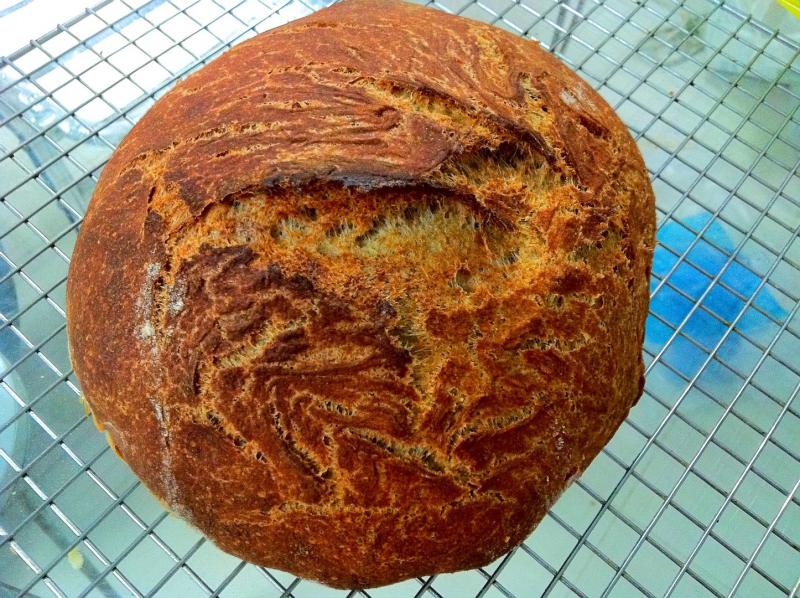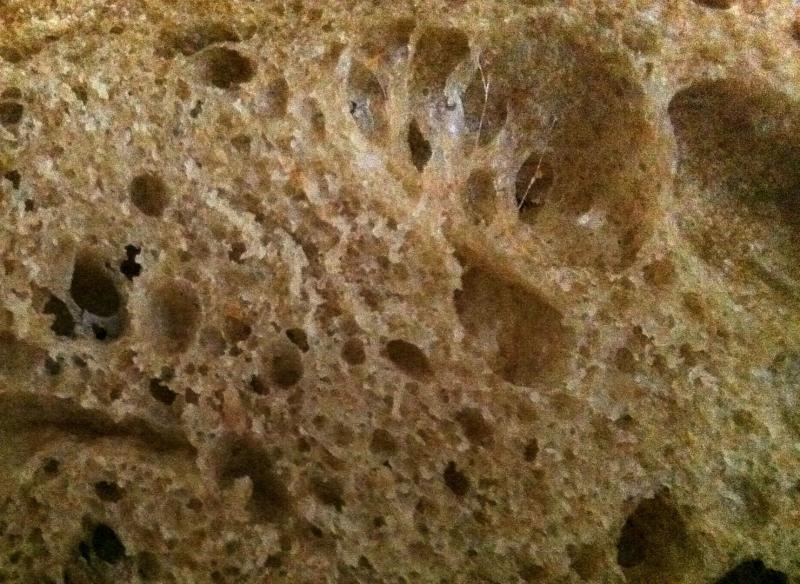 Now that I knew we all liked spelt, the next step was to make it part of my children's daily bread. So once again I turned to Hamelman and the bread much loved by my kids - Pain De Mei. Changes I made to the PDM - Used 60% whole spelt flour & 40% bread flour, made tangzhong with 8% flour (used bread flour) and used levain made from my SD & RYW instead of instant yeast. Hydration had also to be increased from 60% to 68% to get the right dough consistency. My son ate half of this bread without anything on it. So another winner on hand. 
Bread out of oven :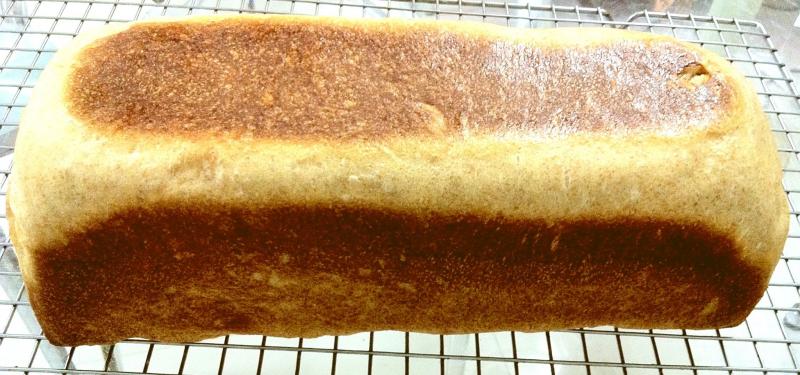 I was too impatient to wait, so cut the first slice within 20 minutes while still warm :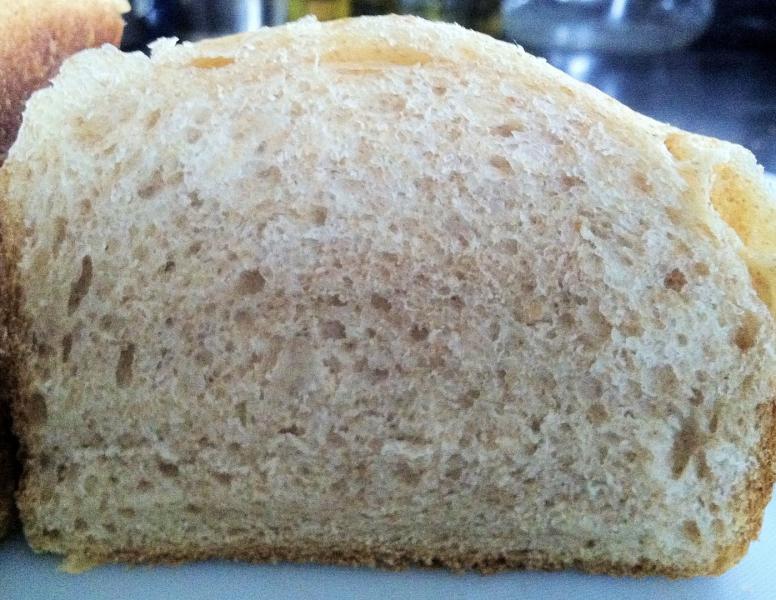 This is thelast slice after 4 days. I hid it to see how long it stays soft. Still pretty soft, with an added slight (pleasant) tang from sourdough.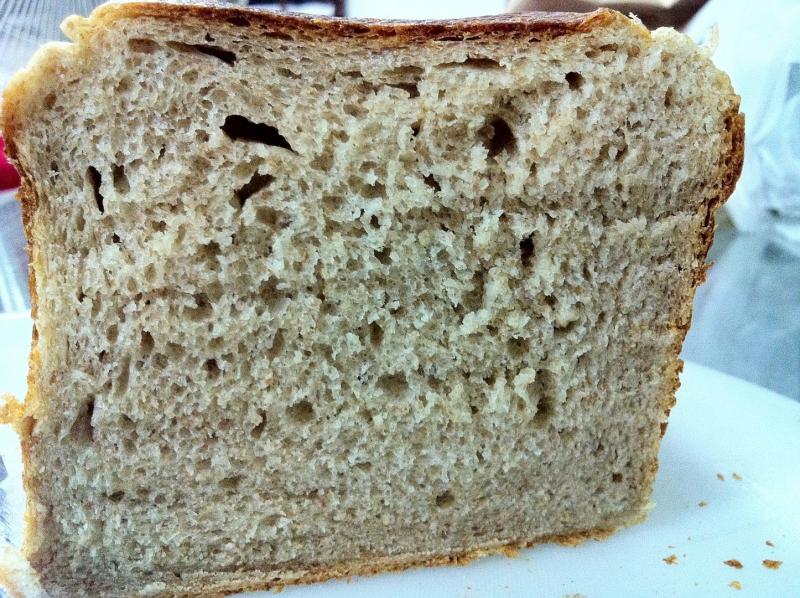 After 2 very nice results from spelt, I was contemplating the next one yesterday, when I read Floyd's post about Ken Forkish's FWSY winning the James Beard Award. My choice was obvious - Harvest bread with poolish. This one uses minimum whole spelt (10%), but it still comes through. I changed whole wheat flour to whole spelt flour and used Apple Yeast Water levain instead of poolish  & skipped instant yeast in final dough. I also toasted the wheat germ (5%) and oat bran (2.5%) , thanks to dabrownman's toadies. It came out of my claypot DO with a great oven spring and have just cut one slice to taste and for crumb shot.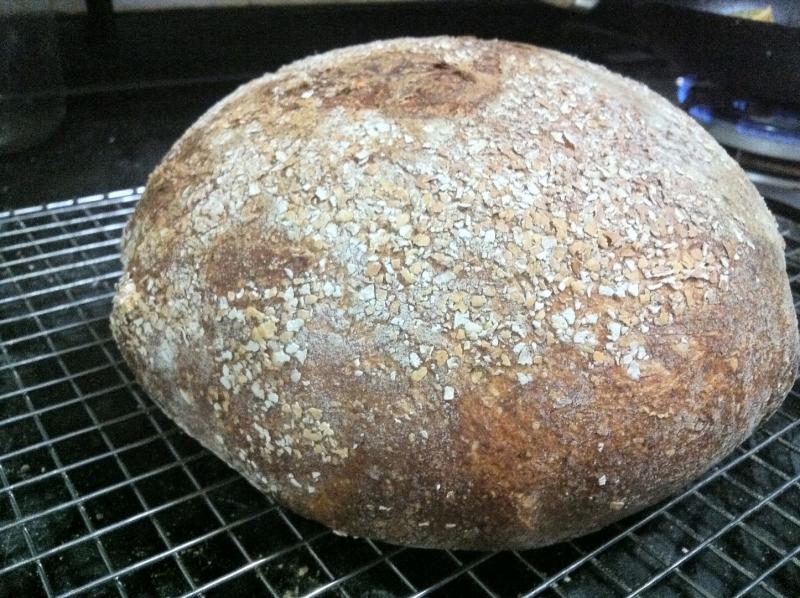 The crumb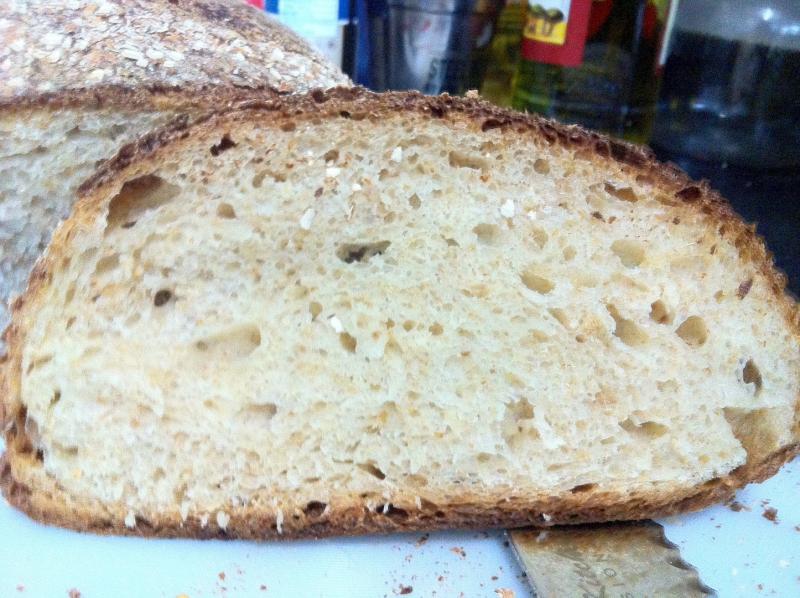 A bite of this bread is a testimony to the well deserved award!