Hi bakers everywhere,
this is my first bake in my temporary kitchen here in Perugia, Italy. I saw the recipe on Paul Hollywood's Bread on the BBC and, as he had stuffed it with Italian flavours, it seemed a suitable thing to try. I was dubious of the little oven I have here, which looks to be older than I am (and my oven therometer is still in transit) but, on the whole, I was happy with the result. It's pretty easy to make, and as light as a feather, dripping in melted cheese and salty prosciutto. Well done Paul Hollywood!
I slightly scaled down the recipe as his seemed to produce something far larger than I wanted. All measurements in grams.
strong white flour 300 (I used farina manitoba, which is like a very strong white in UK) 
salt 6
fresh yeast 12 (fresh yeast is easy to find here in supermarkets, but instant yeast almost impossible - the reverse of UK! I'd use 6 of instant if that's what you have)
whole milk at room temp 102
whole eggs 120 (this worked out luckily as exactly 2)
unsalted butter at room temp 150 (83% fat)
parma ham 6 - 8 slices
buffalo mozzarella 250 - 300
a bit of fresh basil
grated parmesan 
egg for glazing
Dissolve the fresh yeast in the milk and leave until it becomes bubbly (or use instant yeast and skip this step). Add the flour, eggs and salt. This is a soft dough so it's best done in a machine. I wouldn't want to try this one by hand! Work it until the dough is formed and then slowly add the butter. The dough is ready when it starts to come away from the side of the bowl and has a shiny surface. It's important to add the butter quite slowly. I think in total it took my about 10 minutes, but I had left the dough to autolyse for 15 minutes or so before I began working it. Leave in a warm place (I put it next to a lamp) until it has at least doubled in size - tripled is better. For me this took about 4 hours. 
When it's ready, dump it out onto some clingfilm, flatten it (careful, it's quite soft!) and put in the freezer, well wrapped. I found after about half an hour it was ready to be rolled. It ought to be firm to the touch. Roll it out on a lightly floured surface into a rectangle twice as wide as it is long, to a thickness of about 5mm. Keep moving it because it warms quickly and becomes sticky!
Place the parma ham across the surface and then rip the mozzarella and cover, like you were making a pizza. Then some basil and a healthy handful of grated parmesan. Roll it up (starting from the long axis) until you have a good long tube, with the filling tight inside. Trim the ends. Then take a good sharp knife and cut it down the middle, along the length of the long axis. Don't simply cut it in half!!! This done, turn the long pieces cut-side up, next to each other, and twist, one hand moving one way, the other in the other. This braids them. Stick the ends together to form a circle. This sounds more complicated than it is... it ought to look something like this when done: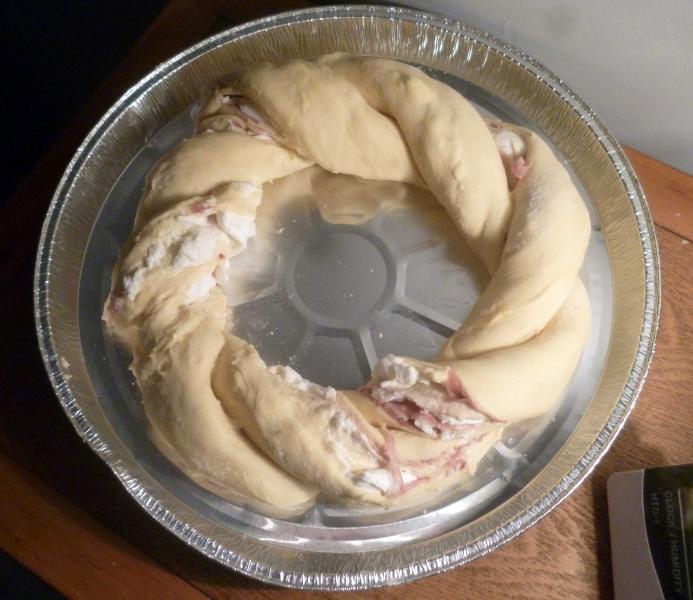 You can see the filling where the dough has been cut. This melts wonderfully in the oven.
Leave that to rise, well covered to stop it forming a skin, for about 2 hours. It needs to double in size. Brush with eggwash, add more grated parmesan, and then put in the oven at 200C (without fan according to Hollywood - I couldn't turn the fan off, so I settled for somewhere in the region of 185 if the dial is to be trusted) for 25 minutes. It's best eaten warm or cold, but not oven hot.
A really tasty brioche recipe this, and I'd happily make it again now that I know the oven isn't as terrible as it looks :)
David