Spiced Sourdough Pregels (Pretzels + Bagels), Trial 1-2-3
Three weeks ago I volunteered to bake bagels for a party. Though, not just ordinary bagels. Sourdough based bagels, with a spicy twist, featuring characteristics of a pretzel---or what I call "pregels".
Visualize this: A doughnut---but not a doughnut---that's as chewy as a bagel, but has a crispy, lustrous, dark brown crust, sparsely topped with coarse sea salt. (I can almost hear bagel purists hollering abomination.)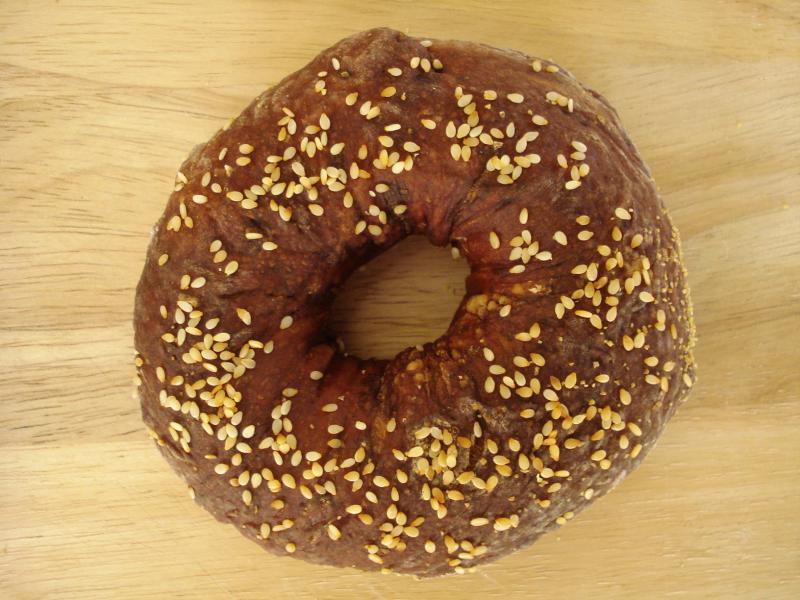 The first trial (above) was unpleasant. Prior to its consumption, none of my breads had induced retching. (Yes, it was that bad.)
My major mistakes: Too much water was incorporated into the the dough, the parchment paper wasn't coated with enough cornmeal, the dough was overproofed, the (baked) baking soda solution was at the incorrect ratio, and I somehow neglected the fact that I did not own a slotted spoon or strainer. Consequently, I pulled a MacGyver and used a dismantled food steamer filter as a strainer. Clever, isn't it?
The recipe for the first trial pregels was heavily adapted from the Wild Yeast Blog.
Why the heavy adaptation, you ask?
Well, most bagel recipes I've happened upon requires a sturdy mixer---and I don't have a mixer. Second, one of my objectives was to eliminate the tang in my sourdough bagels. Third, it's approaching rainy season where I'm located and the humidity, as well as the temperature, has soared. (For the past several weeks, the average room temperature of my apartment has hovered around 33C  / 91F.)
For these stated reasons, I had to adjust the original recipe.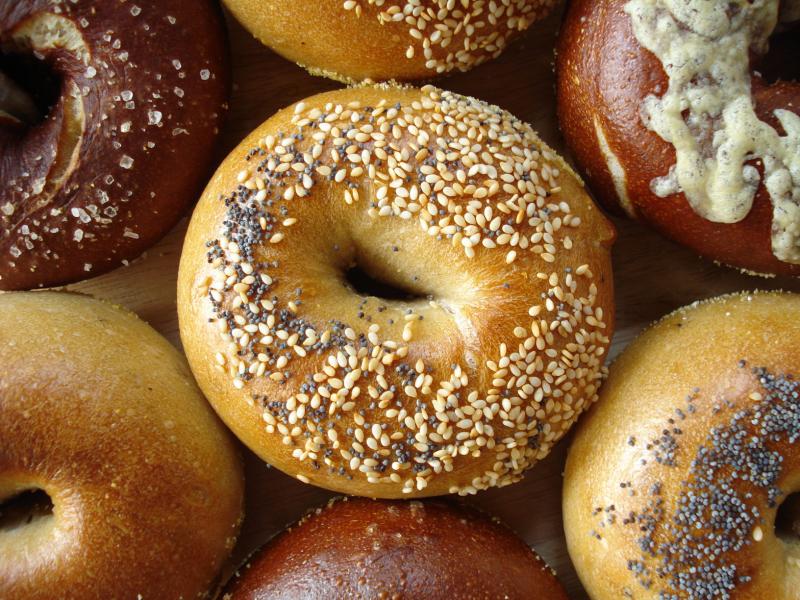 Two weeks ago I conducted the second trial. Much, much better, but worst in other respects. In summary, the pregels, amongst other bagels, were underproofed, slightly underspiced, and too chewy.
If you're curious, I taste-tested the following variations: salted and unsalted pregels, (emmental) cheese pregel, plain honey bagel, and seeded honey bagels (topped with poppy and/or sesame seeds).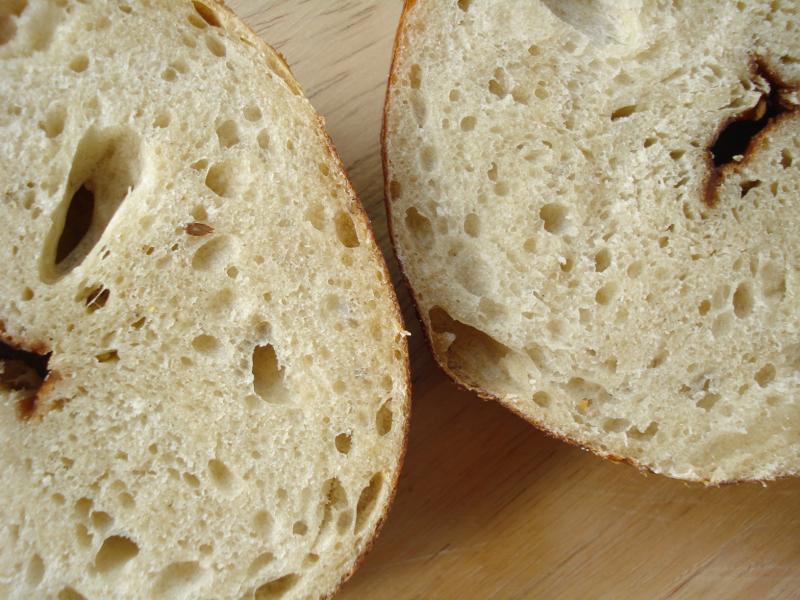 In terms of baker's percentages, the hydration of the second trial dough was approx. 55 to 56%, whereas the hydration of the first trial dough was 57 to 58%. Such a seemingly minor change in hydration transformed the bagels from moist and tender to very stiff and chewy.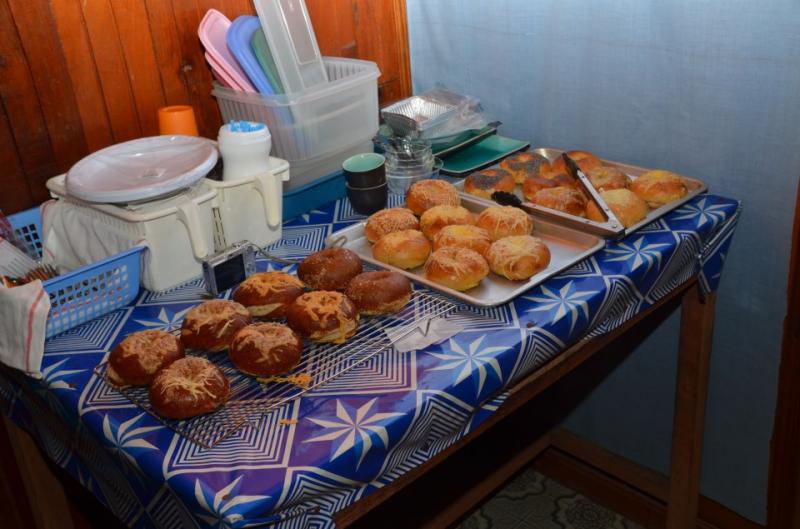 Last Sunday I executed the third trial of the pregels, to be served to the party. Expectedly, I encountered a handful of problems.
Never had I handled and baked over 4kg / 8.8lbs of dough in a single day, and never had I operated a gas oven (based in the hostess' house). Moreover, because the gas oven could only accomodate 4 bagels at a time, due to its small size, I brought along my countertop oven to hasten the process. 
One compact kitchen, two operating ovens, a pot of boiling water, high humidity, and room temperature at above 30C / 86F. Metaphorically speaking, I was a frantic salamander encased in my own sweat.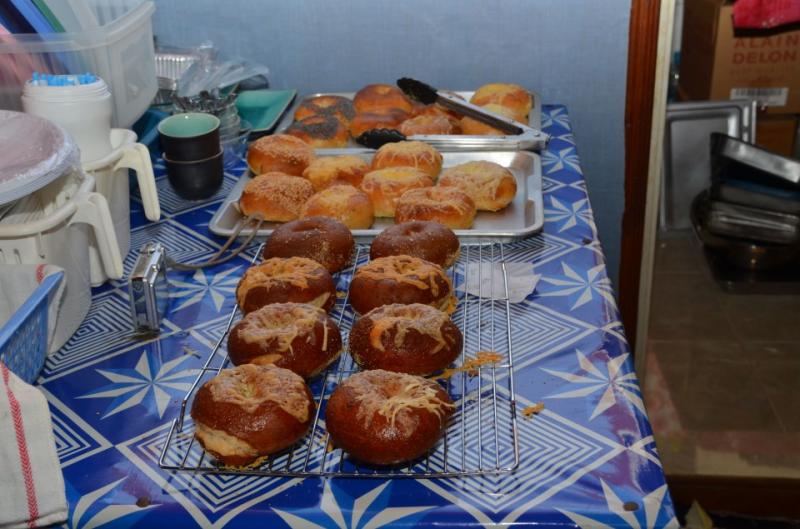 Sharing the cost of several cheeses as bagel toppings, we purchased and taste-tested the following cheeses: mild cheddar, emmental, gruyere, young gouda, edam, port salut, and cantal jeune. In addition to that, we had Philadelphia cream cheese on hand, homemade honey-peanut butter, Austrian libtauer (spicy cheese spread), French butter, and salami.
Funny thing, as I was tending to the last batch of bagels in the ovens, I instructed members of the party to help themselves and commence eating. What was initially a room filled with chattering became dead silence... for a solid thirty seconds. Enticed by this peculiarity, I peeked out of the kitchen door.
"Zita... This is the best bagel I've ever had."
RECIPE
Makes approx. 32 bagels
Starter:
White sourdough starter, 55% hydration [33 g]
Water [241 g]
All-purpose flour [438 g]
Spice Mix:
Caraway seeds
Fennel seeds
Coriander
Black peppercorns
Soaker:
All-purpose flour [1,849 g]
Medium rye flour [205 g]
Vital wheat gluten [82 g]
Sea salt [41 g]
Spice mix, Lightly ground [12 g]
Water, Iced, Strained [1,150 g]
100% pure honey [103 g]
Final Dough:
Starter [657 g]
Soaker [3,442 g]
Baking Soda Solution:
Water [1,500 g]
Baking soda, Baked [75 g]
Honey Water Solution:
Water [1,500 g]
100% pure honey [20 g]
Topping:
Coarse sea salt
Poppy seeds
White sesame seeds
Various cheeses
Instructions:
Caution: Variations in branded products, ingredient amount, room temperature, humidity, altitude, tools and equipment, techniques and methods will affect the outcome of your bagels. Extending the de-chilling or bulk fermentation period is highly advised.
Bake baking soda at 150C / 302F for one hour; store in airtight container
Prepare starter; mix ingredients until combined; rest at above room temperature for 12 hours
Prepare soaker; mix ingredients until combined; chill 10 hours
De-chill soaker; rest at above room temperature for 2 hours
Mix starter and soaker until combined; bulk ferment (rest) 2 hours at above room temperature
Knead dough by hand for 5 minutes; bulk ferment (rest) 2 hours at above room temperature 
Knead dough by hand for 5 minutes; bulk ferment (rest) 2 hours at above room temperature 
Divide dough into 32 equal portions (approx. 125 g each)
Rest 5 minutes to relax gluten, if necessary
Shape dough into bagels; transfer onto cornmeal-dusted parchment paper
Preheat oven at 200C / 392F for 1 hour or more
Proof (rest) 1 hour at above room temperature
Prepare baking soda or honey solution; pour baked soda or honey into boiling water
Boil dough 10 seconds each side; drain 30 seconds on wire rack
Transfer dough to parchment paper
Add topping (excluding cheese)
Bake at 200C / 392F for 30 minutes, rotating at 15 minutes (steaming not necessary)
Add cheese 10 minutes prior to baking completion
Cool for at least 30 minutes on wire rack
If you have any suggestions or feedback on how to improve my recipe, please feel free to post. Thank you in advance and have a jolly baking. :)

Zita