I finally bought Jeffrey Hamelman's Bread book the other day. I baked the poolish baguettes from it today and following his instructions on mixing, shaping, scoring, and baking. It was largely successful, though I made a few mistakes.
The dough seemed pretty sticky, but Hamelman is correct that folding the dough during rising tightens things up nicely. I probably should have given it an extra fold and an additional hour to rise before shaping.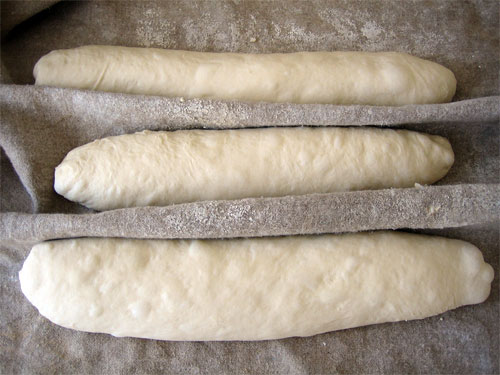 Hamelman's instructions on shaping are quite good. I think I did a better than average job of shaping today.
When it came to scoring, Hamelman cautions about scoring too deeply. So, against my own better judgement, I underscored the loaves.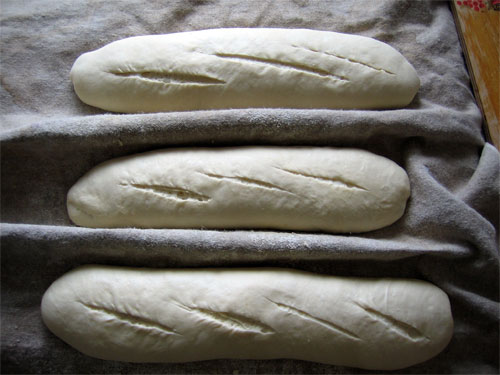 I suppose he is correct, that one can overscore a loaf, but I don't think I've ever done it. My cuts were under a half a centimeter deep here. I don't think I've ever gotten a nice looking loaf without scoring at least 1-2 centimeters deep. Alas.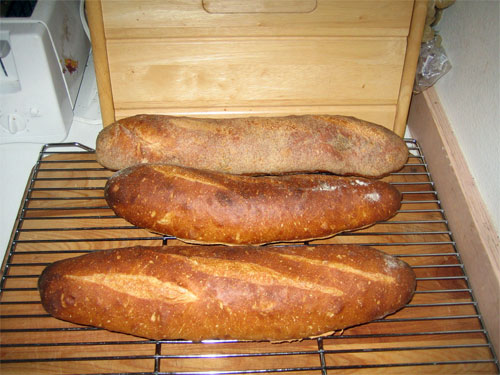 The bread tasted great. The crust was a bit on the soft side because I added too much water to the oven, trying to create steam, and not all of it evaporated. And it is interesting to note how the top one looks quite different from the other two. I'm not certain if it is because I had a difficult time loading it into the oven and I damaged it then or if I hadn't shaped it properly. I'll just have to keep trying.