Baking like mad during Spring Break
Hello Everyone,
It's been a long time since my last post, but I have not stopped baking. It comes and goes in waves for me, sometimes I do more and sometimes less, but I always make bread. And I look into TFL daily!
Last week I was on spring break and my son was home with me because his university's break corresponded to mine this year. I used the opportunity to the fullest to bake for him as he is a very athletic 19-year old who can pack away tons of carbs very easily and he adores my breads (unlike my daughter who can live without them quite easily). I had several doughs going on at different stages for 10 days – my kitchen felt like a laboratory at times (especially because I also made yogurt and some cheese). A few of these breads were given away as gifts.
Here's what I made:
1. Three different types of baguettes: the 36 hour one from Txfarmer and two recipes from the excellent German bread site Pötzblog: the Bouabsa one (which is somewhat different from the formulas I found on TFL) and a formula by Jean-Pierre Cohier (France's best baguette in 1995 and 2006). They all had excellent taste and I was semi-happy with the shapes, but am still hoping to achieve a more open crumb. Baguettes are a challenge, for sure!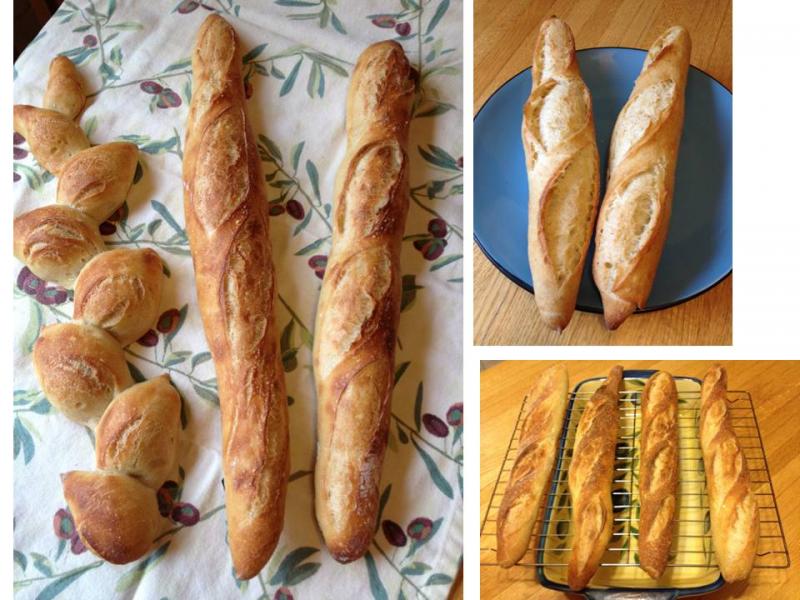 2. I bought the Tartine book already some 8 months ago and these are finally my first attempts: a white and whole-wheat boule (crumb is of the ww one). Wonderful breads.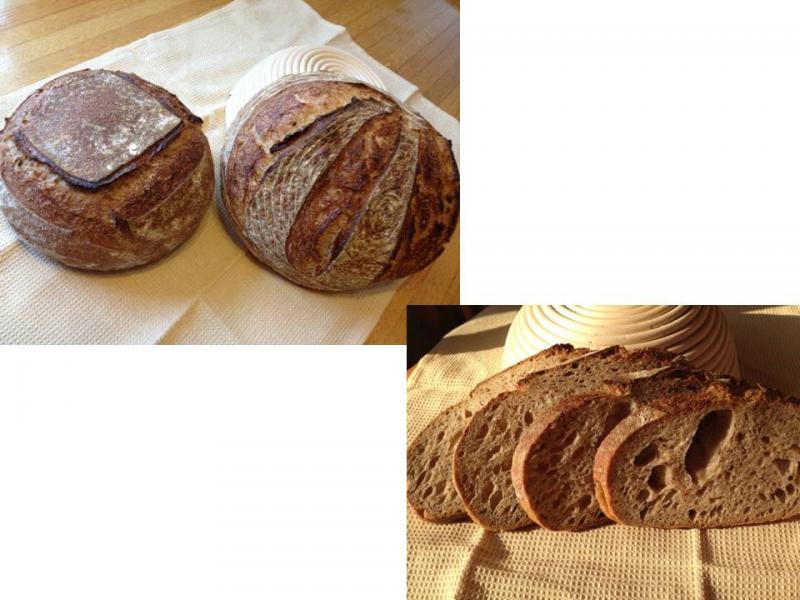 3. Txfarmer's sourdough croissants. I had wanted to give these a try for the longest time and finally did it. I followed her detailed instructions pretty much to the letter, paying attention to all of her advice and had no problems with the recipe (thanks Txfarmer!). I used bread flour like she recommended and the rolling of the dough went very well. I thought that all of my weight training came in handy in this effort! :) They were devoured by my kids!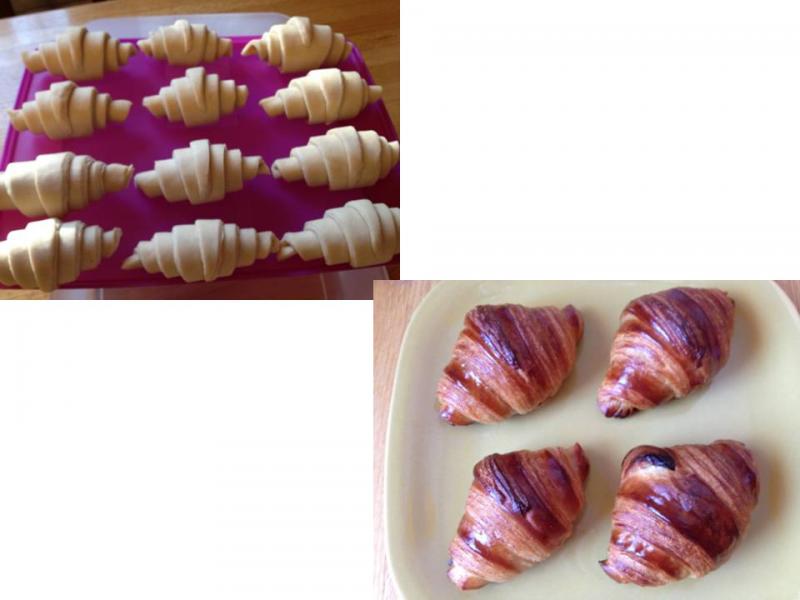 4. Two yeasted sweet breads filled with frangipane – absolutely delicious. I had to make these for a special event and they disappeared very quickly. Perfect with a cup of coffee or tea.
I also made Chapatis for one of our dinners.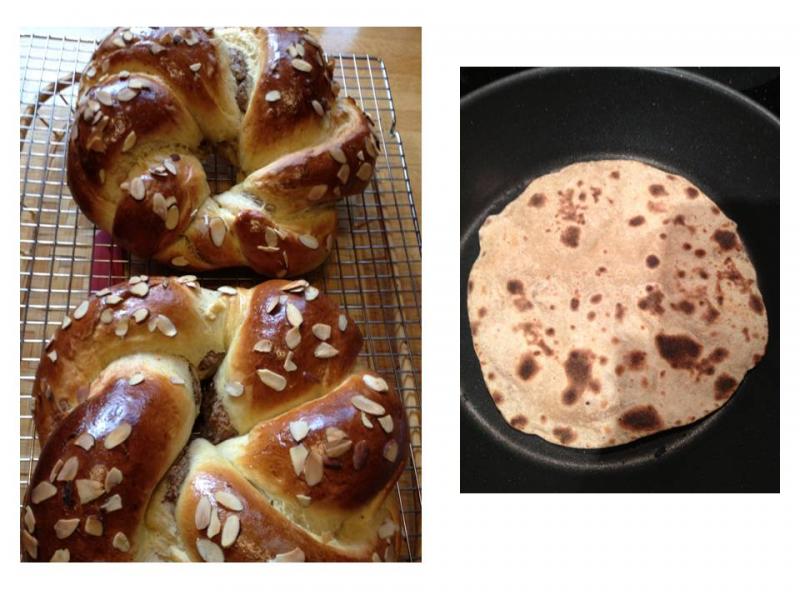 5. Second round of Tartine breads: one with with prunes and roasted hazelnuts, another one with caramelized onions and bacon pieces, and the third with olives. They were all really good.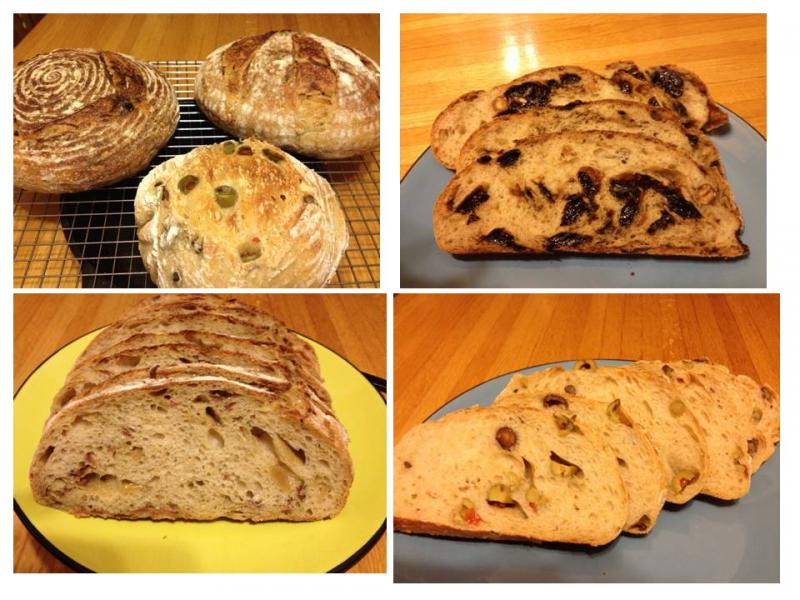 6. Hamelman's Whole-wheat multi-grain in two shapes and the Potato Focaccia from the Tartine book.

7. As I said above, my daughter doesn't like bread all that much so I made 40 of these meat pies for her school lunches.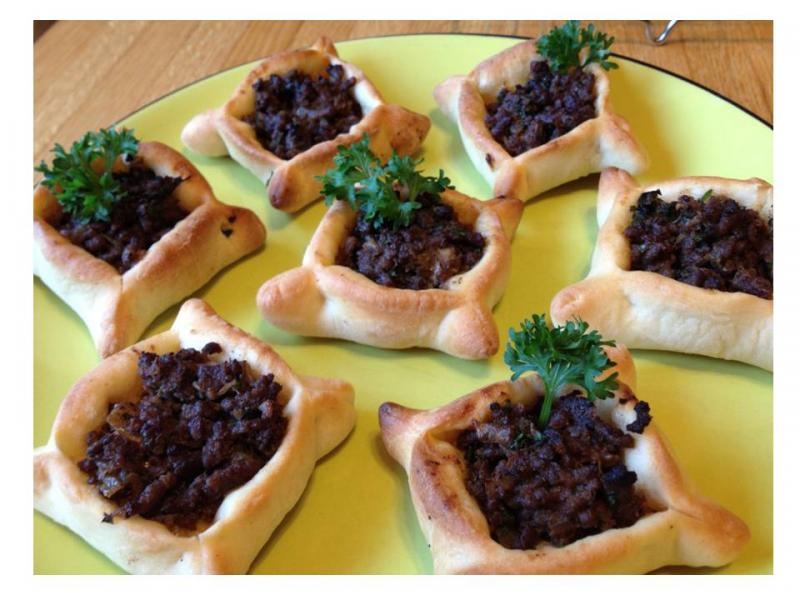 8. Last but not least, a batch of French Macarons: the pink ones have a raspberry jam filling and the orange ones a mango and passionfruit infused ganache (my favorite).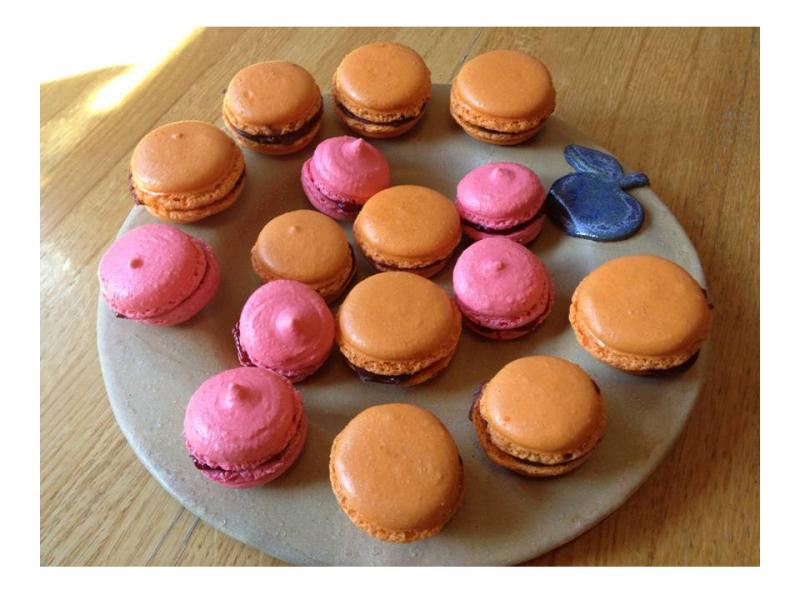 It was fun to be so immersed in dough and batters for an entire week.