Hi Everyone,
time for my second post! Unfortunately I don't have any "work-in-progress" photos of this one - the battery on my camera was flat when I made it and I couldn't find the charger. This is a 3 strand braid, filled brioche.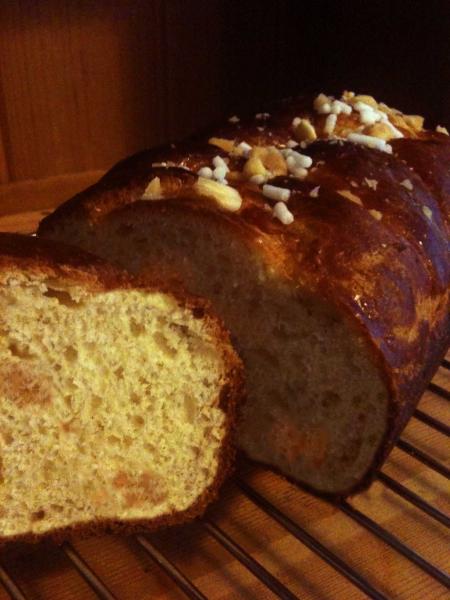 The brioche recipe is from Pierre Hermé's book "PH10". As you can see, it's very rich in butter (like nearly all his recipes). 
The brioche dough (500g) is as follows:
strong flour 176
sugar 26
egg (whole) 132 (approx. 3 eggs)
instant yeast 2.5
salt 4
butter 158
The original recipe calls for fresh yeast, but that's not that easy to find in the UK (at least not for me) and I don't really think it makes that much (if any) difference. I halved his yeast quantity to take into account the fact that I was using instant. I imagine that 5g of fresh yeast would work if that's what you are using. The dough was quite sticky but not overly greasy. I put it in the freezer for about 30 while making the filling. The filling recipe is (heavily) adapted from one found in "non solo zucchero vol. II" by Iginio Massari.
ground almond 150
icing sugar 150 
yolk 40
water 10
vanilla 1/2 a pod
butter 26
zest of 1 unwaxed orange.
Mix this all together to form a paste. The original recipe called for whole egg rather than just yolk, but I wanted a nice orange colour running through my brioche. 
When the brioche dough was firm I took it from the freezer and divided it into 3 balls. While working one, I kept the other 2 in the fridge. I rolled out the dough into a rectangle and then piped a line of filling down one long side before rolling it up to form a tube. I sealed the ends and put it back in the fridge. Same thing for the other 2.
When the dough was nice and cold again I braided it. As this was an experiment, I kept it to a simple 3 braid (1 over 2, 3 over 2 etc). This done, I popped it into a loaf tin and let it prove. This took about 4 hours at c.28 degrees C. Pierre Hermé doesn't give a cooking time or temperature for his dough so I guessed at 200C for 20 minutes. I think the photo shows this wasn't quite right, as the crust is a little too thick and brown for my liking. The brioche itself was also just a tiny little bit drier than would have been ideal. 
To finish I made a sugar glaze (110 icing sugar, 20 water and a few drops of orange blossom water) which I poured over the top while it was still fresh from the oven, and then sprinkled some flaked almonds and pearl sugar on it to finish it off. 
If I were to do it again, I think I'd make more of the filling (you can see in the photo how little there actually is) and experiment a bit more with the cooking temperature or time. The flavour was lovely and orangey, with a strong aftertaste of butter. 
David