Colomba Pasquale from Iginio Massari
Hi Everybody,
this is my first post on TheFreshLoaf, though I've been starting in amazement at everyone's baking for quite some time. This is my attempt at Iginio Massari's Colomba Pasquale recipe from his book "Non Solo Zucchero vol.II". I'm not sure if this book is available in English yet. I bought my copy in a shop in Milan. This version seems to be quite a bit richer than that found in Cresci, and presented me with a number of difficulties :) Please be kind!
First impasto tripled in volume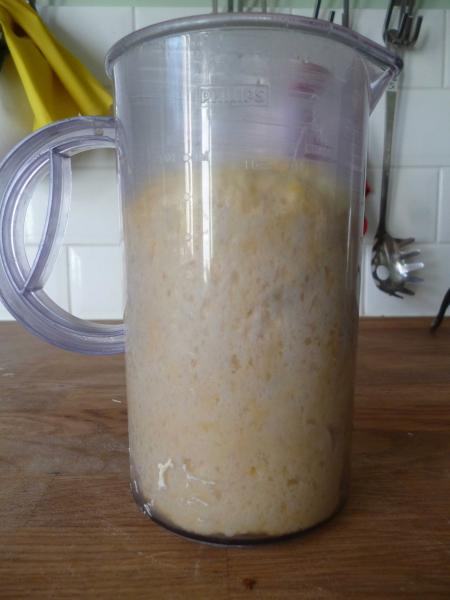 1st impasto
sourdough starter (50% hydration) 59
water 69
sugar 72
yolk 50
flour (very strong) 189
butter 79
All measurements are in grams. It took almost exactly 12 hours to triple in volume, held at c.28 degrees C. I then went to the second impasto. This was considerably more difficult, and I didn't get it quite right. The flour I'm using is the strongest I have been able to find in a UK supermarket and it's not a "00". I think it's somewhere in the region of w320 in terms of strength. The second impasto calls for a flour of w360 (something like the manitoba you can find in Italy). I couldn't find anything this strong in the shops. I added a guestimate of vital wheat gluten to try to balance the recipe, which wasn't entirely successful as you can see from the sloppy shaping in the paper case. The dough was still a little too sticky: very usefully "non solo zucchero" has photos in the back of the book showing all of the processes, and I could see that the colomba consistency was quite different from what I had achieved. 
2nd impasto
aroma veneziana 1.2
vanilla: a quarter of a pod
flour (very strong) 51
gluten powder 1.8
sugar 50
honey 22
yolk 35
salt 3.6
water 20
butter 112
I then took 795g of the impasto and added in 205g of candied orange. This version is very rich in fruit! I then split the dough into two balls of 500g and put them in my homemade proving box for an hour, at c.30 degrees C. and humidity of 70%.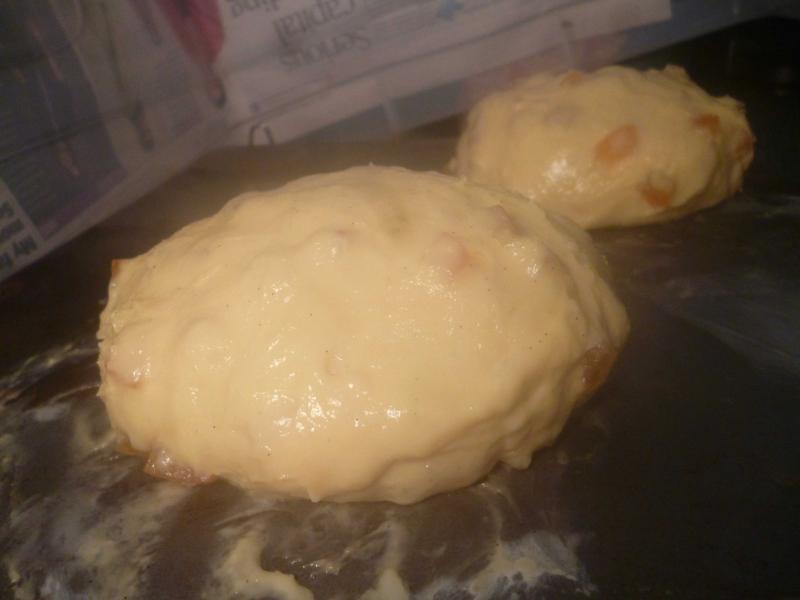 Then, with very very well buttered hands, I shaped the two balls and put them in the form: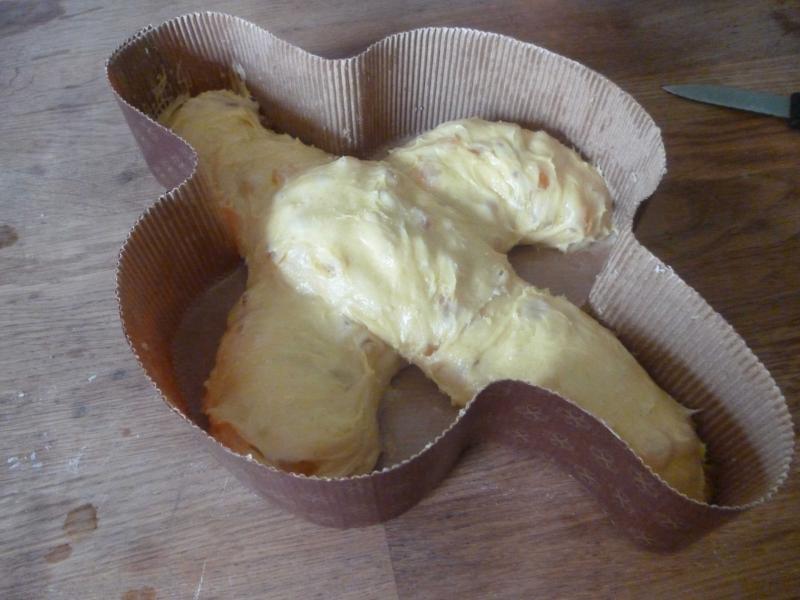 Back into the proving box for 6 hours and then it was ready to be glazed and go in the oven (170 for 50 minutes).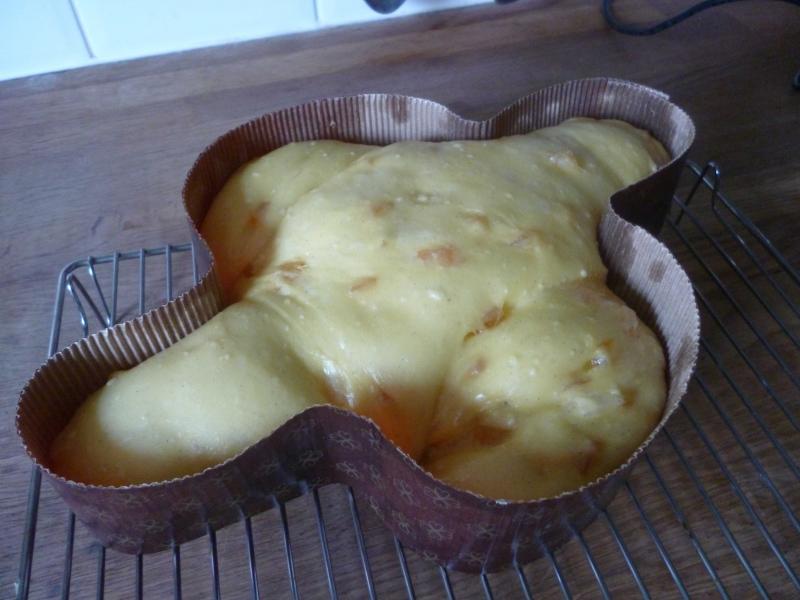 and then glazed and dusted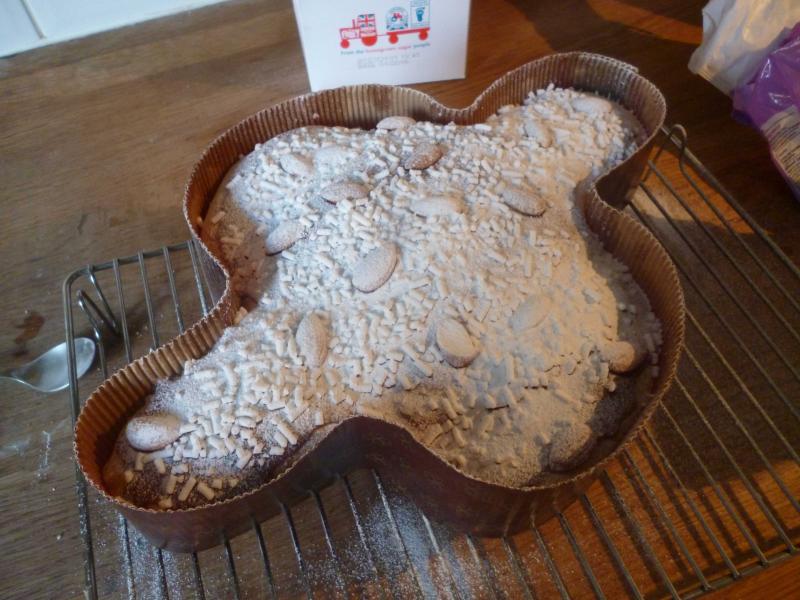 When it came out of the oven I suspended it upsidedown for about 12 hours. I was reasonably happy with the oven spring. Most recipes I've seen for colomba use less candied fruit, so I was expecting this not to grow quite so much. Not because the fruit would interfer with the yeast, but simply because there was less dough in the case (only 795g of impasto, rather than the 850g to 870g I've seen in other recipes).
I had a slice of it for breakfast this morning and I was quite happy. Soft and tasty crumb, packed with fruity, buttery flavour. I'd like to try this again using the recommended flours. I've found, from limited experiments, that strong 00 flours seem to produce a more plastic, slack dough, which I'm sure must contribute to the texture and feel of the crumb. However I'm not yet prepared to buy a 25kg bag of caputo rosso or similiar just to make the occasional colomba which only uses... what? 240g? 
Here's the crumb: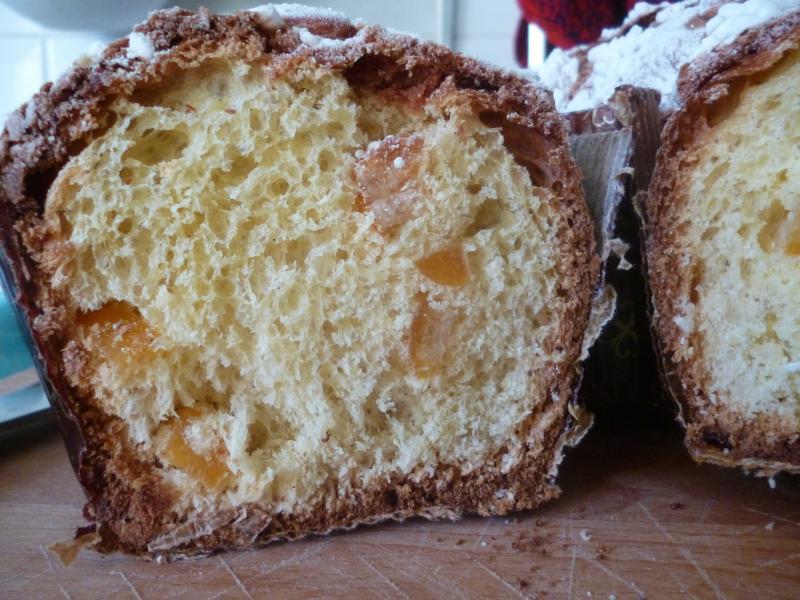 One thing I ought to add: in order to save a bit of money and waste, I used powdered egg yolks in this recipe rather than fresh yolk. The recipe here is written for use with fresh yolk. (If using powdered yolk, substitute 48% of the weigh of yolk with powder, and the remainder with water). I've not noticed any difference with quality. I've also used the powdered yolks to make creme anglaise and creme patisserie with success. The only downside is they don't have that extraordinary colour which I've seen in yolks in Italian eggs - something I'm told is a result of the diet and breed of chicken.