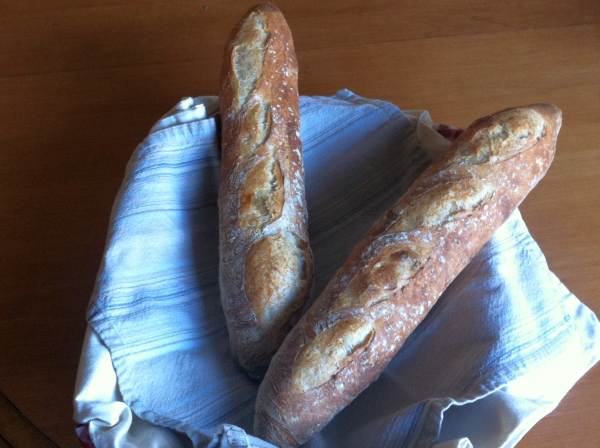 Like many members of this forum I have a lengthy to do list of breads and pastries that I intend to make at some point in time. Making a focused effort at baguettes has been on this list for far too long and I decided late last year it was time to finally do something about it. Baguettes aren't my first choice for a daily bread because they stale so quickly, but they are great to serve just a few hours out of the oven when we have friends or family over for dinner. I've never been truly satisfied with the results of the baguettes I've made in the past, primarily because of the poor crumb, but shaping and slashing were factors that needed attention as well .
Off more than on over the last few months, this project has taken longer than expected for a number of reasons, work, vacation, etc, but over the last few weeks I've managed to get back on track with it and make what I feel is some progress. The formula I was using was based on Jeffrey Hamelman's Poolish Baguette from his book "Bread", (pg 101) the one minor change to it initially being my addition of a small percentage, (6%) of either light rye or whole grain spelt to add a bit more overall flavour. After two mixes following JH's procedure the crumb was slightly better than any previous result I'd had but nothing close to what I'd hoped for.
JH's procedure doesn't include an autolyse in it and I wondered if that might help loosen things up a bit. The next mix was given a 60 minute autolyse which did help open the crumb, showing a few more holes of various sizes, still not as many as I wanted, but better. The white flour I use is from a company here in B.C. , Anita's Organics which is milled from spring wheat and has a protein content of 13.3% with a fairly strong gluten level. I felt this was the most likely suspect for the crumb/hole problem I was having and my suspicion was confirmed after reading Hamelman's section on wheat, specifically paragraph 2-page 36 of "Bread" where he says (paraphrase) that high gluten flours (from spring wheats) in general do not support the long fermentation associated with hearth breads. For better or worse this is the type of flour I had and somehow I needed to find a way to make it work as best as I could. Thinking back to some breads I've made using this flour that had a wide open crumb I remembered that they'd either had a long retarded ferment or high levels of preferment included in the mix. The bread that came to mind first was Hamelman's Pain Rustique, a bread that uses 50% of it's flour in prefermented form and has a crumb with lots of random sized holes and excellent flavour. Since I wanted to avoid an overnight fermentation if I could, I decided for the next mix that I'd increase the poolish from the 33% I'd been using till now, up to 50% and see if that helped in generating more holes. It was one of those classic Aha! moments when I took a slice off the top of a loaf from this new mix and found holes...lots of nice holes! This is better I thought, but just to be sure I did another bake later that week using the same formula and procedure as the last one.
The crumb result was basically the same but neither of these loaves or the ones from the previous bake (top 2 photos) had the right look to them, which I chalked up to not having developed the dough enough during mixing and through bulk fermentation. I'd been doing just light stretch and folds in the bowl during bulk fermentation thinking it would be enough but clearly a better workup was what the dough needed.
For this latest bake (pictured in the photos below) the dough was kneaded on the counter till smooth and slightly springy before going into a 75 minute bulk fermentation with 2 full stretch & folds on the counter at 30 & 60 minutes. This made things a little easier for molding, and allowing me to get a slightly tighter skin on the shaped dough making for cleaner slashes than on the previous loaves.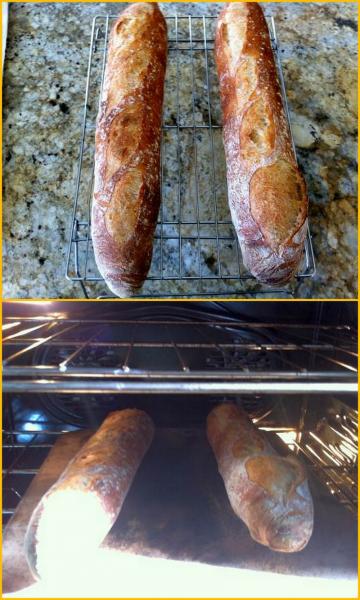 The crumb turned out nicely, creamy, soft, and porous, and it tastes great. Lots of the toasty, nutty wheat flavour that people crave in a baguette, and highlighted by the small percentage of whole spelt included in the mix. The crust has good colour, splinters when sliced and crackles loudly when eaten. I can't ask for more than that.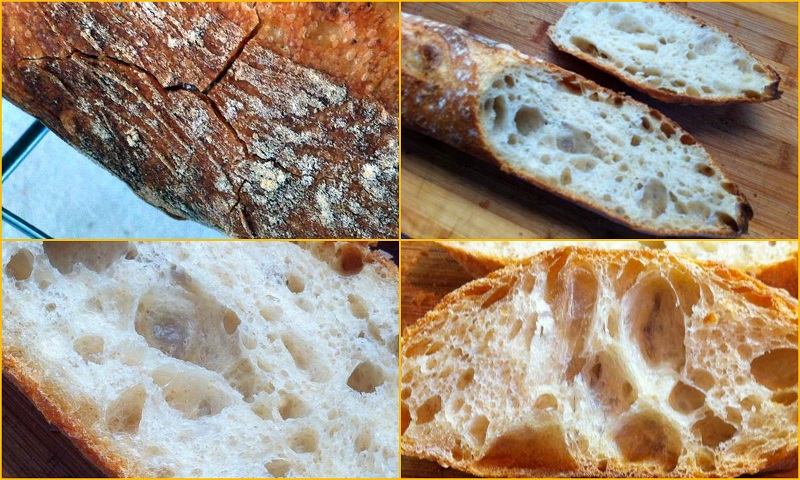 Ham Hock Terrine with fresh baguette, grainy mustard and cornichons.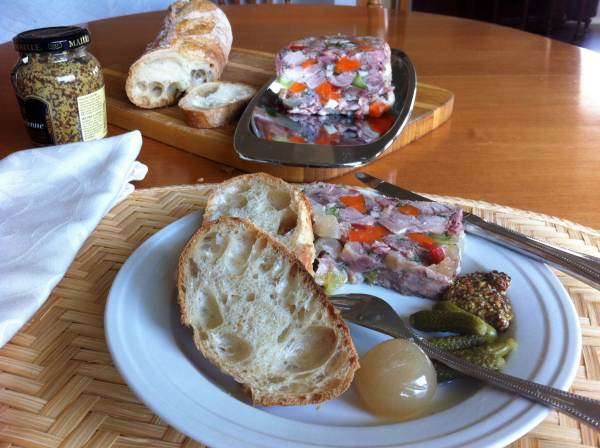 Recipe for the terrine from Raymond Blanc's recipe site
This project is now at the point I can say I'd be happy to serve this loaf to my family and friends, but know that when it comes to bread making these projects are seldom ever finished for me. I'd like to try gradually increasing the level of preferment over a series of bakes to see if I can find the sweet spot, assuming it exists, that will yield a slightly more porous crumb than the one above and with enough dough strength left for proper molding. For the immediate future though I'm planning on making something completely different. As enjoyable and interesting as this project has been, I desperately need to get back to eating bread that has something more substantial to it than flour, water, salt and air.
Below is copy of the formula that was used, as well as a link to a scalable version of it, and one more link to a detailed description of the procedure for making the baguettes.
Cheers to all,
Franko
Link to scalable version of the formula HERE
Link to procedure for Baguettes with Poolish and 6% Spelt HERE
| | | |
| --- | --- | --- |
| Baguettes with Poolish & 6% Spelt | | |
| Ingredients | % | Kilos/grams |
| | | |
| Poolish | | |
| Bread Flour | 100.00% | 201 |
| Water | 100.00% | 201 |
| Yeast-instant | .2% | .4 |
| Total | 200.20% | 402 |
| ripen 12-16hrs @ 70F | | |
| | | |
| | | 720 |
| Final Dough | | |
| Bread Flour | 90.00% | 181 |
| Spelt Flour-One Degree Organics | 12.50% | 25 |
| Water | 50.00% | 101 |
| Yeast-instant | 1.20% | 2 |
| Sea Salt | 4.10% | 8 |
| Poolish | 200.00% | 402 |
| Total | 357.80% | 720 |
| DDT- 76F | | Scale at 340 gr. |
| | | |
| Total Formula | | |
| Total Flour | 100.00% | 407 |
| Bread Flour | 93.82% | 382 |
| Spelt Flour-One Degree Organics | 6.18% | 25 |
| Water | 74.06% | 302 |
| Yeast-instant | 0.69% | 3 |
| Sea Salt | 2.03% | 8 |
| Total % and Weight | 176.78% | 720 |
| Prefermented Flour | | 49.36% |