Organic Sprouted Wheat Berry with Whole wheat and Rye & 50% Sourdough Starter.
Organic Sprouted Wheat Berry with Whole wheat and Rye & 50% Sourdough Starter.
 400 gm.  Organic AP flour
  60 gm.  Organic KA WW
  30 gm.  Organic Medium Rye
  11 gm.  Kosher salt
1 TPSP Brown Sugar (Just cause I thought a little sweetness would go well with the wheat berry taste)
300 gm. H20
250 gm. 100% hydration starter fed twice
~ 1/8 tsp instant yeast (just to help in my cold damp Seattle kitchen J)
~ 1 cup sprouted wheat berries
I soaked Wheat berries over night, then spread them out between wet paper towels for another 24hrs or so until they began to sprout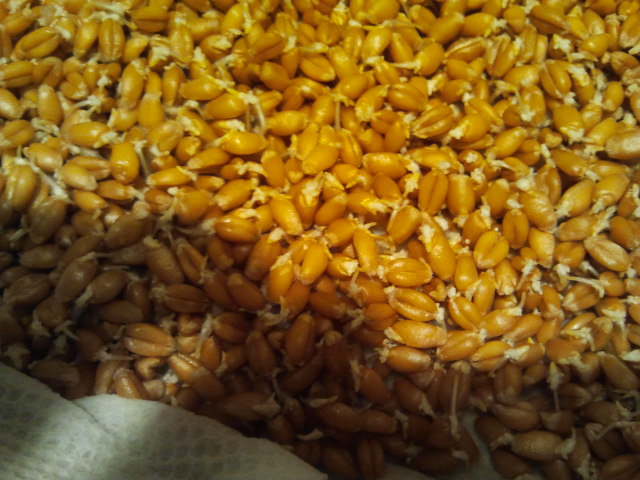 I started to mix up the flours at about 8pm after dinner and between episodes of "The Protectors"  (a Netflix Danish series I got hooked on ).  I Autolysed the flour combo and H20 for ~1 hr.  - At this point the dough was fairly dry (60% hydration)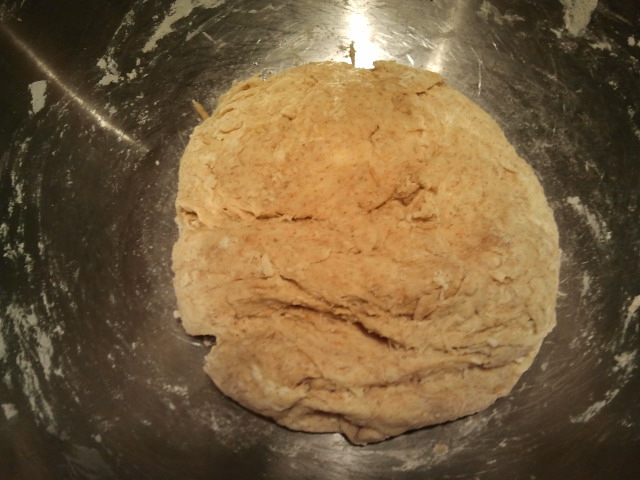 Flour and water after autolyse
About 9:30PM I mixed in the starter by hand, added the salt , and a pinch of  instant yeast – This was a lot of starter ( 50% of the total flour) which made a very wet dough requiring a fair amount of stretch and folds to get in mixed well and under control – In another hour, I did  a couple more stretch and folds.  According to my calculations the final dough adjusting for the Starter Hydration and high amount of starter was ~ 82% hydration.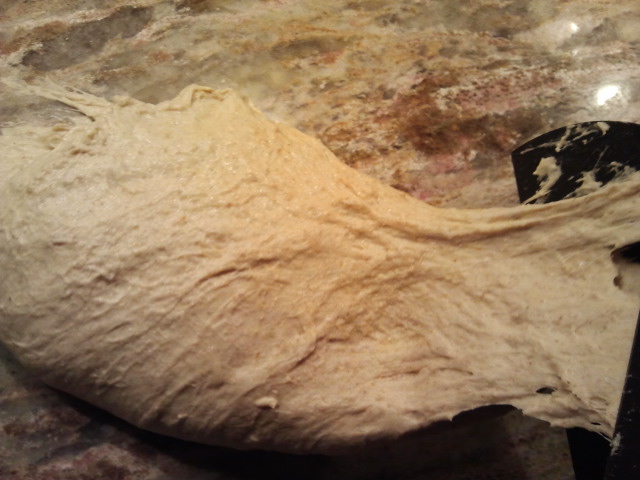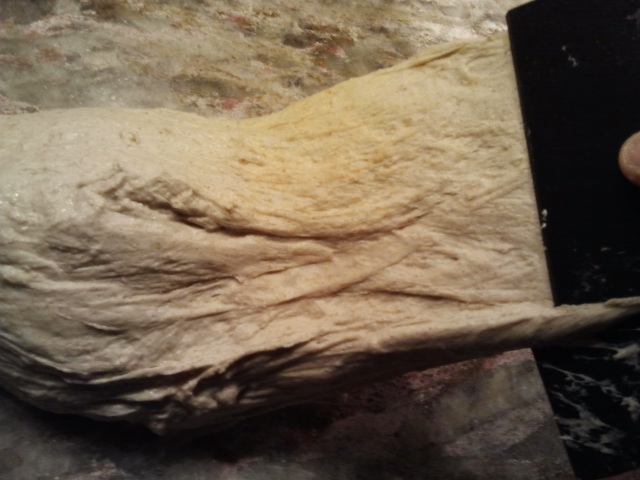 Stretching and folding
Bulk ferment overnight on the counter  ~ 10 hrs ( room temp was ~ 65F)
Sunday morning at 7:30am, I folded in the sprouted wheat berries as much as I figured the dough could handle – Then into a cloth lined banneton for proofing for about 2.5 hrs. ( its cold in my house). At 2hrs, I turned on the oven with the cloche in it .  I like to use my bannetone but when the dough is too wet it will stick to it so I need to line it with a floured cloth.
Score & Bake in a covered Cloche 475F for 15 min then uncover reduce to 450 for 15min  - I checked the temp and feel, at this point and decided it could use another 10 min, but I reduced the temp to  425 F. Lately I have found that serial reduction in the temp results in a longer lasting crispy crust.
Results – Take a look Great crust and crumb Crunchy with the wheat berries With just a touch of sweetness J