We had some semolina left in the house that we needed to get rid of. We usually use it for making porridge (cream of wheat), but winter here is pretty much over with, and we had all this semolina lying around. Having just discovered this site and learned a panload of new techniques, I was eager to try something new. So why not semolina bread?
Well, because semolina isn't really supposed to be used for making bread, and I really should have known that.
I'm not one to be deterred from trying something just because most people don't do it. So I weighed my semolina and came up with a formula (first formula like this I've ever made!)
340 gr semolina               %85
60 gr all purpose flour   %15
1 cup water                       %60
1 Tbs yeast                        %0.03
1 tsp salt                            %0.015
I put the AP (is that a real acronym?) flour in with the water and the yeast to activate. I let the yeast do their thing for half an hour or so, then added the semolina and salt. I mixed by hand and that's when my first surprise came. In hindsight I should have known that this would happen, since I've seen how much milk semolina absorbs, but it still came as a surprise.
I was going for a pretty loose dough, hoping for some nice big crumb. Instead I got a lump of very dense dough.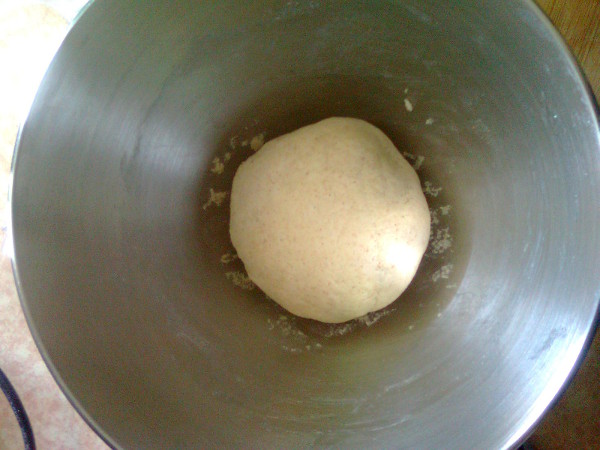 Now, I should have added more water, but for some reason I didn't. I kneaded the dough, put it back in the bowl, covered it with plastic wrap and let it sit for an hour.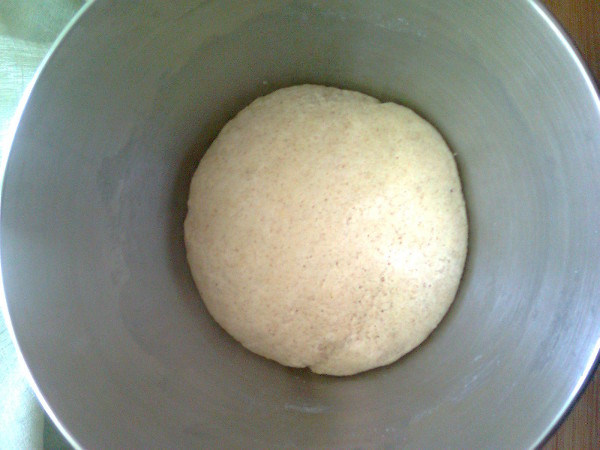 It did rise, so I figured what the hell. Let's roll with this.
I shaped it into a nice little bâtard, and even got to try scoring it. I'm more proud of the first cut than the second, but this was my first try scoring bread after having actually learned how it was done, so in that regard this was a success.
My oven is brand new, and I'm not sure yet if I can steam in it, and I don't want to try on a 6 month old oven. So I just preheated it while the loaf proofed, put it in the oven and watched it. Or as my wife put it "worshipped it". It didn't spring very much, and when I took it out I understood why, it had the hardest crust of anything I've ever seen. This was more akin to dwarven battle-bread than anything edible.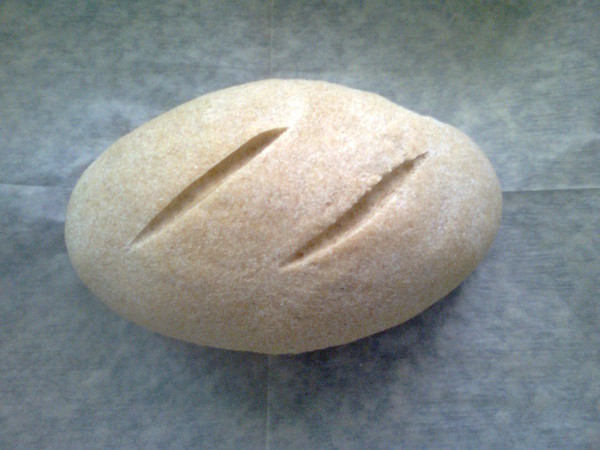 I wish I'd thought to take a picture of it side-on, it split from the bottom a little bit.
Anyway, it smelled good, so I cut it and we ate it fresh from the oven, still warm.
The crumb is.... nonexistent. It is a dense, heavy loaf.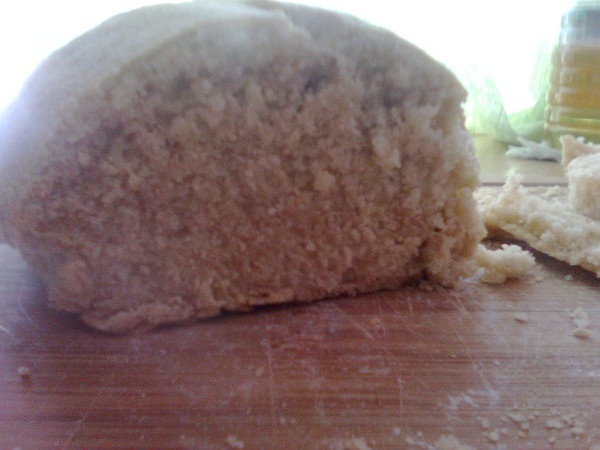 (Sorry for the image quality (or lack thereof), old cellphone camera).
It was actually quite tasty, and the crust was crunchy and edible. We had it for lunch with butter, and some delicious cabbage soup.
Cabbage soup
3 onions
some oil
1.7 liter boiling water
half a white cabbage, minced
3 carrots, chopped
1 onion
tomato paste
salt
sugar
lemon juice
sweet paprika
Chop the three onions into slices from pole to pole, so you get nice onion strings. Saute them in oil. I do this in the pot I'm going to make the soup in, no lost flavors this way. You want the onions to start getting clear, but you don't want them to lose their texture too much, they should be just a bit crunchy.
Add the water, cabbage and carrots. Chop the remaining onion into eighths, add that in too. Put in some tomato paste, enough so that it adds color and flavor to the water. (The amount depends on the type of cabbage you use, the type of tomato paste and personal preference). Mix well. Add the remaining ingredients, I have no idea how much. Until it tastes right.
Bring to a boil, then let sit on a low flame, covered for a long time. Like 2 hours at least.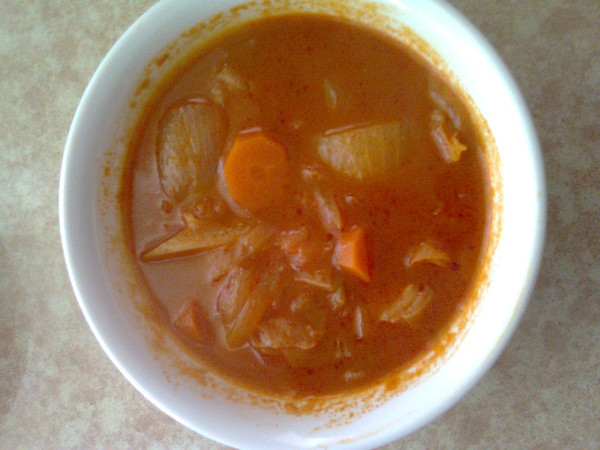 Things I am proud of
I made up the bread recipe (and cabbage soup recipe) by myself. It came out edible. Not as good as I would have liked, but still better than I would have thought.
I got a really nice seam on the bottom of this loaf. There is still room for improvement, but it's a step in the right direction.
I like the cuts I made. Previously I had just randomly poked at my bread with a knife. But after reading the scoring guide here, I knew what I was doing. I still have a ways to go, but for a first real attempt this was very good.
Things to improve for next time (if there will be one)
Change the flour ratios. Maybe go for 70-30.
More hydration. I don't know how much, but more.
In lieu of steam, maybe brush the bread with water before baking.