I've been experimenting with a 3-day ferment using a biga/poolish (what ever you call it) and finally have some loaves that are approaching what I'm looking for.
Unlike the folks who are looking for "lighter, fluffier" bread, we like nice chewy bread with body and flavor. I've been playing around with Ken Forkish's Flour Water Salt Yeast, and here's what I've come up with.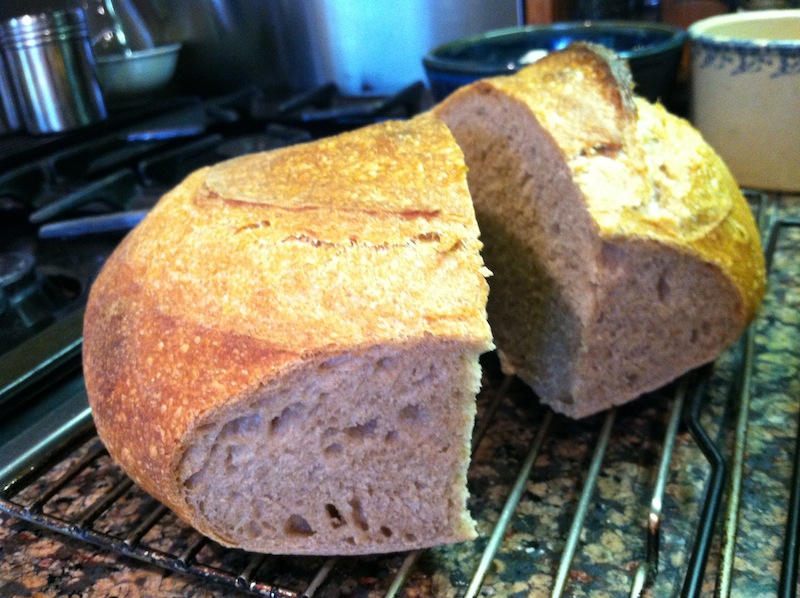 (Sorry for the fuzzy iPhone quality, but you get the idea...)
Formula and processes:
Step 1 - Night of Day 1
500 gr unbleached white all purpose flour - Fairhaven Organic Flour Mill
340 gr water
1/2 tsp dry yeast
Mix together well in large bowl, cover and let rise on the counter until morning.
Step 2 - Morning of Day 2
250 gr whole wheat bread flour, fine grind - Fairhaven Organic Flour Mill
230 gr water
Add the water to the previous day's mixture, in the same bowl, blending in well. Then add the flour and mix completly.
Cover the bowl and let rise all day on the counter.
Step 3 - Evening of Day 2
Fold the biga over itself several times to de-gas, cover and put in the refrigerator over  night.
Step 4 - Morning of Day 3
250 gr whole wheat bread flour, fine grind - Fairhaven Organic Flour Mill
230 gr water
1 tbs salt
1 tsp dry yeast
Remove the biga from the refrigerator and let it come to room temperature - about 3 hours
To make final dough, whisk the salt into the flour and dissolve the yeast in the water.
Blend the yeast water with the biga, mixing completely. Then mix the flour/salt mixture with the biga to make the final dough.
The dough is plenty sticky, and I use flour to manage my stretch and folds. In this case, 4 stretch and folds 8 minutes apart seems to work fine.
Bulk rise: 2 - 3 hours, depending on room temperature - should double in volume.
Shape into 2 boules, set rounds aside on parchement paper and cover them lightly with plastic wrap. Let rise approximately 1 1/2 hours.
Oven temperature: 500 F
Place baking stone in the oven and turn the oven on to preheat 60 minutes before baking time. Place broiler tray on shelf below baking stone to heat for steaming.
I have a small-ish oven and baking stone so I have to bake these one at a time.
Slide the loaf - on the parchement paper - onto the baking stone. Pour 1 Cup of water in the broiler pan for steam and bake for 30 minutes. Remove the parchement paper after 15 minutes.
Bake the second loave the same way.
Let cool on a rack.
Yummy!