February 22, 2013 - 1:35pm
Rinehart's Artisan Breads
I bought three of Peter Rinehart's books, read them avidly, then vowed that they would not just sit on the shelf and provide inspiration. Instead I decided to work my way through the Artisan Breads book. I reckon if I can master all of these recipes ('master' might be too ambitious - let's aim for 'do a reasonable job of them') I just might be able to claim to be a breadmaker.
I've been keeping a diary with some pictures as I've gone on. The first three cunningly evaded the camera. Here is no. 4 'Pain au Levain', made on 6th December 2012.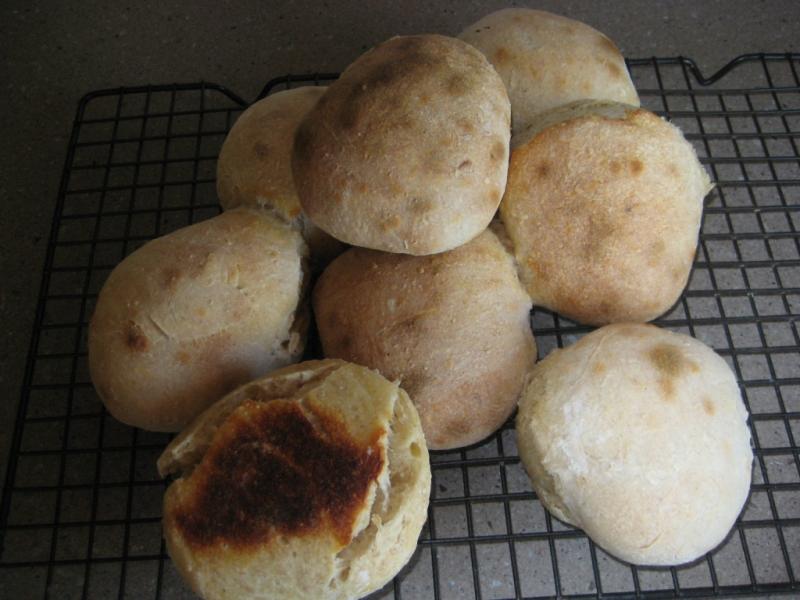 Now I will be the first to admit that these are hardly wonderful.  Two challenges here - the first was that the dough seemed very wet. I only used 250ml liquid (of whey rather than water as I'd just made some cheese) instead of 312ml as the recipe suggests. The three earlier breads were all too wet for me to handle so I decided to cut the liquid back, but still not enough. The other mishap was baking these rolls on the pizza settling in my oven (I'd just made a pizza and forgot to change it) which I think is why the tops of the rolls are mottled not nicely browned. They did taste OK.
Then there was a break in breadmaking, mainly because our house was being painted. The next effort was on the 17th December which happened to be a significant birthday for me. I baked a 'Neo-Neopolitan Pizza' and a 'San Francisco Sourdough'. The latter used a rye starter which I had already, made from Andrew Whitley's directions. This time, I used 50ml less water, only to find that the dough seemed a bit tight. I made two rolls and a cob. Just to jazz the cob up a bit I added walnuts and blue cheese, as suggested by Peter  - here it is, suitably inscribed: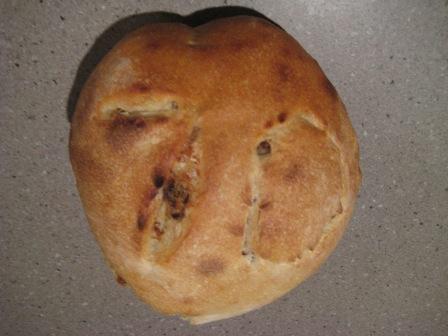 Rather misshappen, let's say rustic. Not sure that the cheese was a good idea, as it melted, leaving blue tinged holes in the bread.  This was also baked on the pizza setting, so the crust is still a little pale. I enjoyed it but my husband, who is not a blue cheese fan, thought the cheese taste was too strong.
That was it for 2012, 2013 starts in the next post.