February 19, 2013 - 4:07pm
English Muffins - Square and Cool
There have been a lot of English Muffin recipes posted all over the web. While I yearned for a homemade muffin, I didn't relish the steps to make them. I don't have a griddle and cooking them in batches in a frying pan seemed problematic.
I have an English Muffin bread recipe that I have used for years. It is posted here. When I read trailrunners blog post about burger buns and saw how the buns were cut into pieces I thought – hey, I can do that with my English Muffin bread dough. The handling is a bit different because the dough is very loose and sticky, more like a batter.
Success! This was a fun experiment with a great outcome. Try them if you'd like to have homemade English Muffins without all the fuss. Start to finish this recipe took about 1 1/2 hours. I have included step-by-step photos since this is an unusual technique.
Prepare the baking pan and heat oven to 400 degrees. Fit a piece of 11" x 15" parchment paper into a 9" x 13" rimmed baking sheet pan, folding 1" of the paper up all four sides of the pan. Buttering the bottom of the pan before putting in the paper will help hold it in place. Lightly butter the bottom of the parchment paper and sprinkle evenly with cornmeal.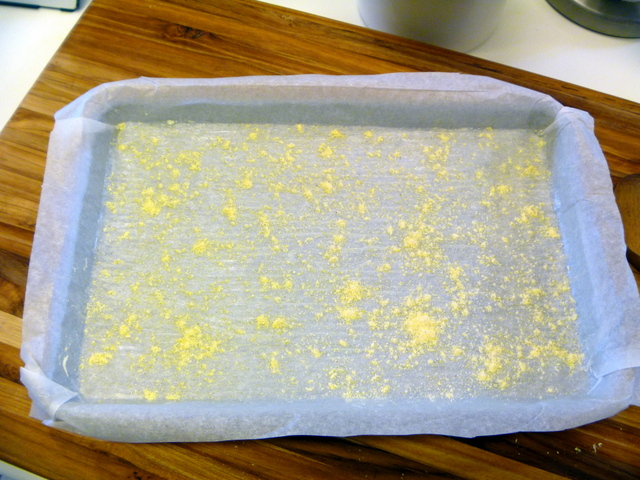 Stir together in a large bowl. Note: the oat flour can be substituted with 3 1/4 oz old fashioned oatmeal, finely ground in a food processor.
3 oz (3/4 cup) whole wheat flour
3 1/4 oz (1 cup) oat flour
1/2 tbs sugar
1 tsp salt
1/4 tsp baking soda
2 1/4 tsp instant yeast
1 oz (1/4 cup) bakers milk powder
Heat until 120-130 degrees and add to the dry ingredients. Beat well with a wisk to make a smooth batter. The batter will be quite thin.
9 1/2 oz water
1 oz orange juice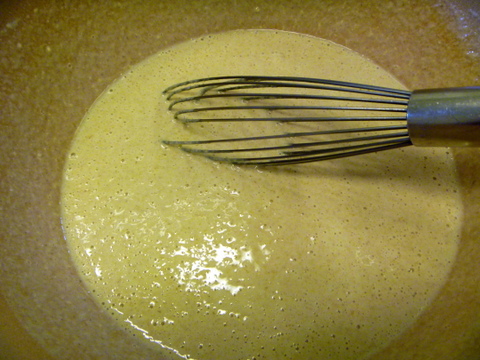 Add and stir in until well blended to make a loose batter.
5 oz (1 1/4 cups) bread flour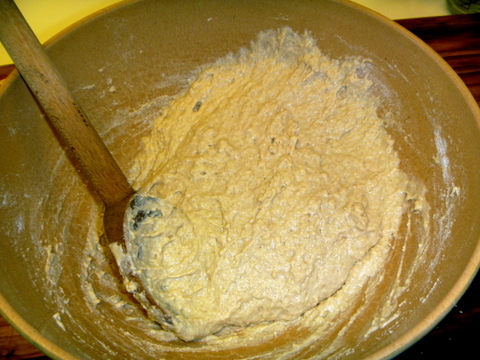 Spoon the batter over the parchment paper and using a wet rubber spatula, spread the batter evenly to the sides of the pan. Wet the spatula as necessary to smooth the top of the batter. Lightly sprinkle top of the batter with cornmeal.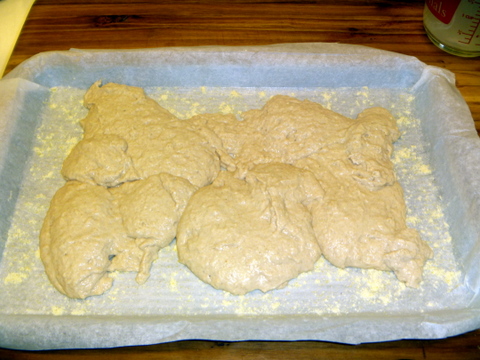 Cover and let rise in a warm place for 30 - 45 minutes until very puffy. It works best to place the pan in a very large, seal-able plastic bag or to use a proofing cover. If using plastic wrap, spray the wrap heavily with cooking spray before placing on top of the batter.
 When ready to bake, score the dough about 1/8" deep into 12 pieces each 3 1/4" x 3". A bench knife that has been sprayed with cooking spray works well.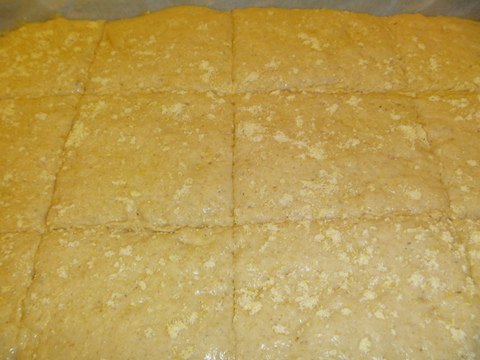 Bake at 400 degrees for 15 minutes. Remove the pan from the oven and carefully slide the parchment paper onto a flat rimless cookie sheet. Cut the dough into 12 pieces, following the score lines and cutting all the way through. Spread the muffins out a bit leaving about 1/2" between each muffin. Return to oven and bake another 5 minutes until golden brown. Remove from pan and parchment paper to a cooling rack.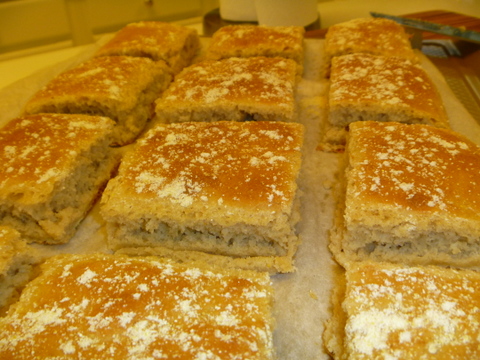 When completely cool, use a fork or muffin splitter to split the muffin squares.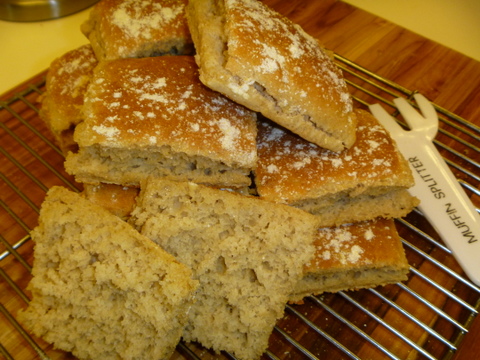 Note: the muffin squares seem large but they shrink a bit in the toaster, so resist the temptation to make them smaller.