February 17, 2013 - 11:37am
Cumin Walnut Cheese Rye Sourdough Bread, (Unintentional) Batter Method
Long time, no see, TFL.
In summary I've been away, coping with a hefty workload and tending to personal matters. Of course, I continued baking---a tendency I doubt will be curbed or abandoned. Why's that? Because baking is my stress-reliever. (I'm sure many homebakers can relate.)
Without further ado, I present to you my latest experiment: Cumin Walnut Cheese Rye Sourdough Bread.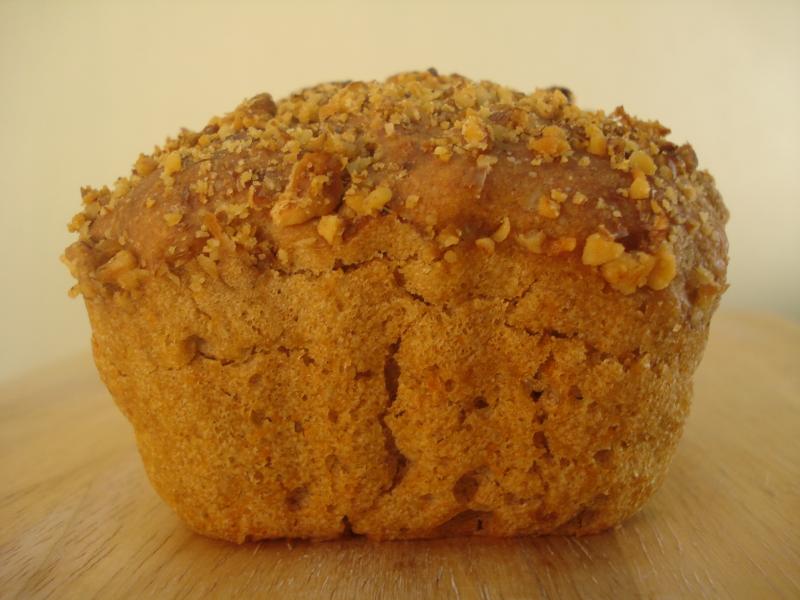 Believe it or not, this loaf (it's not a muffin, I assure you) was supposed to be Franko's 68% Rye Bread with Pumpkin Seeds.
*Lowers head in shame.*
Out of necessity and/or experimentation, I substituted the high-gluten flour with all-purpose flour, the pumpkin seeds with toasted walnuts, the caraway seeds with ground cumin, ommitted the non-diastatic malt powder, and incorporated smoked scamorza (i.e., an Italian cheese) into the dough.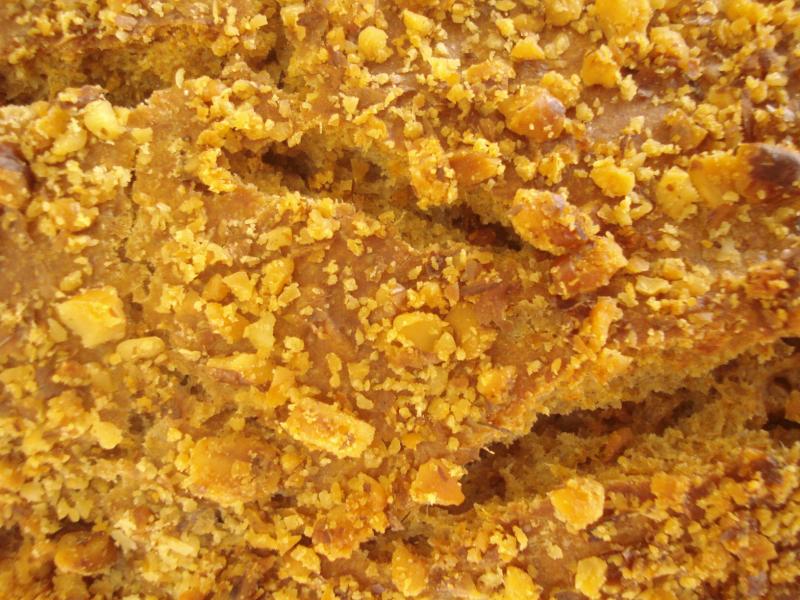 In addition to the substitutions, I prepared an overnight soaker by combining the all-purpose flour and a portion of the iced water. (Anybody familiar with Txfarmer's 36+ hours sourdough baguettes?) According to my hypothesis, the hydrated soaker will develop its gluten matrix, amplify its sweetness, and strengthen the final dough.
False.
What resulted was a soupy dough, forcing me to abandon my original recipe and producing another on spot. While panicking, I processed several scenarios in my mind until a light bulb popped over my head:
"I'll pour the batter into tins!"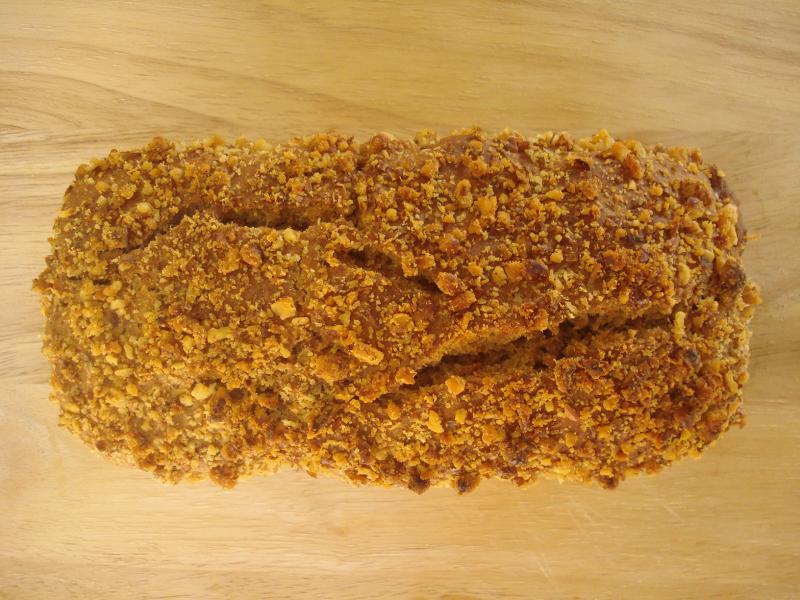 After pouring the batter-like dough into four separate tins, another idea sprung into my head. I liberally sprinkled ground walnuts atop---so much that a good sum didn't adhere to the dough.
Oh, what a waste...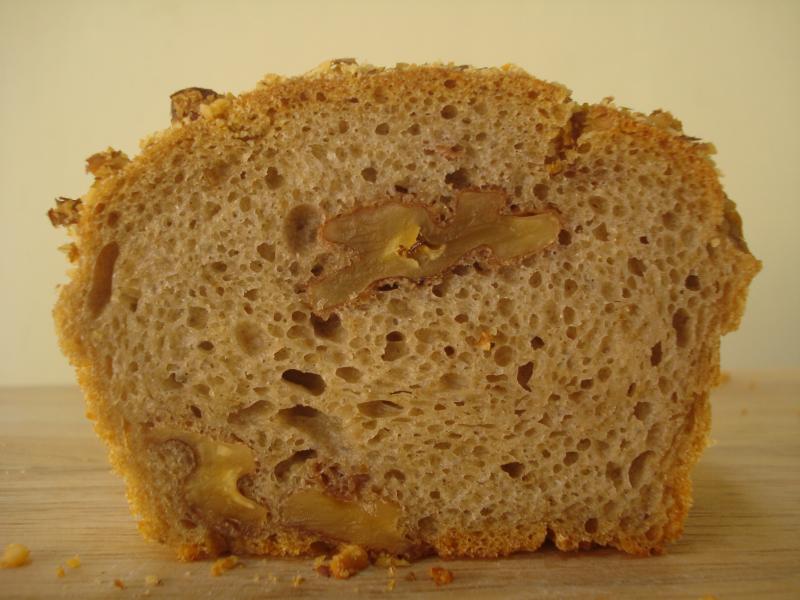 I'm so, so glad it worked out---much better than I anticipated. Now, before I describe the flavours, let me bestow to you the reasonings behind the selected ingredients.
Walnuts pair well with rye. Caraway also pairs well with rye, but I felt cumin would better complement the walnuts. (Compared to caraway, cumin is more citrusy and pungent in flavour.) I've witnessed others on TFL add dried fruits to their walnut breads but I sought a savoury loaf. Thus, I specifically chose smoked scamorza, a semi-soft Italian cheese, for its milky, faintly sweet, and assertive smoky flavours, as well as its suberb melting quality.
Summarized flavour profile: 
Harbouring the distinct aroma of cumin, the unusually soft crumb tasted slightly sweet and mildly savoury (i.e., buttery and nutty), punctuated by a faint but pleasant tang. Further, such flavours were accompanied by a creamy and cool mouthfeel. My overall rating: Pretty darn good for a batter bread.
---
For those who are interested, you may find the recipe below:
Rye Sourdough Starter
Medium rye flour [407 g]
Mineral water [407 g]
Rye sourdough starter, 100% hydration [27 g]
Soaker
All-purpose flour, Unbleached, Enriched [262 g]
Mineral water, Iced [ 205 g]
Final Dough
Rye sourdough starter [740 g]
Soaker [413 g]
Medium rye flour [123 g]
Whole walnuts, Toasted [104 g]
Smoked scamorza, Grated [93 g]
Sea salt [15 g]
Whole cumin, Ground [6 g]
Others
Extra virgin olive oil
Unsalted butter
Whole walnuts, Untoasted, Ground
Total Baker's Percentages
Flour [100%]

Medium rye flour [68%]
All-purpose flour [32%]

Mineral water [76%]
Whole walnuts, Toasted [14.4%]
Sea salt [2%]
Cumin, Ground [0.8%]
Smoked scamorza, Grated [13%]
Instructions
Mix starter ingredients; rest at room temp. for approx. 12 hours
Mix soaker ingredients; chill for approx. 12 hours
Mix starter, soaker, and medium rye flour; hand-knead for 5 minutes
Add salt to dough; hand-knead for 5 minutes
Add ground cumin and toasted walnuts to dough; hand-knead for 3 minutes
Add grated scamorza to dough; hand-knead for 2 minutes
Apply olive oil to bowl; pour dough into oiled bowl
Bulk ferment for 30 - 45 minutes
Butter tins
Pour dough into buttered tins
Proof for 30 - 45 minutes
Sprinkle ground walnuts atop
Bake at 230C / 446F (convection off) for 10 minutes, with steam
Bake at 210C / 410F (convection on) for 30 - 40 minutes, without steam (rotate loaves every 10 minutes)
Cool at minimum for 1 hour
 ---
Want to know what I've been baking the past few weeks? Well, thankfully, you can scroll down to find out (sorry, only crumbshots).
Ontbijtkoek (Dutch-Belgian Breakfast Cake)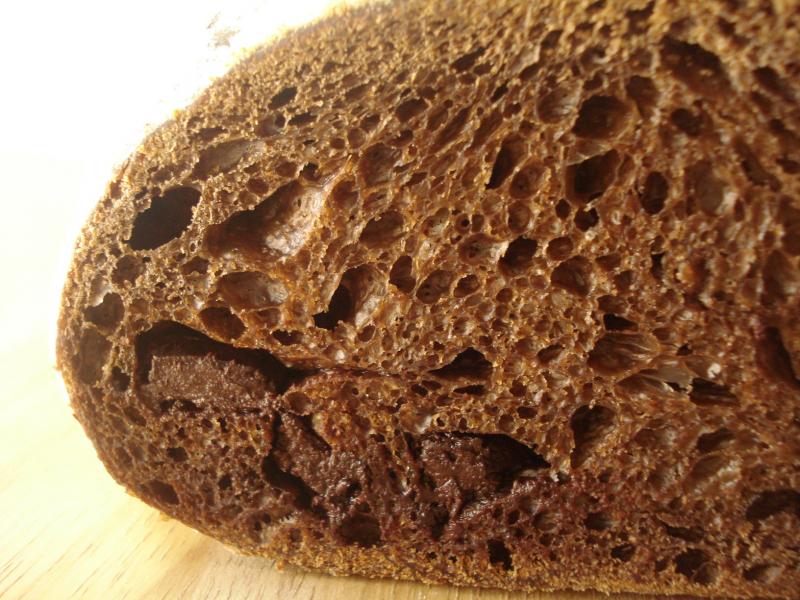 Cocoa Chocolate Coffee Sourdough Bread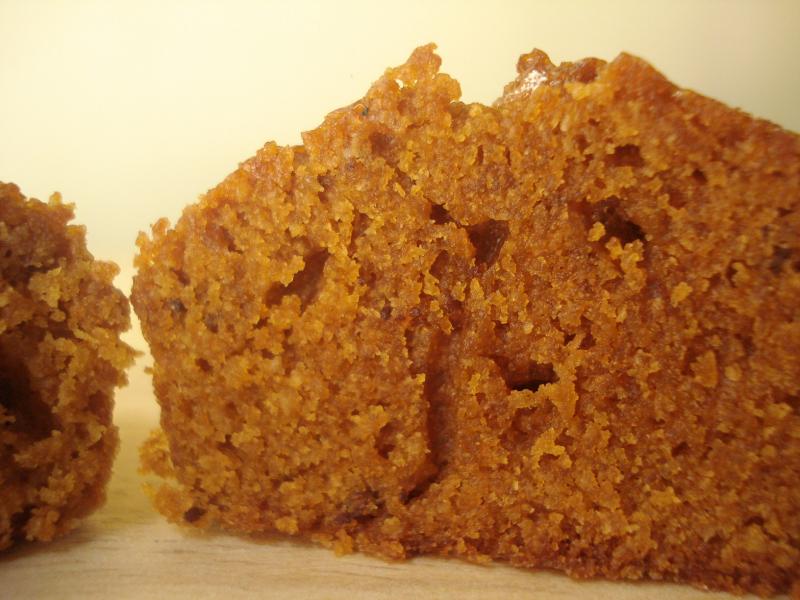 Palm Sugar Financiers (French Almond Cakes)
Whole Wheat Multi-Seed Sourdough Batard
---
As always, critiques and suggestions are welcomed.
Farewell for now everybody. Wish you all the best and have a happy baking. :)

Zita