February 9, 2013 - 4:59am
Challah -- Don't Try This At Home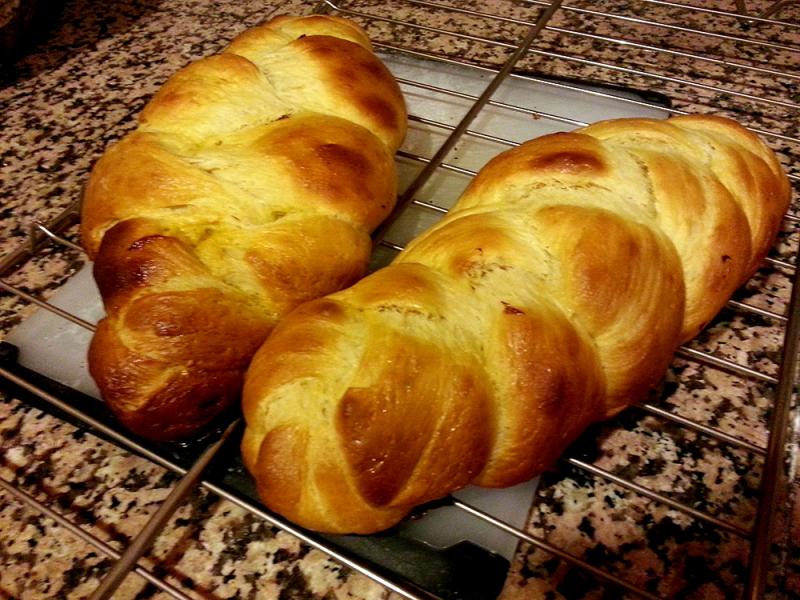 This is a post about how NOT to bake a challah. Not that it wasn't delicious. It was. We totally just scarfed down, like half of it, still warm from the oven. I know… we're shameless. But still and all, making it was a nightmare.
Here is the recipe.
Note: Do NOT follow this recipe. Even though this is maybe the sweetest, richest, eggiest challah I have ever tasted; chewy and doughy, with just the right amount of crust, there are 10,000 things wrong with this recipe. Baking it ruined my day. Maybe my life.
Sponge (Quick Starter)
Dissolve: 1 packet dry-active yeast
Into: 8oz Water (warm)
The mix: 1 cup (4.5 oz) All Purpose Flour
Chillax the starter for like 10 – 15 min.
Dough
Mix: 2 oz water
With: ½ cup honey
And: ¼ cup Vegetable Oil
And: 2 Eggs
And: 2 Egg Yolks
Beat together.
Add Starter.
Then mix in: 15.5 oz AP Flour
And: 1.5 tsp salt
I know what you're thinking, "ok, so what's the problem?"
The problem is that the consistency is like a thick pancake batter. Except it sticks to everything it touches.
I dumped it onto the counter and tried to knead it. Have you ever kneaded batter? I slapped it, stirred it, swirled it, pounded it, and scooped it. 25 minutes later, the counter, my hands, my arms, my shirt, the cabinets, were covered in sticky, wet formless dough. I alternated between using my hands and using a scraper to try to keep everything in the middle of the counter.
So, I decided to add some flour. Pouring the flour onto the counter and onto the dough and mixing it in. For 3 cups of flour I labored on this beast (yes, I know that I just used "a cup of flour" as a unit of time.)
It finally took on some shape. Still very sticky.
Oil a bowl and let it rise for 90 min. (try to get as much of it off of your hands and arms and into the bowl as you can.)
After the first rise, separate it into 2 balls. Let rest for 5 min. Cut each ball into 3 balls. Let rest for a few more minutes.
Roll out into strands. More flour was essential to being able to work with the strands.
Form 2 braided-Challah-shaped-thingies (Some folks refer to these as loaves.)
Mix 1 egg with about a 1/4 cup honey  and paint the loaves.
Let rise for 60 – 90 min.
Paint loaves again.
Bake at 375 for 35 min. Rotating baking pan after 20 min. When you open to rotate, also cover the loaves with some foil to prevent over-crusting.
Try to take it out when the internal temp is around 195. After 10 min, I poked it with my digi-pen and it was 205. Time to take it out.
Cool on wire rack to prevent bottoms from getting soggy.
The loaves were a touch misshapen but not as bad as they might have been.
I want to find a recipe for challah that is as sweet, eggy and doughy as this one but which is easier to work with.
Kneads_Love