January 20, 2013 - 10:09am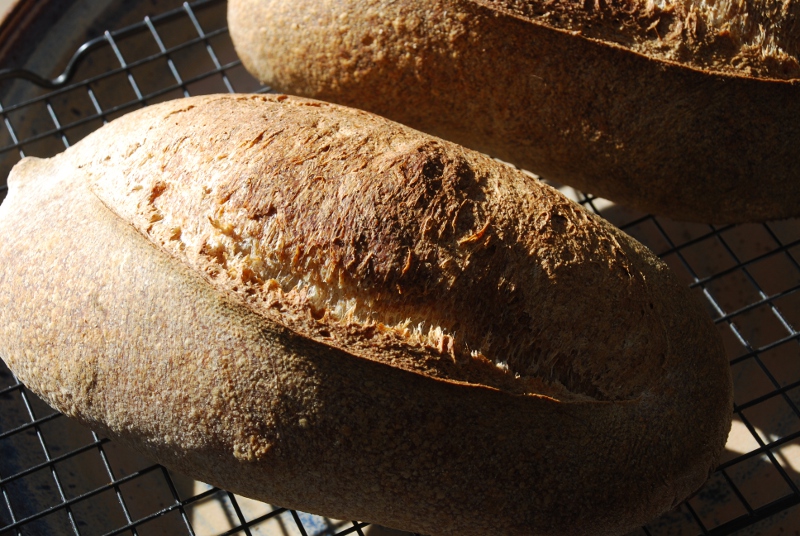 Lately I've been fascinated by the baking properties of the material that is left after milling wheat berries and screening out the fine flour and (some of) the bran.   One thing that has daunted me for awhile was what to call it.    At first I tried the term middlings, but that made me uncomfortable because of the squishiness of the term.    I have found in my readings at least 4 different uses for the word middlings, some similar to each other, and some not.   Bah.   I used this material several times as hot cereal, and it distinctly rang a bell from my childhood and beyond both because of flavor and texture - Cream of Wheat!   I loved cream of wheat when I was a child, and strangely, as an adult I was hooked on it if and only if I was pregnant.   Who can understand these mysteries.    So look up Cream of Wheat and what do you find - Farina.   Farina seems to be defined quite a bit more consistently than middlings, and  describes my mystery substance quite well.   So farina it is.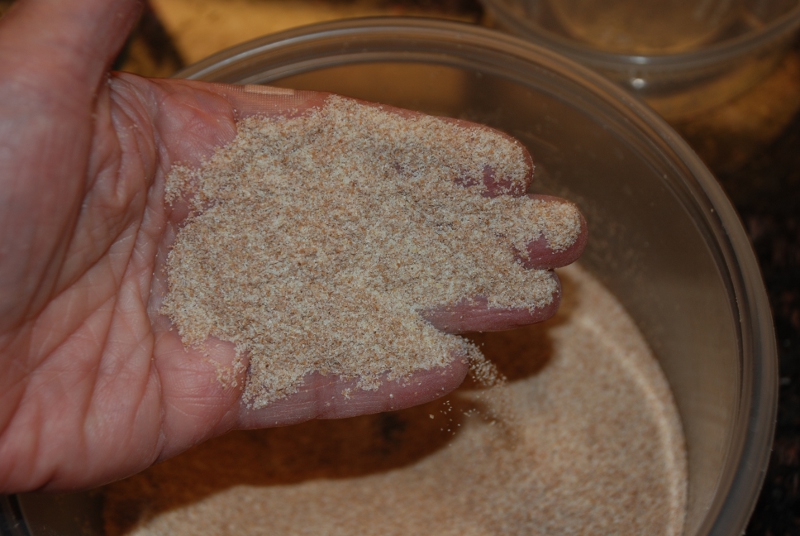 I have baked several times with farina (plus other flours) and have been very happy with what it adds to the mix.  Now I find myself milling just so I can get the farina, and the heck with the high-ex flour - that's just a byproduct.   
The next thing I tried with it was using it as the flour in starter.  I had a "desem" starter that I had begun with a dab of rye starter, but had never been happy with the results.   But I had a bit of it tucked away in the refrigerator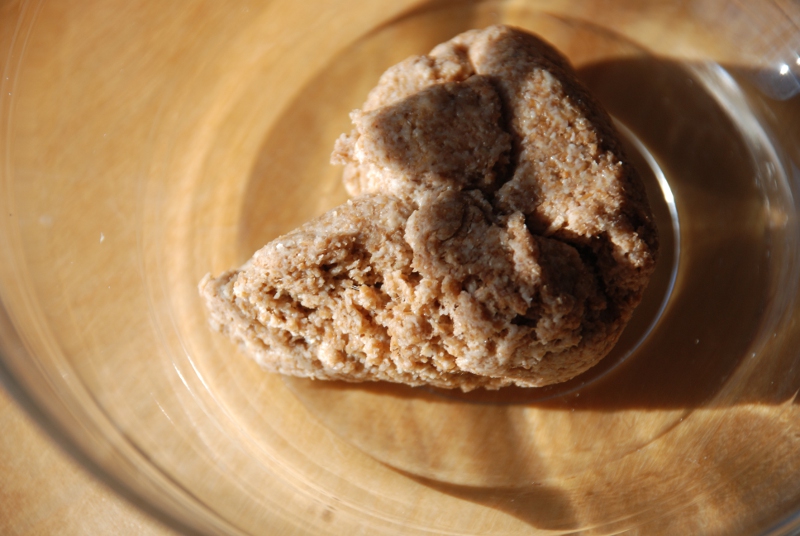 So I built that up with farina, and got it ready for use.    I fermented it in an outer room which is colder than the rest of the house at between 62 and 65F.    The second morning it had grown and cracked and as I was planning to be out most of the day I put it into the refrigerator.   If there is one thing I've learned about whole grain starters, which I extrapolate to farina starters, it is that they can over-ripen when you turn your back on them, and then your bake is doomed no matter what you do. 
Here is what the starter looked like when I removed it from the refrigerator after around 7 hours and cut it in half.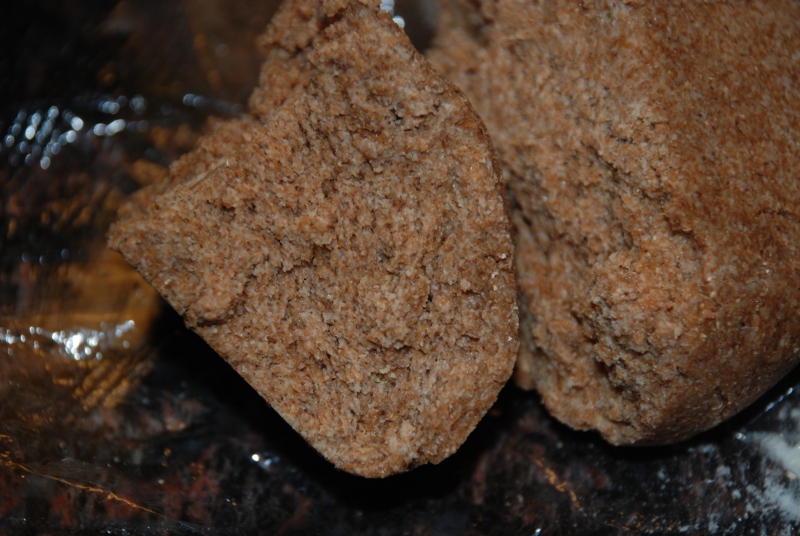 At the same time, being piqued by A.P.'s suggestion of a long autolyse, I did an autolyse for that 7 hour period as well.   Finally I put all ingredients together, and mixed and fermented, and then retarded overnight only because time had run out for a bake yesterday.   This morning after proofing until the dough softened, I baked it and this is what I got after cooling: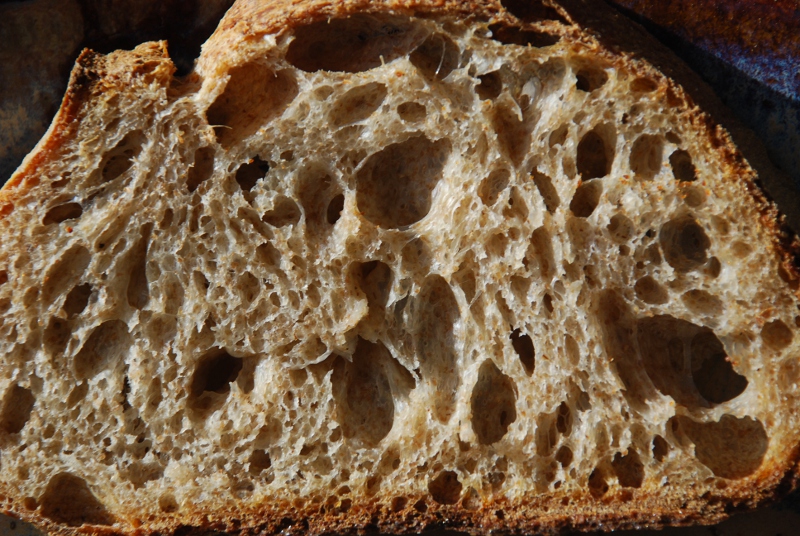 Flavor is excellent - mild and creamy.   I somewhat dislike the squatter shape of overnight retarded loaves but that's a quibble.  
Skip this section if you are bored to death with milling and sifting.
I have developed a more streamlined milling and sifting process which I believe gives me as good results as the more elaborate one I was using previously.  First I got a sifter holder so I could sit down and sift instead of standing and hurting my back (ok, you younger folks might not need this.)   I wanted something where I could see what was coming out during sifting, so this is my set-up: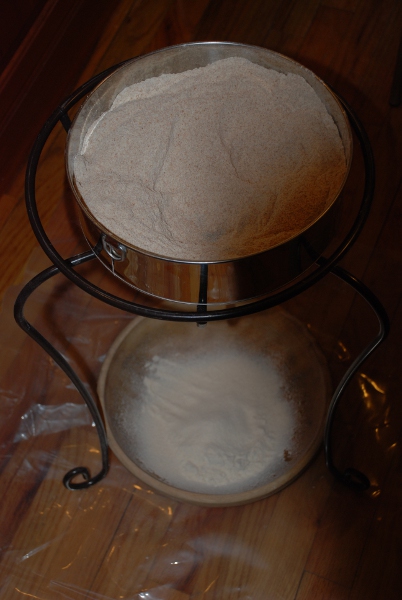 Yes, you're right, that's a plant stand.   It works great.   I place the sifter on top, sit down, and rub my hand through it and I can see the flour flowing down into the bowl. 
My milling and sifting log and notes:
1/13/2013

 

 

 

 

 

 

 

Berries

1000

 

 

Golden

665

67%

 

Farina

272

27%

 

Bran

40

4%

 

Loss

23

2%

 

 

 

 

 

Mill berries fine

 

 

Sift in 55

 

 

 

When streams get very light

 

sift leavings in 30

 

 

This separates off bran

 

Had to remill leavings at fine during this

process

 

 

 

Resift results in 55

 

 

 

 

 

 

 

 

 

 

This was as simple and effective

as other methods I've used

 

No appreciable difference between

this strategy and milling coarse first

 

 

 

 

I used plant stand with wooden bowl

and thick plastic on the floor

 

This was my lowest loss yet

 
Here is formula and method:
1/18/2013

 

10:00 AM

9:00 PM

2:00 PM

 

 

Starter

 

 

 

 

 

 

Seed

30

 

 

 

 

 

KAWW

1

 

 

1

1%

 

Farina

17

50

100

167

99%

 

Water

11

30

60

101

60%

 

 

 

 

 

270

9.1

 

 

 

 

 

 

 

 

 

Final

Starter

Total

Percent

 

 

KAWW

 

1

1

0%

 

 

Farina

 

142

142

24%

 

 

KABF

225

 

225

38%

 

 

KAAP

225

 

225

38%

 

 

Water

340

86

426

72%

 

 

Salt

12

 

12

2.0%

 

 

Starter

230

 

 

24%

 

 

 

 

 

1020

 

 

 

Starter Factor

0.85

 

 

 

 

 

 

 

 

 

 

 

 

Ferment starter at 62-65 degrees starting on 1/18

 

 

Refrigerate starter at 9 am on 1/19 as don't want to get overripe

 

 

 

 

 

 

 

 

Mix flour and water at 9:15 for autolyse

 

 

 

 

 

 

 

 

 

 

Mix all at 3:45 in mixer for 8  minutes to blend, and 4 more minutes

to strengthen.   Dough comes out very stiff and windowpanes

 

 

 

 

 

 

 

 

BF 30 minutes, S&F

 

 

 

 

 

BF 30 minutes, S&F

 

 

 

 

 

BF 50 minutes, S&F

 

 

 

 

 

BF 40 minutes

 

 

 

 

 

Cut and preshape

 

 

 

 

 

Rest 20 minutes

 

 

 

 

 

Shape

 

 

 

 

 

 

Place in couche on tray

 

 

 

 

 

Put whole tray into plastic trash bag and tie

 

 

 

Place in refrigerator around 8 pm

 

 

 

 

Remove at 8:45 am

 

 

 

 

 

Proof for 1.5 hours until proofed

 

 

 

 

Bake at 450F with steam for 20 minutes

 

 

 

and 20  minutes without