January 13, 2013 - 10:41am
Spelt Flour Buttermilk Pancakes with Caramelized Apples
After my shopping spree at a local grain mill yesterday, I was in the mood to experiment with some different flours.  I had some left over buttermilk in the fridge from my Danish Rye bake so I decided to make my (ever popular in these parts) buttermilk pancakes but with organic spelt flour.  I was a bit on the careful side and opted to still keep 1/2 cup AP flour in the recipe.  These turned out so well that next time I might even eliminate the AP flour all together.  As a note, the apple topping pairs VERY well with these so don't omit if you have a choice.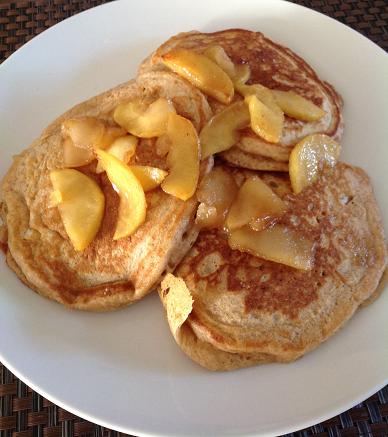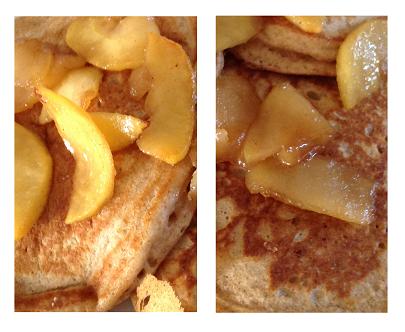 Spelt Flour Buttermilk Pancakes with Caramelized Apples
Ingredients:
1 cup spelt flour
1/2 cup AP flour
1 tsp baking powder
1 tsp baking soda
¼ tsp salt
3 tbsp sugar
1 large egg
1 ½ cups buttermilk (or 1 ½ cup homemade buttermilk, see below)
2 tbsp melted butter
1 tsp vanilla
Oil for skillet
Extra milk to thin batter after rest
Instructions:
Combine all ingredients and mix just until combined.  Do not over mix, lumps are ok.  Let sit in fridge to rest for at least 20 minutes.  Before cooking, add up to ¼ milk to thin the batter, if needed.  Note:  This batter takes approx. 1 extra minute per side than AP flour pancakes.  Check the insides by cutting into the middle to ensure batter is fully cooked.
Makes approx. 6-7 pancakes.

Home made buttermilk:  Add 2 Tbsp white vinegar or lemon juice to a measuring cup, then add enough milk to make 1 ½ cups total.  Transfer to bowl and let sit at room temperature for 15 minutes, or until thickened.
Caramelized Apples:
Ingredients:
2 large apples
2 tbsp brown sugar
1 tbsp butter
Pinch salt
Instructions:
Peel and core apples.  Half the apples then cut thin slices.  Heat butter on high heat in a saute pan and add the apples, sugar and salt.  Saute on high heat just to caramelize the sugar, about 3 - 5 minutes.  Add a dash of cinnamon to taste.  Take off the heat and let cool slightly.
Top the pancakes with the apples and some maple syrup.
Enjoy.
John